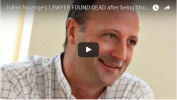 Suspicious circumstances have been denied by the police but this very successful lawyer, John Jones, QC, who has been involved in trying to save Gadaffi's son from execution as well as in protecting Assange, who is promising to reveal evidence that will see Mrs Clinton behind bars, somehow was struck and killed by a train - at the age of 45. There is very little information about this. "Disturbing news since the DNC made a public TV announcement that Julian Assange should be assassinated! Julian plans to leak a Hillary CLinton email in October before the US presidential election, that aims to put Hillary CLinton behind jail bars," writes MLordandGod.
"He was part of a team of lawyers acting to prevent the extradition of Julian Assange - holed up in the Ecuadorian embassy for four years - whose case is currently being heard by the UN Working Group on Arbitrary Detention.

Mr Jones was also working with his colleague Amal Clooney to try and halt the execution of Colonel Gaddafi's son Saif and Libyan spy chief Abdullah-al Senussi.

Earlier in his career, he helped bring to justice some of those responsible for genocide in the former Yugoslavia as part of the UN's International Criminal Tribunal, working to establish procedures that were used in the historic trials.

As well as his criminal law work, Mr Jones acted as a human rights lawyer, saving a 19-year old from the death penalty in Singapore, fighting on behalf of journalists for free speech in Africa, and making representations to the UN to prevent torture." Read more here.
Lists have recently been published in the alternative media claiming to record the names of people who found themselves on the wrong side of the Clintons, who subsequently died suspiciously. See this article: http://www.whatdoesitmean.com/