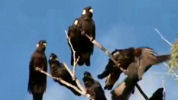 The numbers of endangered Carnaby's Black-Cockatoos has plunged across Darling Range jarrah forest roosts in the past year, according to new data released by BirdLife Australia. For other candobetter.net stories about the plight of the West Australian Black Cockatoo going back to 2008 see: Black Cockatoo.
[This article was originally published as anonymous comment Alarm at falling cocky numbers]
Carnaby's black-cockatoos are found only in Western Australia and are one of only two species of white-tailed black-cockatoo found anywhere in the world. The other is Baudin's blackcockatoo. Both of these species are unique to southwest Australia.
The outlook for the birds remains bleak, the group said, as vital habitat continued to be destroyed, forcing the birds to roost in more densely populated areas north of Perth. BirdLife Australia threatened cockatoos project manager Matt Fossey said it was not just native bushland being cleared for development that was causing a loss of habitat for the cockatoos. "With Perth's rapid expansion, greater protection and management of critical Carnaby's habitat is essential for them to survive in an urban environment."
Alarm at falling cocky numbers
How is any wildlife meant to survive if their habitat keeps being cleared? They may has well be hunted down and shot then die slowly from lack of food and protective habitats. Australia has the worst extinction record of modern times, and all the policies to protect the environment comes to nil. Humans are wrecking Australia with impunity.
15 year old Bindi Irwin, daughter of wildlife warrior Steve Irwin, has recently accepted the position of Youth Ambassador for Sustainable Population Australia. Conservationists are facing the awful toll of wildlife against human economic and population growth drives. She has integrity, intelligence and will be a great ambassador across all age groups to speak about humanity's destructive and explosive population growth and the consequential decline of precious biodiversity.