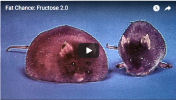 The article by Robert Bridge, quoted and linked to inside, speculates on obesity being a factor in the United States' poor performance in the PyeongChang olympic games. It includes a graph of order of obesity in OECD countries. Australia is the fifth highest obesity country. Japan is the lowest. My money is on high fructose additions to our diets, such as corn-syrup. Dr Lustig University of California San Francisco, Division of Pediatric Endocrinology, has been putting this message out for some time in fascinating scientific videos, including, "Fat Chance" and "The skinny on obesity." I have embedded "Fat chance" in the quoted material from the article inside.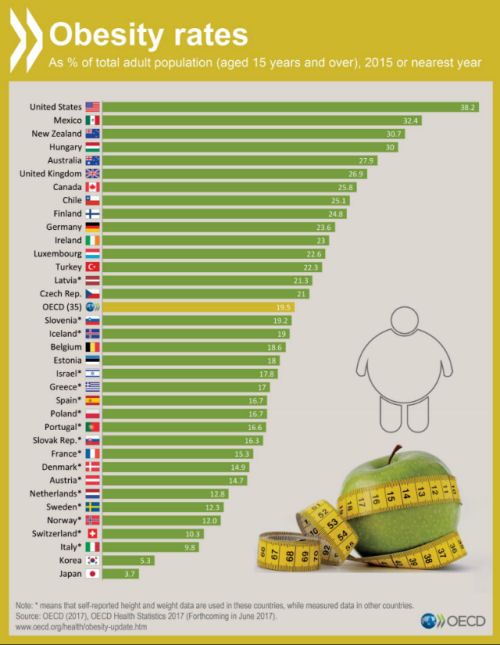 Now that the Olympic torch in PyeongChang has been extinguished and the athletes and fans have gone home, the US is wrestling with its worst performance in 20 years. Could obesity rates be taking a toll on US athletic performance? On the surface, Team USA's total haul of 23 medals, which included nine golds, seems rather respectable. It put the United States in fourth place, behind Norway, Germany and Canada. But not everyone went home satisfied, and least of all the US Olympic Committee, which had predicted US athletes would win at least 37 medals. Not only were the Americans bested by three countries which, combined, make up just one-third of the US population (Norway, which won 39 gold medals in PyeongChang, has just 5.2 million people), it was their worst performance since the 1998 Nagano Games. The situation looks even more troubling when we consider that the US fielded 242 athletes at PyeongChang, the largest-ever delegation in the history of the Winter Games.
The US has been spending wads of cash in an effort to get the most from its athletes. The amount forked over to Winter sports in the years 2015-16 increased by nearly six percent from the previous Olympic 2011-2012 cycle, AP reported. Alas, all that extra cash has produced little in way of gold. Since the 2010 Vancouver Games, America's total medal haul in the Winter Games has been on the decline (37, 28 and 23, respectively).
"We have this amazing depth. We have these incredible medalists," Alan Ashley, US chief of sport performance told reporters following the closing ceremony. He then ventured the question: "How do we continue to compete even at a higher level and give them what they need going forward?"
What is the source of this decline? Since it does not seem related to a lack of funding, or a shortage of potential athletes, could there be particular sociocultural reasons at play, for example particular health factors? As was already acknowledged by the US government back in 2012, when it partnered with Olympic and Paralympic athletes to get more than 1.7 million children involved in sports through Michelle Obama's "Let's Move!" initiative, obesity is a serious issue that is only getting worse.
A recent study put out by the OECD predicts that by the year 2030, almost 50 percent of Americans will be considered as clinically obese. In 13 states, that number could actually exceed 60 percent.
While there seems to be little research to date on the subject, a 2016 policy paper put out by the American Development Model (ADM) in cooperation with the US Olympics Committee (USOC) suggests that America's sporting officials are aware of the problem when it warned: "The percentage of obese children ages 6-11 increased from 7 percent in 1980 to 18 percent in 2010. Among children ages 12 to 19, that figure grew from 5 percent to 18 percent." The paper goes on to detail how parents, schools and sporting clubs can alter their lifestyles and dietary choices to become better athletes.
Read more at https://www.rt.com/op-ed/420669-obesity-usa-olympics-pyeongchang/