Or should we look at the causes of fatty liver?

This medical research arises from the pandemic problem of fructose in our processed food, which is the major cause of Non-alcoholic fatty liver disease (NAFLD), which accompanies the terrible scale of modern obesity.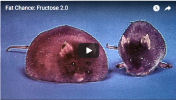 The article by Robert Bridge, quoted and linked to inside, speculates on obesity being a factor in the United States' poor performance in the PyeongChang olympic games. It includes a graph of order of obesity in OECD countries. Australia is the fifth highest obesity country. Japan is the lowest.