[Article by Sally Pepper.] The Communications Ombudsman, Judi Jones, said today that nearly one in two Australians have problems with their phone or internet service and that one in four issues were not resolved after four months. For small business, the situation is even worse. I can relate to this, and I bet you can too.
The electronic matrix
The other day I was talking on the phone with a friend and as usual we were in the middle of changing the world, when suddenly, in mid sentence the phone dropped out. I then spent the next two minutes trying to relocate him in a series of false starts as we were each either engaged trying to contact one another or each sitting patiently waiting for the other to ring. I know what the reader is thinking: "Why did they not use their mobile phones?" Well believe it or not, one of us does not have one and mine was nowhere near where I had been on the land line engaged n conversation.
Of course we are now entangled in a web of communication with our mobile phones such that we rarely make firm arrangements. They are always in a state of adjustment according to traffic, weather and other contingencies. "Nearly there. Just parking the car" ... "I'll get the tickets" ... "I'm in front of the cafe with an apricot beach towel," etc. So there is huge quantity of telephonic communications happening all the time all over the place, but somehow I don't think the quality and reliability is keeping pace.
Problem 1. I have both a land line and a mobile phone and I use the Internet. I used to see the land line as an alternative communication which is independent from the mobile and the Internet. However, a change was made to my land line a couple of years ago which means that it operates via the Internet modem. I am not the first person to make this observation but it means that if the electricity were cut off my land line would also be cut off. No electricity = no phone. When a technician was making the change, I asked him about this, to which he answered that in the case of electricity failure I could use my mobile phone. That is true as long as my mobile phone is charged, I know where it is, or it is day time and I can look for it.
You may ask, "Why do you need to be on the phone just because the electricity has gone off?" Well I don't necessarily, however it is an option that I always had until those changes were made and now I don't have it. In any system - and we will call this a communication system - redundancy is a safety feature. That piece of redundancy has now been taken away. I don't recall being asked.
Digital decay
Problem 2. Phone dropping out as per first paragraph.
Problem 3. This problem is encountered on the radio. I hear presenters, increasingly often having to re-start an interview because of a 'bad line'. I also hear them putting up with bad lines (almost unintelligible) and remarking that this often happens with mobiles.
Problem 4. Are we living in a post radio era and I haven't been told? I have two digital radios, one of which tells me 'no service available' for several local stations, including Radio National. The other digital radio can receive all AM and FM stations, but reception comes in waves of audibility and silence, so that I only hear a few seconds followed by a few seconds gap, then returning sound - making the program unintelligible.
Problem 5 hasn't happened yet !! It's the NBN. I've been told mine has been delayed and I'm so pleased because the new era of constant frustration, poor service, and time wasting phone calls, has been postponed. I can still enjoy my internet, hopefully for a bit more as trouble-free as it has been for the last decade.
Nowhere to hide
I have a friend who has never owned a mobile phone due to the expense and being so trackable. She has always used her partner's phone instead. We pointed out the usefulness of mobile phones in getting you found if you get lost. "But what if you don't want to be found?" she riposted.
Recently her partner purchased a new kind of phone that unlocks with his fingerprint. My friend was aghast, pointing out that he had now given his fingerprint up to the Deep State via some transient private phone company who probably make a tidy income selling such information to the police. And they paid him nothing for the privilege! She said his fingerprint pattern could be used to pin a crime on him, and she wasn't going to give them hers because she might still want to commit a crime and, who knows what they are likely to call a crime tomorrow?
The pre-mobile phone era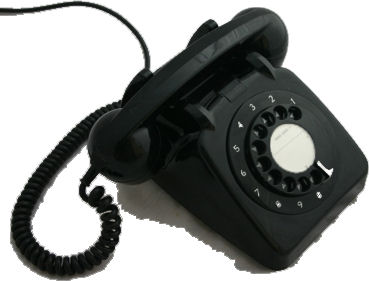 If you were living in Australia after the dinosaurs, but before the privatisation of Telstra, you might remember Telecom Australia. It was a no-frills, stern kind of government organisation and it owned all the telephone lines and all the telephones in Australia - even the phone booths. You had to rent the telephone hardware (to use a modern term for equipment) that you used from Telecom or you could not telephone anyone. What is more, if you disconnected your service, or it disconnected you, you had to give your telephone back to Telecom. People would hang on to Telecom phones for years, with a sense of deep rebellion against the state, then discover that they could not open a new account until they gave the old phone back. Now you might see this as somewhat Australian Soviet era from the perspective of the 21st century, but what I remember is:
The Rules
- All telephones were black. They all looked the same. Nobody's was better than anybody else's.
- You could always find the phone because it was always in the same place, attached by a cord to a socket embedded in a wall. Even demented people could find the phone. (In exceptional cases you might have one or two more sockets and phones.)
- When you hung up the phone, there was absolutely no way that the receiver would slide off. It was too deeply set.
- Phones always worked and, if they didn't, Telecom would fix them. Exceptionately, they would replace your old Telecom phone if it happened to be destroyed in a natural disaster.
- No-one ever rang you from the other side of the world at dinner time - or any other time - to try to sell you phones or anything else.
- Everyone in Australia used the same telephone service and if it didn't give you good service, you could complain to the government.
- All the phone numbers in your state fitted into one good-sized but liftable telephone directory. There was a white one for residential numbers and a yellow one for business numbers. We knew we were overpopulated when they started to issue two volumes for Melbourne and Sydney. I think this also happened only after they privatised Telecom and then Telstra. (Candobetter.net inventor,James Sinnamon, used to be the owner of Citizens Against Selling Telstra.) Soon after that you could no longer rely on your parents' Melways to find your way around either. Melbourne was transforming on a daily basis.
It was the beginning of the end. That's when the matrix started up and most of you turned into cell-phone directed robots. A few of us remain, always using cash, never using mobiles - untraceable, cogitating the revolution. We are the resistance.
What the Telecommunications Industry Ombudsman has said
Nearly 10 million Australians have experienced a problem with their phone or internet service, the Telecommunications Industry Ombudsman, Judi Jones, will announce at the Comms Day Summit today (16.00 pm, 9 April 2018).
The Telecommunications Industry Ombudsman introduced a comprehensive survey for the first time in 2018 and surveyed almost 3000 people from across Australia's residential consumers and small businesses.
In her speech to the conference, Jones will also note 20 per cent of residential consumers had more than one phone or internet issue over the last year, and one in four issues were not resolved after four months. For small businesses the picture is more problematic, with almost 60 per cent identifying a phone or internet issue affecting their business.
Ombudsman Judi Jones said: "Today's results show us that everyone with responsibility for planning and delivering telecommunications service has to make things better. Phone and the internet services are essential services, making a vital difference to families, within communities and to business.
"We all have to be proactive and accessible in managing the issues. We have to listen to residential consumers and small businesses, understand the impact of problems, and offer quick, supportive solutions."
A Six Month Update complaints snapshot will be released Tue 17 April, 2018. This six month update provides key data on complaints from residential consumers and small businesses to the Telecommunications Industry Ombudsman for the period 1 July -31 December 2017.
About the Telecommunications Industry Ombudsman
The Telecommunications Industry Ombudsman is a free and independent dispute resolution and complaint handling service for residential consumers and small businesses who have an unresolved complaint about their phone or internet service. www.tio.com.au or 1800 062 058.
About the telecommunications sector
Government and the regulators set policy and regulations for the telecommunications sector. The Telecommunications industry regulators are the Australian Communications and Media Authority (ACMA) www.acma.gov.au
Communications Alliance is the peak body for Australian communications industry. The Australian Communications Consumer Action Network (ACCAN) is Australia's peak communications consumer organisation.