- Harnessing ancient primary forests for continued carbon storage requires ending industrial logging, and in Australia too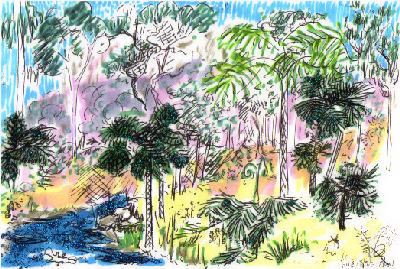 Media Release, 21 Aug 08
By Ecological Internet, Dr. Glen Barry, +1 (920) 776-1075
www.rainforestportal.org
(Earth) -- Ecological Internet welcomes Australia's expression of concern about forests and climate change, demonstrated by yesterday's release of an initial US$2 million in aid for Asia-Pacific nations to help protect forests and reduce greenhouse gas emissions. But it is unfortunate these efforts to maintain forest carbon are only being applied overseas, are based upon flawed science, and thus will not likely make much difference.
An important new study from Australian National University researchers recently found that first-time logging of ancient primary forests results in more than a 40 percent reduction in long-term carbon compared with unlogged forests[1]. Further, untouched natural forests were found to store three times more carbon dioxide than previously estimated and 60 percent more than plantation forests. These findings directly contradict industry propaganda that logging old-growth is climate friendly.
"For forests to be maximally effective in addressing climate change, these findings suggest the focus of Australian forest policy should be upon preserving primary forests with strict protections from industrial development; and focusing upon regenerating natural forests' old-growth characteristics while meeting needs for certified forest products," explains Ecological Internet's President, Dr. Glen Barry.
"If Australia, Papua New Guinea and Indonesia are sincere in their efforts to establish payments for forest protection, and if these efforts are really going to protect regional climate and biodiversity, they are going to have to forego industrial forestry in each of their remaining primary forests. Anything else is greenwash with grave local and global ramifications."
Australia continues large scale first time industrial logging and other clearing of their important ecosystems, with massive release of carbon and drying of water resources, even as their government promotes forest protection internationally to combat climate change. In Tasmania, ancient forests are clearfelled to make disposable paper products, tropical rainforests are cleared for agriculture in Queensland, and logging of rare jarrah continues in the southwest's precious Gondwana forest remnants.
The Australian government is encouraged to rely upon ecological science rather than industry propaganda in regards to forests and climate.
"It is preposterous to impose massive costs upon society for a new carbon trading market while ignoring how first time industrial logging of primary forests in Australia and regionally is a primary driver of climate change. These activities can, and should, be discontinued relatively inexpensively. The Australian government ignores their own University science that first time logging damages carbon stores, funding yet further rounds of "sustainable forestry" aid overseas while continuing to log their own forests, at great peril for Australia's climate and ecological sustainability."
Footnotes
[1] Green Carbon:The role of natural forests in carbon storage, 2008, Australian National University E Press, Brendan G. Mackey, Heather Keith, Sandra L. Berry and David B. Lindenmayer. Visit epress.anu.edu.au/green_carbon/pdf_instructions.html to download book as 2.0M pdf file or download flyer (505K)
For further information : ecologicalinternet.org, phone Dr. Glen Barry on +1 (920) 776-1075, or e-mail info [AT] ecologicalinternet org