FOREST/CLIMATE ALERT! Final Push Needed to Stop Australia's Tasmanian Ancient Forest Pulping for Throw-Away Paper Consumption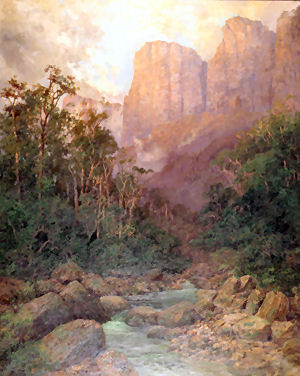 (Image is Piguenid's 's painting of the Tasmania Grose Valley - circa 1887)
Gunns of Australia's controversial plans to build a huge pulp mill to make disposable consumer items largely from clearfelling ancient forests is close to failing, let us together make a final decisive push to warn off potential investors and environmental approvals and achieve its permanent withdrawal.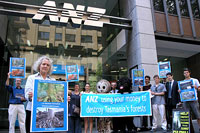 Plans by Australian woodchip giant Gunns Ltd., to continue clearcutting of Tasmania's ancient forests to feed a massive new paper pulp mill, appear to be near final collapse. Gunns is scrambling to raise the cash needed to build the AU$2 billion pulp mill and to meet a looming federal government environmental approval deadline. Chief executive of Leighton Holdings, the proposed builder of the mill, has even stated the project is dead. Join us in supporting massive local protests, and calling upon Australia's Federal Environment Minister Peter Garrett to not extend the environmental approval process, and for the several European pulp interests to steer clear of funding the project or risk years of protest and conflict. Let's join together with local protests and ensure the Gunns pulp mill proposal is permanently withdrawn from consideration.
Take action now, #10;http://www.climateark.org/blog/2008/08/alert_final_push_needed_to_sto.asp">Discuss this alert.
By Ecological Internet's Climate Ark (www.climateark.org),
and Forest Protection Portal (forests.org),
Originally published at http://www.climateark.org/shared/alerts/send.aspx?id=australia_tasmania_climate
30 August 2008
See also: Wielangta Forest is about to be logged to make paper in Japan.