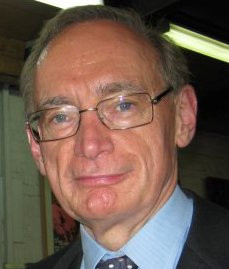 Australian Foreign Minister Bob Carr, informant for the US embassy since the 1970's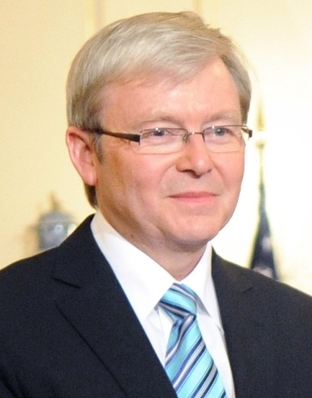 Prime Minister Kevin Rudd, who colluded in the invasion of Libya by calling for a "no-fly" zone
Breaking news : (30 August, 11:30AM GMT+10) UK Parliament votes against war
(Originally posted: Mon, 26 Aug 2013, 01:20:28 +1000) See also: Syria 'Chemical Weapons' Crisis: Live Updates on RT, Appendix 1: Links to factual reporting on Syria, Appendix 2: Mainstream media war propaganda.
Unlike Syria, Australia has participated in several unjust wars since the end of the Second World War.1 As a result of two of those wars, 1,300,000 Iraqis, fled to Syria. The illegal wars, in which Australia participated include: The Korean War,2 the Vietnam War, the Gulf War of 1991, the invasion of Afghanistan in 2001 and the invasion of Iraq in 2003.
In its "demographics" section The Wikipedia Syria article, states:
According to the World Refugee Survey 2008, published by the U.S. Committee for Refugees and Immigrants, Syria hosted a population of refugees and asylum seekers number approximately 1,852,300. The vast majority of this population was from Iraq (1,300,000), but sizeable populations from the former Palestine (543,400) and Somalia (5,200) also lived in the country.[106]
So, as a result of the illegal wars against Iraq in which Australia participated in 1991 and 2003 and the sanctions in which Australia also participated, which even denied medicine to critically ill Iraqi children and food to starving Iraqi children, 1,300,000 Iraqis fled to Syria, where they have since been cared for.
By rights, Syria should have received aid from Australia to help it cope with a problem of Australia's making.
Instead, Bob Carr, who claims to have opposed the wars against Iraq, found a convenient excuse to side with the world's bullies against Syria.
In May 2012, on the pretext of the unproven allegation that the Syrian Government had massacred 108 unarmed civilians at Houla, 'Labor' Foreign Affairs Minister Bob Carr expelled the Syrian ambassador and tightened existing sanctions against Syria.
#app1facts" id="app1facts">Appendix 1: Factual reporting on Syria #introFacts">↑
Regarding allegations that government had killed its citizens with chemical weapons
The links below do not include links to articles on Global Research (http://globalresearch.ca). At around 10:00PM (GMT +10) on 27 Aug 2013, the web browser showed the message "Error establishing a database connection" every time I tried to view a page on that site.
Lying about Syria, and the lying liars who lie about the lying 3 of 25 Aug 2013 by David Swanson, Moallem: We Dare Anyone to Reveal Evidence that Damascus Used Chemical Weapons of 27 Aug 2013 in Almanar News, Sarin Gas : a new propaganda campaign against Syria of  Aug 2013 Voltaire Network, Strike on Syria serves Israel interests: Syrian FM of 27 Aug 2013 on PressTV, of 27 Aug 2013 on The Voice of Russia,
Congress Should Veto Obama's War of 27 Aug 2013 by Patrick J. Buchananan on antiwar.com , Information Minister : US has no evidence on Syria's use of chemical weapons (SANA) of 27 Aug 2013.
Other aspects of the Syrian conflict
Syria opposition handed Western powers lists of targets for strike of 27 Aug 2013 in The Voice of Russia, Aleppo Christians Fear Iraq-Style
Ethnic Cleansing of 26 Aug 2013 on Almonitor of  Aug 2013.
#app2lies" id="app1facts">Appendix 2: Mainstream media war propaganda #introLies">↑
To understand the stories listed below, first read Lying about Syria, and the lying liars who lie about the lying 3 of 25 Aug 2013 by David Swanson (also linked to above).
Mainstream media war propaganda: UN to inspect site of alleged Syrian chemical weapons attack, US say it's too late (includes embedded interview with Lisa Millar) of 26 Aug 2013 on ABC News, Obama's Guns of August of 24 Aug 2013 in Slate, Baird, counterparts express 'outrage' over alleged chemical attacks in Syria of 26 Aug 2013 on CTV, Air, missile strikes on Syria considered by US, UK of 26 Aug 2013 in Rupert Murdoch's Australian (possibly behind a paywall), Kevin Rudd's Syria briefing 'could have been by phone' of 26 Aug 2013 also in Murdoch's Australian, DFAT urges 64 Australians to leave Syria of 25 Aug 2013 in Murdoch's Sydney daily Telegraph, Australia to use UN role to push for Syria solution: Kevin Rudd of 25 Aug 2013, Syria to allow UN to inspect 'chemical weapons' site of 25 Aug 2013 in the BBC, Cameron and Obama warn of 'serious response' to Syria attack of 25 Aug 2013 also on the BBC, Caution needed in considering intervention in Syria 4 of 26 Aug 2103 on ABC TV's Lateline, Carr says West could act on Syria without UN as US, allies gear up for probable military strike of 28 Aug 2013 and embedded video,
US intelligence to justify looming missile strike against Syria of 28 Aug 2013, 10 Simple points to help you understand the Syria conflict 5 of 28 Aug 2013, Kevin Rudd talking to 'global leaders' on Syria, suggests he may attend G20 of 28 Aug 2013 in the Australian (includes another video of Bob Carr again making the lying claim that "evidence [is] accumult[ing].").
Footnotes
#fnSubj1" id="fnSubj1">1. #txtSubj1">↑ Contrary to some misguided "left-wing" narratives of the Second World War, the fight by the Western allies, the Soviet Union and other allies against German Nazism, Italian Fascism and Japanese colonialism was one in which all the people of the world have a vital stake, as Oliver Stone has shown in the TV series "The Untold History of the United States" (2012) and book of the same name. For all the flaws of the Allied nations, humanity is greatly indebted to them. Had the Allies lost, a new and more terrible of barbarism would have begun.
#fnSubj2" id="fnSubj2">2. #txtSubj2">↑ Whilst the Korean war can be technically viewed as the defence of 'South' Korea against aggression from 'North' Korea, in reality, it was an extension of the national war of liberation against the brutal regime of former Japanese collaborators, which had been imposed on 'South' Korea by U.S. occupiers in 1945. From 1945 until 1950, a guerrilla war had been fought against the southern regime.
#fnSubj3" id="fnSubj3">3. #txtSubj3">↑ This otherwise insightful and informative story is flawed by the following words: "5. Both sides in Syria have used horrible weapons and committed horrible atrocities. ...". In conducting a war against ruthless insurgents who use unarmed civilians as human shields and who conceal conceals themselves inside their residences, the Syrian Army has bombarded these residences and undoubtedly caused death and injury. However, in conducting an armed struggle to ensure that the terrorist killers do no triumph the Syrian Army would have little other choice. David Swanson seems to have been influenced by the false "far-left" opinion that every government (except for a truly "revolutionary socialist" of the old Leninist-Trotskyist paradigm) must necessarily be corrupt. However, it appears that a number of notable historical figures who have risen to the top are indeed well-meaning and courageous individuals. One obvious example is the late President Kennedy. President Bashar al-Assad may be of a similar mould. Certainly I have yet to see any evidence that he is corrupt.
#fnSubj4" id="fnSubj4">4. #txtSubj4">↑ On the surface, Bob Carr appears fair, calm and rational in this interview by Lateline presenter Emma Alberici. However, as this interview only likely to be viewed by a very small minority of the public who take the time to watch Lateline and would be overshadowed by news of the strident beating of the drums of war by Prime Minister Kevin Rudd and John Kerry, Bob Carr's apparent urging of caution would have negligible impact, particularly given that Bob Carr has repeated the lies about Syria and has not made the effort to question them.
#fnSubj5" id="fnSubj5">5. #txtSubj5">↑ The 'points' are anything but simple. Includes some token pretences at being objective and not biased, for example: "5. And pretty soon, bad guys on both sides are killing civilians…".
Topic: