Included within this article: 10 reasons to say "no" to the East West link toll road
Melbourne residents are now threatened with the complete ruin of the iconic Royal Park in order to build the East West Link at an extortionate cost that will ultimately be borne by road users through tolls and taxpayers. A far more cost-effective and environmentally and socially sound solution to Melbourne's transport problems, the projected Doncaster Railway line, will be precluded if construction the East-West Link proceeds.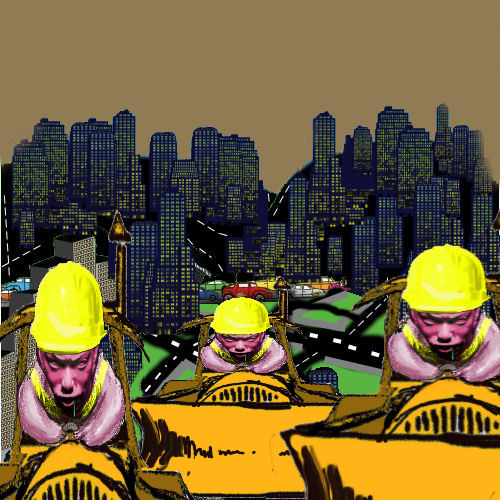 From an e-mail sent by Julianne Bell of Protectors of Public Land on 29 May 2013
Dear Protectors of Public Lands Victoria Inc. members and friends
Help needed urgently to fight East West Link and support Doncaster Rail Campaign
1. Street Stalls Outside Government Displays on East West Link
As you might be aware, Linking Melbourne Authority - the "Government agency" commissioned by the State Government to plan and construct the East West Road Link - is holding a series - 4 (four) - "public information displays on the East West Link" on 1, 2, 3 and 6 June.
A coalition of community organisations including Protectors of Public Lands Victoria Inc are holding our own information stalls outside these displays venues to advertise the City of Yarra's Public Launch of the Campaign "Trains Not Toll Roads" at 6:30 pm on Thursday 13 June at Fitzroy Town Hall; to provide information on the Doncaster Rail Campaign; and tell people what's wrong with the East West Link project (just about everything!)
Propaganda is being distributed as we speak by Linking Melbourne Authority about the East West Link. An 8-page colour tabloid entitled the East West Link News has been letterboxed to Moreland residents (and no doubt other suburbs) as well as a quarter-page ad in the Moreland Leader.
This is D-Day - please do not let the State Government destroy Melbourne by construction of the monster East West Link.
We are calling for volunteers for our street stalls for an hour at a stretch handing out flyers in Flemington, Collingwood, North Carlton and Royal Park. (Ironically these are areas likely to be wrecked by the East West Link) Please email or phone to go on our rosters.
The Linking Melbourne Authority venues are as follows - we will have a stall in the street outside:
Saturday 1 June 11 am to 3 pm at St Brendan's Hall, corner of Church and High Streets Flemington. Melways Map: 29 12A.
Contact: Julianne Bell PPL VIC jbell5[AT]bigpond.com Mobile: 0408022408.
Sunday 2 June 11 am to 3 pm at Collingwood Masonic Hall 141 Gipps Street, Collingwood. Melways Map 2C H1.1
Contact: Freda Watkin YCAT freda.watkin[AT]gmail.com Mobile: 0422650936
Monday 3 June 5 pm to 8 pm at St Michael's Parish Hall, 14 Mc Ilwraith Street, North Carlton Melways Map 29 J12
Contact: Freda Watkin as above or Ian Bird Carlton Residents' Association [email protected][AT]hotkey.net.au Mobile: 0467304512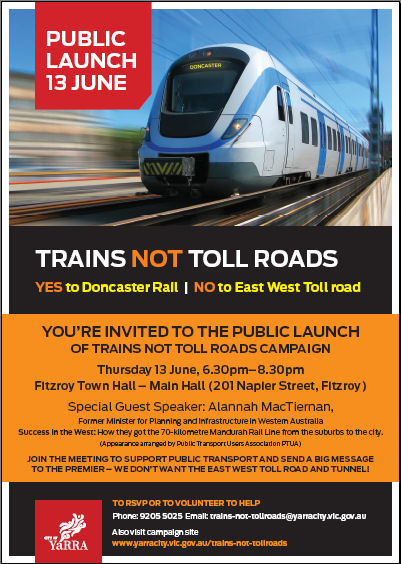 Thursday 6 June 5 pm to 8 pm at the State Netball and Hockey Centre, Brens Drive, Royal Park. Melways Map Reference: 29 12D
Contact Julianne Bell PPL VIC as above or Freda Watkin as above.
2. Street Stall at Queens Parade, Clifton Hill to advertise "Trains not Toll Roads" Campaign and the Launch - Saturday 8 June
Volunteers are needed for a street stall which being held, sponsored by the City of Yarra and staffed by the Protectors of Public Lands Victoria Inc. and The 3068 Group. It is to advertise the Trains Not Toll Roads campaign and the Launch at 6:30 pm on Thursday 13 June at Fitzroy Town Hall.
Venue is in Queens Parade, Clifton Hill outside the Commonwealth Bank on the corner of Michael Street. Melways Map Reference: 2C G2
Contact: Julianne Bell PPL VIC as above. Chris Goodman The 3068 Group [email protected][AT]gmail.com Mobile: 0419482620.
3. Public Launch of Trains Not Toll Roads - Say Yes to Doncaster Rail Say No to East West Toll Road
You are invited to the Launch of the "Trains Not Toll Roads" Campaign - Thursday 13 June 6:30 pm to 8:30 pm at Fitzroy Town Hall - Main Hall (201 Napier Street Fitzroy) Melways Map Reference: Special Guest Speaker: Alannah MacTiernan, Former Minister for Planning and Infrastructure in Western Australia. Success in the West: How they got the 70 kilometre Mandurah Rail Line from the suburbs to the city.
Yarra Council: If possible please RSVP Phone: 9205 5025 or email: [email protected][AT]yarracity.vic.gov.au Also see campaign site www.yarracity.vic.gov.au/trains-not-tollroads
MESSAGE: JOIN THE PUBLIC LAUNCH TO SUPPORT PUBLIC TRANSPORT AND SEND A MESSAGE TO THE PREMIER - WE DON"T WANT THE EAST- WEST TOLL ROAD AND TUNNEL!
See attached invitation and background information #TenReasons">"10 Reasons to say 'No' to the East West Link."
Footnote: Thank you to all PPL VIC members and contacts plus community members who emailed the Lord Mayor of Melbourne and Councillors yesterday Tuesday with the message asking that Council refuse the application by Linking Melbourne Authority, the "project proponent", for new drilling sites in Carlton and Royal Park and to oppose the East West Link. Councillor Rohan Leppert moved an amendment which was lost pointing out that the Council's own transport plan states that the City of Melbourne will not condone damage done to parks by roads!. They voted 4 to 5 to approve the permit application thus contravening their own transport policy. The Lord Mayor reported that 80 objections were received by email. They were too numerous to read out but he said that they will be recorded, presumably in the minutes. So well done to all.
Regards
Julianne Bell
Secretary
Protectors of Public Lands Victoria Inc.
PO Box 197
Parkville 3052
Mobile: 0408022408
Protectors of Public Lands Victoria Inc.(PPL VIC)
#TenReasons" id="TenReasons">10 reasons to say "no" to the East West link toll road
1. No Funds for Key Public Transport Rail Projects The East West Link may cost $10 billion plus and so suck Treasury dry of funds for long-demanded rail projects, namely Doncaster, Tullamarine, Rowville and extension of the South Morang Rail line. Also possibly the Melbourne Metro Rail.
2. Blowout in Greenhouse Gas Emissions and Increased Car Use Encouraged: The proposed project involves construction of 4 lane tollway concrete road tunnels and aerial roadways/cut-and cover-roadways for 18 km., which will blow out Victoria's green house emissions. Provision of new roads will encourage increased vehicle usage, whereas in other States rail lines are being extended for commuters and for freight transport.
3. East West Link = Truck Not Commuter Route: The road tunnels are first and foremost a city by-pass for trucks and therefore do not serve commuters. The EW Link is reportedly going underground at Hoddle Street and, with one turnoff at Elliott Avenue to Flemington Road, emerges somewhere in Royal Park, travels through the Ross Straw Field and joins CityLink in or over the Royal Park wetlands. As most traffic off the Eastern Freeway is headed south or north - including for the city – not east-west, the road tunnels do not serve the majority of commuters off the Eastern Freeway.
3. Congestion Will Remain: The current congestion and gridlock experienced in parts of the city will worsen as city commuters avoid the road tollway and turn off at Hoddle Street, Clifton Hill, and filter through the inner city or continue on existing roads above ground.
4. Destruction of Melbourne's Major Park - Royal Park: The EW Link will cut a swathe through Royal Park and in the process of tunnel or roadway construction over four to five years it will be transformed into giant quarry sites and its bushland (used for passive recreation), sports fields, community facilities, wetlands and water storage tanks ripped up by the EW Link construction.
5. Destruction of Wetlands and Water Storage Facilities: The Royal Park Wetlands which supplies water for Melbourne's parks and street trees plus the Royal Park Golf course will be completely destroyed, including the vast water storage tanks under the Ross Straw field.
6. Loss of sports fields and club rooms: The sports fields in west and east Royal Park plus Princes Park which serve thousands of people - school children as well as adults – from across Melbourne will be requisitioned for construction for the tollway and probably never restored. This is at a time the population is growing rapidly and sports facilities are already in short supply. This will have a negative impact on people's health.
7. Loss of the State Netball and Hockey Centre plus Urban Camp for Children: As the one road to these institutions – Brens Drive - will be closed off during construction it is likely that they will not survive.
8. Compulsory Acquisition of Homes and Loss of Residential Amenity: Whole neighbourhoods will be severely affected by construction of road tunnels and elevated roadways along the route. We know that properties will be subject to compulsory acquisitions in Collingwood, Carlton and West Parkville. As we have no proper plans we do not know the extent of the threat to residential amenity of inner Melbourne.
10. Threat to the Melbourne Zoo and the Royal Children's Hospital: These institutions are threatened not only during 4 to 5 years of construction but from long term pollution and possibly noise. It is not known where the tunnel vent stacks will be located and whether the EW Link will be open cut through Royal Park.
Contact: Julianne Bell PPL VIC jbell5[AT]bigpond.com Mobile: 0408022408
Topic: