Azaria Chamberlain was just nine weeks old when she disappeared on Aug. 17, 1980, from a camping ground near Ayer's Rock, (now known as Uluru), in Australia's outback.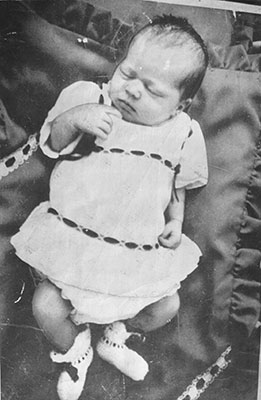 Lindy Chamberlain said soon after that she saw a dingo leaving the family's tent with the baby in its mouth. Azaria's body has never been found.
The 32-year-old case of whether a dingo killed baby Azaria Chamberlain may finally be closed as an inquest in Australia hears new evidence.
When Lindy Chamberlain cried out that a dingo's got my baby, it reverberated round Australia, bringing reactions of incredulity and skepticism, fueled by the seemingly calm appearance of Michael and Lindy Chamberlain.
Two campers, Bill and Judith West, heard a dingo growl near the tent. There were dingo paw prints at the entrance. There were drag marks in the sand and an indentation consistent with a baby's jumpsuit and people actually followed dingo tracks for a time away from the campsite.   The Chamberlains gave the tent to the police who allegedly cleaned the tent floor, erasing evidence.
The Chamberlains went on trial, Lindy convicted of murder in October 1982 and sentenced to life imprisonment - a mandatory sentence for murder in the Territory.   Michael given a suspended sentence for being an accessory after the fact.
The coronial inquest into the death in the Australian outback of baby Azaria, the fourth since the infant disappeared, began in Darwin Magistrates Court in the Northern Territory in response to new information provided by the baby's parents.
The evidence concerns several dingo attacks on infants and young children since Azaria's death.
(The inquest) is the only way I know to let Australians know once and for all that dingoes are dangerous, a statement from Mrs Chamberlain-Creighton read in court said.   
Fraser Island's dingo population is facing extinction within the next ten to 20 years and continue to be labeled as "dangerous" and aggressive animals.
National Dingo Preservation and Recovery Program - Media Release
National Dingo Preservation and Recovery Program ( Inc. A0051763G)spokesperson, Dr Ernest Healy, stated in a Media Release February 21, 2012, that:
DERM has applied a ridiculously loose standard in labeling contact between dingoes and humans on Fraser Island as 'attacks' or as 'dangerous'.
The Department has applied a no-tolerance approach to dingo-human contact, whereby virtually any contact at all has been labeled as 'aggression' on the part of the dingo. DERM has persisted with categorizing the most trivial forms of contact as aggressive, for which large numbers of high-conservation-value dingoes have been put down.
Dr Healy added:
That these flawed records, a product of the mismanagement of the Fraser Island dingo population, should now be used to further vilify the reputation of the dingo in the Azaria Chamberlain case appears self-serving on DERM's part. One has to wonder if DERM is now using the Azaria Chamberlain inquest to attempt to legitimize its track record of dingo mismanagement on Fraser Island. If so, this situation is one that all Queenslanders should be outraged about.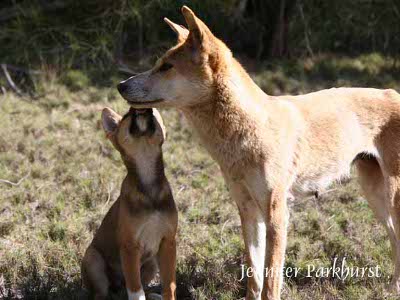 That records compiled as a part of the mismanagement of the Fraser Island dingo population should now be used to vilify the dingo in another context highlights the need for a judicial enquiry into Fraser Island dingo management by DERM. A change of government in Queensland in the near future may provide the catalyst for such an enquiry.
Further, it is of concern that Chamberlain attorney may rely on DERM assertions which can be shown to be incorrect. In particular, the claim that habituation = aggression is misleading and may distort the inquiry's findings. Although DERM maintains that its categorisation of dingo behaviour on Fraser Island is objective, in practice its use of the term 'aggression' remains largely subjective.
A member of our group spent 7 years in the field on Fraser Island observing dingoes at close quarters – photographing them and recording their behaviour. She was never harmed, threatened or attacked.
Likewise with long-term residents of the Island. DERM's incident reports, which number in the hundreds, show that behaviour leading up to alleged 'attacks' primarily consisted of curious or playful juvenile dingo behaviour. Many incident reports show that the 'attacks' were not aggressive by commonly accepted standards.
Dingo behaviour is coded as follows:
A Avoidance or wary
B Habituated
C nuisance or problem
D aggressive
E Dangerous
The random sample of DERM incident reports are do not necessarily match the set of reports selected for submission to the Chamberlain inquiry – which may only include 'dangerous' incidents) show that 68.5% were code C incidents; 17% were code D, and only 11% were code E.
Of the code E incidents described in the reports, only 4% record biting, or attempted biting. In three cases dingoes were destroyed for 'attempted biting'; t There were two cases of the dingo 'circling' a person, and one record where the dingo 'did not bare its teeth or attempt to bite'.
In many cases of D category incidents, the dingoes were easily scared away, which implies no serious intent to attack. In 23% of C & D incidents, the dingo was noted as 'non-aggressive'. We submit that, in many cases, the behaviour was merely juvenile play behaviour. This is because, in 100% of reports we studied, the dingoes were under 12 months old.
This is supported by an early Department report which states: 'nuisance behaviour is usually associated with a juvenile animal's playful character.' (Price 1994)
It is disturbing that a large percentage of 'incidents' (22%) were instigated by DERM rangers.
To the extent that incidents of dingo aggression on Fraser Island may be treated seriously, it is our view that such aggression reflects the mismanagement and mistreatment of the dingo population, rather than any inherent behavioural tendency in the animal itself.
Forty per cent of the 'incident' reports were principally cases of dingo 'sightings', recorded as 'loitering'. The response in 30% of these circumstances was to haze the dingo, or in other cases the dingoes had already previously undergone intense hazing programs. Hazing is shooting a dingo with a clay marble from a sling shot or firing pellets from a 22 rifle. In some cases, the dingoes had undergone aversive therapy using electric shock collars, a practice condemned by the RSPCA.
It is instructive to note what people were doing prior to an alleged attack. For example, people giving food to dingoes to lure them for a photo and then chasing them with sticks when they were sick of them.
DERM's preferred dingo expert, Dr Laurie Corbett, who is currently cited by DERM in defence of the 'habituation = aggression' hypothesis, is quoted in Lionel Hudson's 1974 publication, Dingoes Don't Bark, as saying there had been no unprovoked attack on a person by a dingo.
Notwithstanding the dubious characterisation of dingo in alleged attacks on Fraser Island, the degree of responsibility exercised by parents and adults with children in such circumstances has been questionable.
One such incident involved an alleged attack by a dingo on a child on Fraser Island in 2007, where it is claimed that a young girl was attacked near a car loading point on the beach. An affidavit from a barge skipper (who did not witness the incident, but spoke to the people involved) describes his warning to persons at the loading point to stay close to their children. The skipper also described the situation as one where the parents and the child did not seem overly distressed after the incident.
The parents subsequently admitted that they took their eyes of the child for a moment. However, according to witnesses, the child was at least 200 metres away from the parents at the time of the alleged attack.
Hybrids are more aggressive
Dingo expert Laurie Corbett has written that apart from the contamination of the gene pool, hybrids pose more of a threat to the pastoral industry than pure Dingoes do. Female hybrids come into oestrous twice each year, and are capable of killing many more calves than pure dingoes can. Paradoxically they do not eat them. Also, in urban areas, hybrids are probably more dangerous to humans than most pure domestic dog breeds.... At the time of writing, 1995, there had been eight human fatalities caused by "pet" wolf hybrids.
Could it be that the "dingo" that killed Azaria Chamberlain was more likely to have been a hybrid or a wild dog?
Corbett recommended education is the best way to help people understand the Dingos' plight and push for policies to retain the species as part of Australia's national heritage. There should be more "education" on managing human behaviour with regards to dingo interaction on Fraser Island!!
(Corbett, Laurie, Australia Nature, Summer 1995-96, "Dingoes: Expatriate Wolves of Native Dogs?")
----------------------------------------------------------------------------------------------------------------------------
Contacts: Radio: Ernest Healy, President NDPRP, [email protected]
Newspaper: Jennifer Parkhurst, Fraser Island Representative NDPRP, [email protected]
The National Dingo Preservation and Recovery Program is a non-profit organisation that brings together environmental scientists, conservation organisations and concerned individuals to ensure the protection of the dingo as an integral part of Australian ecosystems. The organisation aims to:
* encourage legislative and government policy change to ensure the protection and survival of the dingo in the wild, and
*inform and educate the public and government as to the cultural, ecological and historical significance of the dingo.