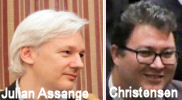 George Christensen, the Australian Federal Member for the northern Queensland coastal seat of Dawson, has today, on 29 November, introduced the Illegal Detention of Australian Journalists (Free Julian Assange) Bill 2021 into the House of Representatives. Every Australian, who wants to finally see Julian Assange released from prison, must urgently contact his/her Parliamentary representative and urge each of those members to do all that he/she is able to see that George Christensen's bill gets put, fully debated and thence voted upon.
Compared to the, so far, miniscule amount of time devoted to Julian Assange in our national Parliament - by my recollection, less than 10 minutes on four separate occations, so far, in 2021 - this is a fantastic development. Finally we will get to hear the case put to the floor of Parliament, for why the Australian Government should act to free Julian Assange. We will finally get to see where each and every member of both the House of Represnatatives and the Senate stands on Julian Assange. Should George Christensen's motion be carried, then the Government will be obliged to act to uphold international law and force Britain and the United States to get their bloodstained hands of Julian Assange and finally allow him to finally come home to Australia with his fiance, Stella Moris, and their two children.
George Christensen's Bill contains the following provisions:
Paragraph 4, Offence of detaining Australians for legitimate journalistic activities, makes it an offence for the government or head of governmment of a foreign country to detain an Australian citizen or to request of another foreign country to detain an Australian citizen because of that Australian citizen engaging in or allegedly engaging in legitimate journalistic activity. The penalty for this offence under Australian law by any person including by the head of any government or any minister in that government would be 7 years imprisonment. [1]
Paragraph 5, Release from Australian custody. Subsection (1) requires any person, illegally detained by a foreign country to be immediately released as soon as that person arrived on Australian soil. Subsection (2) states that Subsection (1) does not apply if the person is held in custody because he has broken any Australian Federal or State law.
Paragraph 6, Transitional provisions, states that this law applies even where a person may have been detained overseas or transferred to Australian custody and not released before the commencement of this act. Subsection (2) states that "for the purposes of this Act, conduct engaged in by Julian Paul Assange for the purposes of WikiLeaks before the commencement of this Act is legitimate journalistic activity."
The tabling of this bill, could mean that finally, after nine and a half years of the illegal detention and torture of Julian Assange, including 2 years and seven months solitary confinment in Belmarsh Prison since 11 April, the Australian Parliament will be able to discuss this issue, and hold to account the Federal Government for its failure to uphold its duty of care towards Julian Assange - and worse.
It is vital that George Christensen's bill be given top priority so that it can be moved and fully debated by every member of Parliament with a view on Julian Assange.
What you can do
Contact your member of Parliament and your State Senators to urge each of them to do all that he/she is able to see that, as a matter of urgency, George Christensen's bill is put, debated then voted upon before the end of this current sitting of Parliament for 2021. Please let us know here, and on social media, how each of your representatives responds to you. Many of those who may be slow to show their support for George Christensen's bill may be persuaded to act should sufficient numbers of their constituents vocally ask them to.
Footnote[s]
[1] Whilst it may be difficult to enforce these penalties against overseas political leaders who have committed any of these offences, were they ever to visit Australia, this law would require that they be arrested, charged, tried and imprisoned if found guilty. People who would stand to be arrested include former U.S. President Donald Trump, U.S. President Joe Biden, U.K. Prime Minister Boris Johnson and former U.K. Prime Minister Theresa May.