Discussion about the plight of the most famous and most revered Australian forbidden in your Parliament!? In 2020, the shadowy Parliamentary Selection Committee, which is controlled by the Labor Party and the Liberal/National coalition, refused to allow Tasmanian independent Andrew Wilkie MP to raise, for discussion, the plight of that most famous and revered Australian Julian Assange. Then, last year, on 15 June 2021, when Labor MP Julian Hill tried to put a motion in support of Julian Assange [1] in the very small time slot of 2 hours allocated for such motions on a Monday,  if that Monday is not a public holiday, that motion was also refused by the Selection Committee.
As we are all aware, Julian Assange, has since 1 May 2019, more than 3 years ago now, been  locked away for 23 hours per day in solitary confinement in London's Belmarsh
prison. He has already served far more than the maximum sentence of 50 weeks imposed for 'skipping bail' when he sought asylum in the London Ecuadorian Embassy on 20 June 2020. Given that, back then, Julian Assange would almost certainly have been deported from Sweden, which was then seeking his extradition on trumped up sexual assault allegations, to the United States, whence he would almost certainly have been incarcerated for the rest of his life in solitary confinement,  his 'skipping bail' was not only morally justified but also allowed under both British law and international law.
Julian Assange's imprisonment is therefore illegal as well as morally repugnant. Had the Australian government, at any one time in the 10 years that have elapsed since 20 June 2012, acted in Julian Assange's defence, the US government would have almost certainly realised immediately that it faced no choice but to desist in its attempt to kidnap Julian Assange. The British government would have similarly ended its illegal incarceration of Julian Assange and he would be free today.
That is what those in control of both major parties are trying to conceal from the Australian public. They could have long ago acted to free Julian Assange, but chose not to do so. It is long past time that we held them to account for this shameful conduct.  The Julian Assange Parliamentary Support Group has 30 members. That leaves all of 197 other members and senators who have yet to use voices in his support.
Those members and senators must be told by the people they are ostensibly representing that this is good enough. Should they still refuse to stand up for Julian Assange, they should be asked to resign. Certainly, they must be voted against at the next federal election.
Can we move forward after today?
Whilst today's "Converge on Canberra" is a fantastic initiative, unfortunately, it seems unlikely that, in itself and of itself, it will bring about any fundamental change in the conduct of our Parliament and of our Government. After we disperse at the end of this protest, the failure in their basic duty of care towards Julian Assange will most likely continue that is unless those of us here today find ways to continue to raise our voices loudly. If you want to continue with your support of Julian Assange, please make sure that  you  stay  in  touch  with  "Canberra  for  Assange"  the  organisers  of  today's  event through  their  Facebook  page.  Also,  please  feel  welcome  to  contact  me  through  my contact details on this site.
Canberra shopping centre disallows my distribution of leaflets for today's Julian Assange protest on public street
A further illustration of the decline in Australian democracy, which is typified by our government's betrayal of Julian Assange, is our growing inability to distribute leaflets on
what I had previously thought was public space. In the past, in Melbourne, I have been stopped from distributing leaflets in support of Julian Assange in outside areas deemed to
be part of a railway station. Yesterday I began to hand out leaflets in support of today's protest on what I thought to be  public space, Petrie Street in the Canberra CBD, which is
shown below.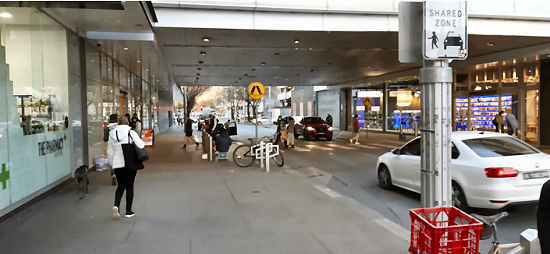 Whilst many thanked me for the leaflet, the shopping centre manager objected and sent out a security guard. Over a walkie-talkie, the manager told me to leave or he would call the police.