12pm Wednesday 27 September Frank Pangallo MLC will put a motion for Julian Assange (or see tinyurl.com/2ktnxec4) to the South Australian Parliament. Supporting event is planned outside Parliament with speakers Frank Pagallo, SA MLC; David McBride,Whistleblower;  Stephen Kenny, Julian Assange's Australian Lawyer; Tammy Franks, Greens MLC, and Rex Patrick.
Adelaide for Assange event post re the motion to be put.[1]
Parliament House Steps, North Terrace, Adelaide 5000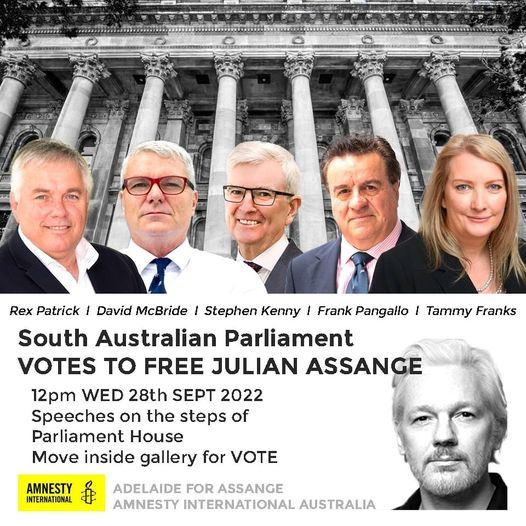 Public · Anyone on or off Facebook
THIS EVENT IS NOT TO BE MISSED!
The South Australian Parliament is going to vote on the life saving motion put forward by Frank Pangallo MLC to demand freedom for Julian Assange.
We must stand up for free speech, free press, democracy and to free Julian Assange. Journalism is NOT a crime. 12 years of arbitrary detention for exposing truthful information is a travesty of justice.
We have great speakers:
Frank Pagallo - SA Best MLC
David McBride - Whistleblower Stephen Kenny - Julian Assange's Australian Lawyer
Tammy Franks - Greens MLC
Rex Patrick
If you only make one event for FREEDOM this year, make sure it is this one!
WE MUST FREE JULIAN ASSANGE!
NOTES
[1] Long URL: https://www.facebook.com/adelaideforassange/posts/pfbid05jaGWHCgiB8tGLzBBUwVxWeyNR2Q7vAZ7dM8EE1NsUVo7gqWaE1Hj28rm8VT9dBsl?__cft__[0]=AZVPftS1cgMBVM4m87eWU2dssPeF9064_3ZnQ3GHmK-KoVWdXNRdOzfAYD2w61JWa0Wwx530OrCyJH9jr0UIghzVBV2InoeL-aWg6sM1PkGqG1_tesO4uj132q6V5C6-EDW9lGLsJBdiVePyrpMOuyIx&__tn__=%2CO%2CP-R