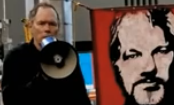 In the early hours of Thursday 16 February, the last day on which the House of Representatives, the lower house of Australia's two houses of Parliament, is to sit until the next sitting begins on Monday 6 March, I have been individually emailing members of the House with my Open Letter entitled "Lift Parliament's gag on discussion about Julian Assange - an Open Letter to members of the Julian Assange Parliamentary Support Group". This open letter, written on 15 February 2023, can be found here on https://candobetter.net/.
The full name of this group is the "Bring Home Julian Assange Parliamentary Support Group". Whilst members of the group have recently been remarkably quite, so far this year, I was still hopeful that some members of that group could be motivated to be a lot more outspoken in this upcoming one last sitting day on Thursday 16 March. Accordingly, I emailed to a number of them that open letter linked to above. The MPs I emailed are Andrew Wilkie, Monique Ryan, Steve Georganos, Peter Khalil, Ms. Sue Templeman, Julian Hill, Adam Bandt, Rebekha Sharkie, Tony Zappia, Zali Steggall and Josh Wilson.
I think there is still time for other supporters of Julian Assange to be in contact with those members, other members of the Julian Assange Parliamentary Support Group, whom I did not get around to contacting, and motivate those members to act today, in the way I proposed in that Open Letter. I proposed that they again move for a procedural motion for the Suspension of Standing Orders so that Andrew Wilkie's foreshadowed motion, which he unsuccessfully tried to put on 2 December 2021, can again be put.
Even just this action alone would show to the world that there are MPs in Australia's Parliament who want the Australian government use the power vested in it to make the UK end its illegal imprisonment of Julian Assange. For more details, please see the article linked to above.
You could also help by linking to the article linked to above on Twitter and making posts arguing for the same on Twitter, Facebook and other social media. Please also consider printing and handing out copies of leaflets for which the PDF files can found on this site, https://candobetter.net/. Please also consider attending protests for Julian Assange such as our weekly Vigil for Julian Assange, which starts at 5pm outside Melbourne's Flinder's Street Station.