Article has been adapted from a comment entitled "East West link business plan must be known by Senate" originally posted by PostGrowthEra on 5 September - Ed
Legal advice provided by deputy Senate clerk Richard Pye confirms the Senate has ''undoubted power'' to force Infrastructure Australia to hand over the documents, which the state government insisted must remain secret to protect delicate commercial negotiations.
The state government provided a cost-benefit analysis to Infrastructure Australia for the East West link, but it won't be available for public viewing because it's "commercially sensitive"
Transport Minister Terry Mulder patronisingly said making this information available to the public would affect the government's ability to negotiate the best outcome for taxpayers. Is he assuming the voting public do not understand finances, and what's best for their own hip pockets, and city?
According to Mulder, the east west link will be a major corridor for the movement of freight, which is forecast to increase by 50 per cent by 2020, along with the growth of people wishing to travel across the city. No doubt, this priority towards businesses and corporate supply chains makes the cost benefit analysis "commercially sensitive".
The Greens, who will continue to hold the balance of power in the Senate until at least the middle of next year when the term of the Senate expires, are battling to retain the seat of Melbourne where the east-west link is a key issue in Saturday's election.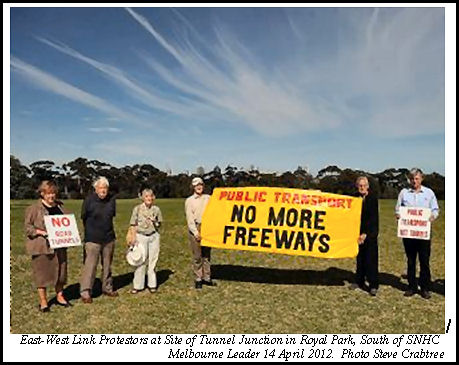 ''The east-west tollway is likely to be Victoria's next desalination project, with vast sums of taxpayer funds propping up a loss-making venture,'' Mr Bandt said.
The Greens fall down for not having an implementable and realistic population policy. The rapid growth in human numbers means we are in ecological overshoot with regards to fresh water supplies, and the energy and costs of the existing desalination plant is to cater for "projected" population growth - and property development. It's predicted that freight will increase by 50% over the next few years, due to population growth and demands. The tolls for using these freeways is because they are overly costly and over-budgets.
The Greens are failing the electorate by failing to address the cause of greenhouse gas emissions, pressure on natural resources, congestion hampering productivity, and budget blowouts. There's a big abyss of inconsistency in their idealist and borderless policies.