This has been republished from Voltaire Net.See also: Putin's 2014 Q&A marathon LIVE UPDATES (18/12/14), 'Can't stuff this bear' and other Putin Q&A quotes (18/12/14)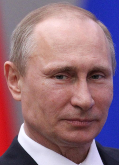 On Thursday 18 December 2014, Russian President Vladimir Putin gave a Press conference. It included his address which lasted from 9:12AM until 12:38PM GMT. President Vladimir Putin has been condemned by Australian Prime Minister Tony Abott and the Australian newsmedia for alleged Russian aggression against Ukraine and complicity with the alleged shooting down of the Malaysian Airlines Flight MH17. In spite of this not one of the Australian journalists, nor any other Western journalist present put these allegations to President Putin. Roman Tsymbalyuk of the Ukrainian News Agency UNIAN did put those allegations. Both his question and Vladimir Putin's response are included.
#EDF5FA;">On Friday 9 December, the SBS 6.30PM evening news reported dismissively about the conference whilst it did not feature at all on the ABC 7:00PM news. Examples of previous 'reporting' about Vladimir Putin by SBS include Comment: Vladimir Putin the impaler (26/8/13), 'Get out of Ukraine': Canadian PM 'shirt-fronts' Putin at G20 (16/11/14), West behaving like an 'empire': Russian president (19/12/14), Kremlin denies Putin leaving G20 early (16/11/14), Putin slams G20 for imposing sanctions (15/11/14).
PRESIDENT OF RUSSIA VLADIMIR PUTIN: Good afternoon, colleagues.
I am very happy to see you in high spirits. As we did last time, I will begin by briefing you on the work done during the year and then I will try to answer your questions.
First the most important thing: the economic performance. In the first 10 months of this year, the gross domestic product grew by 0.7 percent, and the final figure may be around 0.6 percent. My colleagues and I met yesterday to finalise the figures. The trade surplus grew by $13.3 billion to reach $148.4 billion.
Industrial production picked up some speed after last year's lull. In the first 10 months of the year, it went up by 1.7 percent. Unemployment is also low: at times, it dropped to below 5 percent, and now it is around 5 percent, possibly 5.1 percent.
The agroindustrial complex is developing. I believe that by the end of the year growth there will amount to 3.3 percent. As you may know, this year we had a record crop of 104 million tonnes.
Despite the turbulent situation on the financial market, the federal budget this year will show a surprlus. In other words, revenue will exceed expenses by 1.2 trillion rubles [over $20 billion], which is about 1.9 percent of the GDP. The Finance Ministry is still working on the final calculations, but the surplus is definite.
The main achievement of the year in the social sphere is of course the positive demographics.
Natural population growth in the first 10 months of the year was 37,100 people. The death rate is going down in this country, while the birth rate is increasing. This is a very good trend and we must make every effort to maintain it. As promised, we continued adjusting the maternity capital. In 2014 it amounted to 429,408.5 rubles.
We have met and exceeded the targets set for this year for salary rates for ten workforce categories. I am sure you know what I am talking about. First of all, these are teachers at schools and institutions providing supplementary education, counsellors, university faculty members, medical doctors, paramedics and nurses, and employees of cultural institutions. In 2014, we adjusted pensions to inflation twice: by 6.5 percent on February 1 and by an additional 1.7 percent on April 1.
We gave significant attention this year to enhancing the combat capability and efficiency of the Armed Forces. I will not go into detail here. I would only like to mention the social sphere. In 2014, 11,700 Defence Ministry servicemen received permanent housing and 15,300 received service housing. This is 100 percent of the year's target figures.
These are the numbers I wanted to begin with. Now a few words regarding the current situation. I believe we all know that the main issue of concern to this country's citizens is the state of the economy, the national currency and how all this could influence developments in the social sphere. I will try to briefly describe this situation and say how I expect it to develop. Basically, that is where we could end this news conference. (Laughter) However, if you have any further questions I will try to answer them.
The current situation was obviously provoked primarily by external factors. However, we proceed from the view that we have failed to achieve many of the things that were planned and that needed to be done to diversify the economy over the past 20 years. This was not easy, if at all possible, given the foreign economic situation, which was favourable in the sense that businesses were investing into areas that guaranteed maximum and fast profits. This mechanism is not easy to change.
Now, as you may know, the situation has changed under the influence of certain foreign economic factors, primarily the price of energy resources, of oil and consequently of gas as well. I believe the Government and the Central Bank are taking appropriate measures in this situation. We could question the timeliness or the quality of the measures taken by the Government and the Central Bank, but generally, they are acting adequately and moving in the right direction.
I hope that yesterday's and today's drop in the foreign currency exchange rate and growth of our national currency, the ruble, will continue. Is this possible? It is. Could oil prices continue falling and would this influence our national currency and consequently all the other economic indexes, including inflation? Yes, this is possible.
What do we intend to do about this? We intend to use the measures we applied, and rather successfully, back in 2008. In this case, we will need to focus on assistance to those people who really need it and on retaining – this is something I would like to highlight – retaining all our social targets and plans. This primarily concerns pensions and public sector salaries, and so forth.
Clearly, we would have to adjust our plans in case of any unfavourable developments. We would certainly be forced to make some cuts. However, it is equally certain – and I would like to stress this – that there will be what experts call a positive rebound. Further growth and a resolution of this situation are inevitable for at least two reasons. One is that the global economy will continue to grow, the rates may be lower, but the positive trend is sure to continue. The economy will grow, and our economy will come out of this situation.
How long will this take? In a worst-case scenario, I believe it would take a couple of years. I repeat: after that, growth is inevitable, due to a changing foreign economic situation among other things. A growing world economy will require additional energy resources. However, by that time I have no doubt that we will be able to do a great deal to diversify our economy, because life itself will force us to do it. There is no other way we could function.
Therefore, overall, I repeat, we will undoubtedly comply with all our social commitments using the existing reserves. Fortunately, this year they have even grown.
I would like to remind you that Central Bank reserves amount to $419 billion. The Central Bank does not intend to 'burn' them all senselessly, which is right. The Government reserve, the National Wealth Fund, the Reserve Fund have grown this year by about 2.4-2.5 trillion rubles to a total 8.4 trillion rubles. With these reserves I am certain we can work calmly to resolve our main social issues and to diversify the economy; and I will repeat that inevitably the situation will return to normal.
I would like to end my introductory remarks here. As I have said, we could end the whole news conference here, but if you do have any questions, I am ready to answer them.
PRESIDENTIAL PRESS-SECRETARY DMITRY PESKOV: This year I would like to begin with those who have been working with the President throughout the year – the Kremlin press pool. First I would like to give the floor to the dean of the Kremlin press pool Vyacheslav Terekhov, who has been working with Mr Putin for many years and who travels to all the remote parts of the world and all the cities and towns of this country. Mr Terekhov, please.
VLADIMIR PUTIN: This is what they call nepotism.
VYACHESLAV TEREKHOV, INTERFAX: But I've got an interesting job.
There is something I would like to clarify, Mr President. Judging by the situation in the country, we are in the midst of a deep currency crisis, one that even Central Bank employees say they could not have foreseen in their worst nightmares.
Do you believe that things will get better in two years, as you mentioned, and we will recover from this financial and economic crisis? Criticism was piled on the Government and the Central Bank for the ruble's Black Monday and Tuesday. Do you agree with this criticism?
Thank you.
VLADIMIR PUTIN: I said that given the most unfavourable foreign economic situation this could last (approximately, because no one can say for certain) for about two years. However, it may not last that long and the situation could take a turn for the better sooner. It could improve in the first or second quarter of next year, by the middle of next year, or by its end.
Nobody can tell. There are many uncertain factors. Therefore, you could call it a crisis or something else, you can decide which word to use. However, I believe I made it quite clear that the Central Bank and the Government are generally taking appropriate measures in this situation. I believe some things could have been done sooner, and this is actually what the expert community are criticising them for.
What does the job involve, in my view? And what are the Central Bank and the Government actually doing? First, as you may know, they raised the key interest rate. I hope the rate will remain for the duration of these complicated developments connected with the foreign economic situation, and the economy will adjust one way or another.
What is the basis for my optimism? The idea that the economy is bound to adjust to life and work in conditions of low prices on energy resources. This will become a fact of life.
How soon will the economy adapt if the prices remain at the current level or even go below 60 [USD/barrel], 40, or whatever? For us it could be any figure, the economy would simply have to get structured. How fast will this happen? This is hard to say. But it is inevitable. I would like to highlight this. This will be a fact of life.
What is the Central Bank doing? They have raised the key interest rate. What else do they need to do? And what are they already doing? To stabilise the national currency they need to somewhat limit ruble liquidity and give economic entities access to foreign currency liquidity. This is exactly what the Bank is doing. Their foreign currency interest rate is quite low – 0.5.
Overall, I think it is up to the Central Bank to decide whether to reduce the interest rate or not, they should see and react accordingly. They should not hand out our gold and foreign currency reserves or burn them on the market, but provide lending resources. And they are doing this as well.
The so-called repo is a well-known instrument here. They can be offered for a day, a week, 28 days, almost a month, or for a year. This is money that is returned, but it gives economic entities the opportunity to make use of the foreign currency. Everything is being done right.
They should probably move at least half a pace faster. Of course, I see the criticism levelled at the Central Bank and its Governor. Some of it is justified, some is not. The Government should also bear responsibility. They should work with exporters who have sufficiently high foreign currency revenues.
The Prime Minister met with heads of our major companies and we can see some results. Many of them have to return their loans and think of the condition their companies are in.
Every company, just like every individual, tries to save 'for a rainy day'. Is such behaviour economically justified? In terms of economic logic, it is not. Nevertheless, companies do it, and we now see a certain result, the 'rebound' is happening.
The Government should be taking other measures as well. What do I mean? For instance, combatting inflation is of course the Central Bank's job. However, there are things that we have mentioned already, things I spoke of in public during our meetings with the Government.
For instance, the prices of petrol and food are something they should work on. Moreover, the current situation, whatever anyone says, requires a 'hands on' approach. They have to meet with producers, those who are on the market, with retailers and with the oil companies that have significantly monopolised the market. The Federal Antimonopoly Service should function properly.
These actions have to be joint and reasonable, though without any violation of the individual competence of, say, the Central Bank or the Government. Nevertheless, they should coordinate their actions, and do so in a timely fashion.
Therefore, they can criticise Nabiullina [Central Bank Governor] all they like, but one should bear in mind that overall their policy is right. The Central Bank is not the only one responsible for the economic situation in the country.
DMITRY PESKOV: Another presidential press pool old-timer, Alexander Gamov of the Komsomolskaya Pravda. Is there anything you would like to ask?
ALEXANDER GAMOV, KOMSOMOLSKAYA PRAVDA NEWSPAPER: First, I have something to say. Mr President, I believe many people were looking forward to seeing you here at this news conference. Many were trying to predict your mood, because this would largely set the mood for the entire country. You are here, and you already smiled several times, so thank you for your optimism. We hope everything will happen just the way you said it would.
Over to my questions. Since 2008, we have been talking about the need to get rid of our oil addiction and restructure our economy to make it more efficient. However, the developments of the past few days have shown that we did not manage to achieve this.
We are still addicted, and nobody knows how long this will last. Could you say openly what you personally think: will we be able to use this crisis for to our advantage, lose our addiction and rebuild the economy? I realise that this would take time.
And my second point. In your Address to the Federal Assembly, you named, to the welcoming applause of the country and the business community, a whole list of concessions that have long been suggesting themselves. However, there is the danger in Russia, as you well know, that all important and useful resolutions, including presidential ones, get lost in the excessive red tape and general slack.
Are you confident that this time you statements, your resolutions will be implemented and your optimism will be supported with real action?
VLADIMIR PUTIN: As we all know, only an insurance policy can give you confidence. The main insurance for us here is the right macroeconomic policy and reserve funds for resolving social issues. This is the kind of insurance policy that would give us confidence.
As for excessive red tape, I can say this: there must be some people from the European Union here. If you ask them about red tape in Brussels, they will tell you all about it. Our bureaucracy is child's play compared to theirs.
The problem does exist, however, and it is not about red tape. Do you know what it is? I said at the very start that I would say a few things and we might as well end the news conference. It looks like that was no joke.
This is not about decisions getting bogged down in red tape. It is about the foreign economic situation forcing economic entities to invest, say, in energy resources, the chemical industry or metals. So regardless of all the Government's attempts to fine-tune the instruments of taxation and benefits for businesses that are not involved with raw materials, this is a very complicated process, because the budget does not usually have the required funds.
We have been using all these instruments for several years already. We are trying to create more favourable conditions for the development of production, but it is moving forward with difficulty. Especially when one can make large profits by investing in energy resources. As you may know, at least 80 percent of all applications to the Government (believe me, this is true) have to do with getting access to some field rather than investing in some high technology area. Why is this? Because the returns there are fast and big.
I am coming to your question. If the situation changes, then life itself will force us to invest in other industries. And this gives me optimism, strange as it might seem. True, in some ways it would be more difficult. True, we would have to resolve social issues at any cost and meet the targets set in the social section of the 2012 Presidential Executive Orders.
Can we do it? Yes, we can. However, at the same time we need to make use of the current situation to create additional conditions for developing production and economic diversification. I hope that the current state of affairs will make this possible.
ANDREI KOLESNIKOV, KOMMERSANT NEWSPAPER: Mr President, in early 2012 in one of your pre-election articles that were later documented as Executive Orders of May 2012, as we all know, while describing the situation at the time you quoted Alexander Gorchakov [19th century Russian diplomat]. You said, "Russia is concentrating."
Can you say what is happening to the country now? What is it doing? Is it still concentrating, or maybe the time has come to de-concentrate, to finally relax?
VLADIMIR PUTIN: We must work. Little has changed in this sense. Moreover, the current conditions are pushing us to move forward. I keep tackling it from different perspectives, and I see you and your colleagues keep raising the same issue. We must work, and the external conditions are forcing us to become more efficient and to shift to innovative development.
What does the future of our economy require? We have to create favourable conditions for business, to ensure freedom of entrepreneurship, we need to guarantee ownership rights, to stop using law enforcement agencies to chase those we do not like and use those instruments for competition. We need more benefits for production facilities; we need to develop those regions of the Russian Federation that require special attention, like the Far East.
Are we doing this? We are. However, in my Address I spoke of an entire programme of action. I am referring here to 4-year tax holidays, to 3-year inspection holidays for those companies that have no record of any serious violations, to benefits for small businesses. We must carry on with the concentration and support it with real efforts.
VLADIMIR KONDRATYEV, NTV TELEVISION COMPANY: Mr President, we recently marked the 25th anniversary of the fall of the Berlin Wall. You witnessed the event when you were still working in the German Democratic Republic. A lot has been achieved, perhaps not exactly what we hoped for, and we had great hopes, but there have been certain achievements. It was thanks to your persistence that Russia was once close to a visa-free travel agreement with Europe.
In this anniversary year, a new wall appeared within a matter of weeks. It is not made of concrete, but it is no less obvious, a wall of alienation, suspicion, mutual mistrust and mutual reproaches. Where can this cooling lead us? Some go as far as speaking of the beginning of a new Cold War. Will we be living in a divided world or is there any possibility to resume dialogue and cooperation?
VLADIMIR PUTIN: You just said the Berlin Wall fell, but some new walls are being put up now. I will respond, and I hope you will agree with me.
It is not now that this happened. You are an expert on Germany and on Europe. Didn't they tell us after the fall of the Berlin Wall that NATO would not expand eastwards? However, the expansion started immediately. There were two waves of expansion. Is that not a wall? True, it is a virtual wall, but it was coming up. What about the anti-missile defence system next to our borders? Is that not a wall?
You see, nobody has ever stopped. This is the main issue of current international relations. Our partners never stopped. They decided they were the winners, they were an empire, while all the others were their vassals, and they needed to put the squeeze on them. I said the same in my Address [to the Federal Assembly]. This is the problem. They never stopped building walls, despite all our attempts at working together without any dividing lines in Europe and the world at large.
I believe that our tough stand on certain critical situations, including that in the Ukraine, should send a message to our partners that the best thing to do is to stop building walls and to start building a common humanitarian space of security and economic freedom.
Since I have mentioned Ukraine, I have to give the floor to our colleagues from Ukraine. Go ahead, please.
ROMAN TSYMBALYUK, UKRAINIAN NEWS AGENCY UNIAN: I have two short questions, if I may.
VLADIMIR PUTIN: Go ahead, please.
ROMAN TSYMBALYUK: My first question concerns the punitive operation you have launched in eastern Ukraine, which is mostly spearheaded against Russian speakers. It's an open secret that it is Russian servicemen and Russian militants who are fighting there. Question: How many Russian servicemen and units of equipment have you sent there, and how many of them have been killed in Ukraine? What would you as the Commander-in-Chief say to the families of the Russian servicemen and officers killed there?
And my second short question, if I may. We had a president called Viktor, who is now hiding in Russia. He had imprisoned the number one on the Batkivshchyna list, Yulia Tymoshenko. She has been released, but now the current number one on the party list is in prison, this time in Russia...
VLADIMIR PUTIN: What? Say it again please?
ROMAN TSYMBALYUK: The number one on the list of Yulia Tymoshenko's party, Batkivshchyna, is currently in a Russian prison. I have a question: On what conditions will you release Ukrainian pilot Savchenko, Ukrainian film director Oleg Sentsov and at least 30 Ukrainian prisoners of war whom you are keeping in various prisons in Russia? Thank you.
VLADIMIR PUTIN: Let's begin with the second question, and then I will certainly answer your first question.
The question about Ukrainian citizen Savchenko and the conditions for her release. I have an open and, as far as I can see, a clear position on this issue. You can see in this audience the colleagues of our journalists – they are also your colleagues – who have died in the line of duty in southeast Ukraine. I want to stress that they did not take part in fighting for any of the sides, and they were unarmed. It is the duty of all state agencies, including the military ones, to protect their lives and health and to give them an opportunity to do their professional duty which is to provide objective and full information, at least as they see it. It is a fact that has been recognised in the civilised world. They have been killed. According to our law enforcement agencies, Ms Savchenko called in artillery fire via radio. If it is reliably established during the pretrial investigation and the subsequent trial that she was not involved and is not guilty, she will be released immediately. But if they prove that she was indeed involved in the journalists' murder, a Russian court will issue a proper ruling, as I see it, and she will serve her sentence in accordance with the verdict. However, no one has the right to hold anyone guilty of a crime on account. I mean that Russian legislation includes the presumption of innocence. So we'll see how the pretrial investigation proceeds, and what conclusions the Russian court will make.
As for the other servicemen you have mentioned, we don't consider them prisoners of war. They are in detainment in Russia, and they are being investigated on suspicion of involvement in terrorist activity. This is all I can say on your second question.
Now to the first question, about responsibility. In Russia, like in any other presidential republic, it is the president who is responsible for everything. And responsibility for military personnel rests with the Commander-in-Chief. Let me remind you that in Russia this is one and the same person.
All those who are following their heart and are fulfilling their duty by voluntarily taking part in hostilities, including in southeast Ukraine, are not mercenaries, since they are not paid for what they do.
Russian public opinion holds that what is now happening in southeast Ukraine is actually a punitive operation, but it is conducted by the Kiev authorities and not the other way around. The self-defence fighters of the southeast were not the ones who sent troops to Kiev. On the contrary, the Kiev authorities amassed their military forces in the southeast of Ukraine, and are using multiple rocket launchers, artillery and fighter jets.
What is the problem here and how it can be solved? I'll try to answer this question as well. The problem is that after the government coup (and no matter how others call it and what is being said in this respect, a government coup was carried out in Kiev by military means) part of the country did not agree with these developments.
Instead of at least trying to engage in dialogue with them, Kiev started by sending law enforcers, the police force, but when that didn't work out, they sent in the army, and since that didn't work out either, they are now trying to settle the issue by using other forceful methods, the economic blockade.
I believe that this path has absolutely no future whatsoever and is detrimental to Ukraine's statehood and its people. I hope that by engaging in dialogue – and we are ready to assume the role of intermediaries in this respect – we will succeed in establishing a direct, political dialogue, and by employing such methods and political instruments we will reach a settlement and restore a single political space.
ANTON VERNITSKY, CHANNEL ONE RUSSIA: Mr President, are the current economic developments the price we have to pay for Crimea? Maybe the time has come to acknowledge it?
VLADIMIR PUTIN: No. This is not the price we have to pay for Crimea... This is actually the price we have to pay for our natural aspiration to preserve ourselves as a nation, as a civilisation, as a state. And here is why.
As I've already mentioned when answering a question from your NTV colleague, and as I've said during my Address to the Federal Assembly, after the fall of the Berlin Wall and the breakup of the Soviet Union, Russia opened itself to our partners. What did we see? A direct and fully-fledges support of terrorism in North Caucasus. They directly supported terrorism, you understand? Is that what partners usually do? I won't go into details on that, but this is an established fact. And everyone knows it.
On any issue, no matter what we do, we always run into challenges, objections and opposition. Let me remind you about the preparations for the 2014 Olympics, our inspiration and enthusiasm to organise a festive event not only for Russian sports fans, but for sports fans all over the world. However, and this is an evident truth, unprecedented and clearly orchestrated attempts were made to discredit our efforts to organise and host the Olympics. This is an undeniable fact! Who needs to do so and for what reason? And so on and so forth.
You know, at the Valdai [International Discussion] Club I gave an example of our most recognisable symbol. It is a bear protecting his taiga. You see, if we continue the analogy, sometimes I think that maybe it would be best if our bear just sat still. Maybe he should stop chasing pigs and boars around the taiga but start picking berries and eating honey. Maybe then he will be left alone. But no, he won't be! Because someone will always try to chain him up. As soon as he's chained they will tear out his teeth and claws. In this analogy, I am referring to the power of nuclear deterrence. As soon as – God forbid – it happens and they no longer need the bear, the taiga will be taken over.
We have heard it even from high-level officials that it is unfair that the whole of Siberia with its immense resources belongs to Russia in its entirety. Why exactly is it unfair? So it is fair to snatch Texas from Mexico but it is unfair that we are working on our own land – no, we have to share.
And then, when all the teeth and claws are torn out, the bear will be of no use at all. Perhaps they'll stuff it and that's all.
So, it is not about Crimea but about us protecting our independence, our sovereignty and our right to exist. That is what we should all realise.
If we believe that one of the current problems – including in the economy as a result of the sanctions – is crucial... And it is so because out of all the problems the sanctions take up about 25 to 30 percent. But we must decide whether we want to keep going and fight, change our economy – for the better, by the way, because we can use the current situation to our own advantage – and be more independent, go through all this or we want our skin to hang on the wall. This is the choice we need to make and it has nothing to do with Crimea at all.
YEVGENY ROZHKOV, VESTI ROSSIYA-1 CHANNEL: Good afternoon, Mr President.
First of all, the Crimea issue is more or less clear. The only question perhaps is how much we will have to eventually invest in its development after the difficult Ukrainian past. The most urgent question for me is about eastern Ukraine, which is now calling itself Novorossiya. How do you see the future of that part of Ukraine? Do you believe in the success of the Minsk agreements? Do you think they will help reconciliation? And how are we going to further help Donbass? Will it be humanitarian aid, as it is now, or something else?
VLADIMIR PUTIN: I think I answered a part of your question in my response to your Ukrainian colleague. We assume that the crisis will be resolved sooner or later. The sooner the better, of course. This is the first point.
Second, it should be addressed and settled by political means, and not through pressure, no matter what type of pressure, whether an economic blockade or the use of armed force. And, of course, we will help the people, as we are doing now (as you may know, a tenth humanitarian convoy has been sent). After all, we should proceed from the fundamental principles of international law and from people's right to decide their fate on their own.
It was not by chance that I... It's not just a casual phrase, when I said that peace should be restored and problems should be resolved by political means. We proceed from the assumption that a common political space will be restored. It's hard to say at this point what it would look like, but I think we should strive for this. The problem is, however, that both sides need to strive for this. Both! And people living in Ukraine's southeast should be respected. Economic ties should be restored.
It is a fact that much of Ukraine's power industry burns Donbass coal, but up until now they aren't buying this coal. We were asked to influence Ukraine's southeast, Donbass, to make the miners agree to supply coal. We did that, but they are not buying it. Why? Because they've closed all the banks and are unable to make payments. Our colleagues told me yesterday: We are ready to pay and have transferred a prepayment. I've made inquiries and found that there is no prepayment. They allegedly wired the money to the miners' bank cards, but the cards are not working! And this is how it is with each issue. Nevertheless, there is no other way but a peace settlement.
As far as the Minsk agreements are concerned, it's a very important part of this, and we want them to be complied with because, first, the initiative for the Minsk meeting came from me and from Petro Poroshenko. I have no doubt that he is striving for this. But he is not the only one over there. We have been hearing statements from other officials, who advocate basically a war to the end. The implication is that all of this is likely to lead to a continental crisis. We hear many bellicose statements. I still think that President Poroshenko is oriented towards settlement. But concrete actions and steps are needed.
Should the Minsk agreements be implemented or shouldn't they? Yes they should! Let me repeat: I was one of those who initiated them and we... I'll say an important thing. Look, I'd like everyone to hear this. Our representatives in Minsk signed a memorandum in September and there were protocols to it that defined the disengagement line. The representatives of Donetsk didn't sign those protocols. That's the problem. They said at the very start: We can't.
When we tried to insist – I'll be frank with you about this, since the public needs to know these things ­– they told us that they can't leave these villages (there were three or four disputed villages), because their families live there, and they can't risk their children, wives and sisters being killed or raped. This is the most important thing. However, the Ukrainian officials did not withdraw their troops from the areas that they were supposed to leave, such as the Donetsk Airport, either. They're staying there.
Are you aware of the latest developments? The self-defence forces allowed them to rotate their troops at the airport. They took them to a bathhouse and sent them some food. This may well put a smile on your faces, but, on the other hand, this is a positive development. Perhaps, in the end, people will be able to agree on things among themselves. Everyone is insisting on exchanging prisoners of war. I believe that they should all be exchanged unconditionally. But life is more complicated than that. When these lists became available, it turned out (in any case, that's what the Donbass self-defence fighters told us), that the lists from Ukraine include people who have been detained not in connection with the hostilities in southeastern Ukraine, but somewhere in Kherson or Odessa. These lists must be checked. Nonetheless, we insist and I believe that we need to get these people back home to their families for the New Year or Christmas, regardless of all other circumstances.
Yesterday, they agreed to exchange 30 people. Representatives of the self-defence forces went to the exchange location, and a representative of the Kiev authorities said, "No, we are not going to proceed with the exchange until the next meeting in Minsk." Well, you can do that, of course, but it would be nice if they could let go at least 30 people ... But these are details. Anyway, it would be a positive move, including in terms of implementing the Minsk agreements, which is an important and necessary process.
An agreement was reached to hold a videoconference today or tomorrow. First, there will be a dialogue during this videoconference, but the next step should be made at a meeting in Minsk. There's another important thing. It's essential for the Kiev authorities to keep their end of the bargain. There was an agreement on adopting an amnesty law. It is nowhere to be seen. They keep telling us that a law on special status was passed, but it couldn't be implemented, this law, do you understand that? Because the law could come into force and actually become effective only after the other law had been adopted – about the disengagement line. It has not been adopted so far. This compilation has to stop. If Ukraine wants to restore peace, tranquillity and its territorial integrity, the people who live in certain regions of the country must be respected and a straight, open, and honest political dialogue must be maintained with them. It must be a political dialogue without any pressure. I hope that in the end everyone will go down that path.
VERONIKA ROMANENKOVA, TASS: Thank you. This year, it became clear that energy diplomacy has become a key factor in geopolitics. How justified is Russia's turning to the East and the gas contracts it has signed with China and Turkey?
Have all the pitfalls of these projects been considered? Many still doubt that the Chinese contract will be profitable, while the potential Turkish Stream will leave Russia dependent on Turkey. Do you have anything to say here?
VLADIMIR PUTIN: No, I don't. These things are so obvious that it would be impossible to argue. I often hear comments about Russia's turn towards the East. Now, if you read American analysts, they also write about the United States' turn towards the East. Is this true? Partly, yes. Why? Is this political? No. This stems from the global economic processes, because the East – that is, the Asia-Pacific Region – shows faster growth than the rest of the world. New opportunities open up. As for energy, the demand for resources is racing in leaps and bounds in China, India, as well as in Japan and South Korea. Everything is developing faster there than in other places. So should we turn down our chance? The projects we are working on were planned long ago, even before the most recent problems occurred in the global or Russian economy. We are simply implementing our long-time plans.
About the Chinese contract – it is not a loss-making project. It enjoys privileges on both sides – on both sides, I must stress. This is true. China offered some benefits as well. I will not go into details right now – these benefits aren't extraordinary or anything; the Chinese government simply decided to provide some support to the project participants. We, in turn, agreed to do the same. So the project definitely became profitable. Definitely.
Moreover, we have agreed on a pricing formula, which is not much different – if at all – from the one applied to our European contracts, except for the specific regional market coefficients. This is regular practice. In addition, it will help Russia, which will receive and accumulate gigantic resources at the project's initial stage, to begin connecting our Far Eastern regions to the gas distribution grids, not just to export gas through the pipeline. This will allow us to make the next – a very important – step. We will be able to link together the western and eastern gas pipeline systems and promptly rechannel resources back and forth when needed, depending on the international market. This is very important. Without it, we would never be able to connect Eastern Siberia and the Far East to the gas distribution system. So this project holds many potential benefits. Not to mention that it is a huge construction site that will create jobs and generate tax income at every level, and revive Russia's Far East and the entire region.
About Turkey. The Turkish economy is also growing and requires additional energy resources as much as the APR. We built the so-called Blue Stream pipeline many years ago, and now our Turkish partners are considering increasing the supplies to the Turkish market. Should we refuse?
We have reached all the key agreements with them, which cover the pricing formula, supply schedule and other aspects. We more or less understand their requirements, and we will certainly sell them what we have and what they need. Of course, we will do this.
Will a so-called European hub be built on the border of Turkey and Greece? This is not for us to decide. The decision largely depends on our European partners: Do they want stable, guaranteed and absolutely transparent energy supply from Russia, which they badly need, without any transit risks? Great! Then we'll start working, and the pipeline would reach Macedonia via Greece, go on to Serbia and to Baumgarter in Austria. If they don't want this, we won't do it. The thing is that there is no cheaper and more reliable supplier than Russia, and there won't be any in the near future.
GRIGORY DUBOVITSKY, RIA NOVOSTI: Mr President, I'd like to go back to the situation on the currency market, which changes from one day to another and is a great concern for millions of Russians. Many experts, including you, Mr President, have said the current situation could be blamed also on currency profiteers. Concrete companies and individuals have been named. Can you give us those names? Are they Russians or foreigners? And why can't they be stopped? Are they too strong? Or are we too weak?
I have a second question on the same subject, if I may. Do the Central Bank and the Government plan to peg or devalue the ruble?
VLADIMIR PUTIN: This is what our Ukrainian partners did, quite unsuccessfully. Are you asking if we plan to force our companies, our main exporters, who receive revenues in foreign currency, to sell it? They would just buy it back the next day, as it happened in Kiev and as it happens in other countries.
The next step in this case should be to set a limit on the purchase of foreign currency on the domestic market. We won't go this far, and so the Central Bank and the Government are not planning, quite correctly as far as I see it, to limit our exporters in this field.
This doesn't mean, though, that the Government should not act through its representatives on company boards. After all, these are our largest energy companies. They are partly state-owned, which means that we can influence their policies, but without issuing any directives or restrictions. This we won't do.
As for the so-called profiteers, it is not a crime to play on the currency market. These market players can be foreigners or various funds, which are present on the Russian market and have been operating quite actively there. Or they can be Russian companies. Overall, as I said at the beginning of this meeting, this is an accepted practice in a market economy. Profiteers always appear when there is a chance to make some money.
They don't show up to steal or to cheat but to make some money in the market by creating favourable conditions, by pushing, for example, as was done in the beginning of this process, like, in this particular case, the Central Bank of Russia was pushed to enter the market and start selling gold and foreign currency reserves in the hope of intervening and supporting the national currency.
But the Central Bank stopped, and it was the right thing to do. Perhaps it would have been better if it had been done earlier and in a tougher way. Then perhaps it wouldn't have been necessary to increase the rate to 17 percent. But that is a different matter. A matter of taste, so to speak. Although it is still rather significant. It is true. So, I told you who they are.
You know, two days ago I had a friendly telephone conversation with some of them and I asked, "So why are you holding back?" By the way, I didn't make them do anything. "Our loan payments are due soon," was the reply. Then I say, "I see. OK, if you scrape the bottom of the barrel, can you enter the market?" He took a minute and replied: "Well, I guess we have three billion dollars." They have three billion in reserves. See what I mean? It is not 30 kopeks. And this is just one company.
So if each company has three billion, in total it is not 30 but 300 billion. Still, we can't force them. Even top management of the companies with state participation must anticipate what will happen and ensure the stability of their companies. To this end, the Government must work very closely with them and ensure, along with the Central Bank, foreign currency and ruble liquidity whenever it is necessary.
VIKTORIA PRIKHODKO, MOSKOVSKY KOMSOMOLETS NEWSPAPER: Good afternoon, Mr President. The number of beds in hospitals in several regions, and mainly in Moscow, is decreasing. Therefore, the number of staff is decreasing. What do you think about that? And will a similar experiment be carried out in other regions? People are concerned that as a result of the reform they will not be provided with the right to medical aid that is guaranteed by the Constitution. Thank you.
VLADIMIR PUTIN: You know, you are talking about a major issue in our life at present, one of the fundamental issues I would say. Education and healthcare must always be within clear sight of the state and the regional governments. In this case, it is the Moscow Government.
Naturally, we must see, understand and react precisely to what is happening in a particular professional community. Any changes that occur must be introduced in cooperation with representatives of the medical community – in this particular case. If the Moscow Government skipped this stage for some reason, it is a mistake that must be corrected. What should guide us in the first place when working on issues like healthcare and education? We should be guided by people who use the healthcare and education services. Millions of people are waiting for the healthcare industry to improve. Our citizens, consumers of healthcare services are those, whom we must think about first of all. What are people saying? They are not pleased with the healthcare. This is despite all the efforts. We must analyse what's going on and what should be done to improve the situation.
I won't assess what the Moscow authorities have done now. They acted within their competence. We're saying that our healthcare is expensive but not very efficient. In many cases beds are used not for treating patients, but for improving their health, especially in the autumn and winter. Probably, this is not bad but the bed space is not designed for this.
We must make our medical aid high-tech, as is being done at good clinics, by the way in this country as well. So, for four or five days a person receives intensive therapy in a hospital and then completes his treatment at an outpatient clinic. How much time do people spend in a hospital bed at the moment? I don't want to make a mistake but on average it's not four or five days but much longer. Moreover, the city of Moscow believes that the bed capacity is excessive by about 30 percent. Of course, something has to be done about this. Why? Because if we keep it the way it is we will have to pay for land, electricity, heating and the like. These are inefficient costs. They are not used for treating people; just inefficient expenses. It's better to spend the funds on improving the quality of medical care, equipping hospitals and outpatient clinics with modern technology, and on training medical personnel.
I'm now referring, as I see it, to the reform of healthcare as a whole rather than actions of the Moscow authorities. But I think what they have done recently is correct on the whole. First, they launched a dialogue with the medical community. Second, they made a decision on additional compensation for released doctors. If I'm right, they are paying up to 500,000 rubles to medical specialists, 300,000 to the nursing staff and 200,000 to auxiliary medical personnel.
Moreover, they are drafting a programme for retraining specialists. Doctors may attend upgrade courses at the expense of the city from two or three months to two years. Naturally, the city needs to decide who will work and in what position but this cannot be done without consulting the medical community. I'm hoping that the city of Moscow will act carefully, very carefully, without hurting anyone. The main point is that they should not forget the most important principle of not only a doctor but of all transformations in healthcare – do no harm.
NATALYA GALIMOVA, GAZETA.RU: Good afternoon, Mr Putin. Speaking to the Federal Assembly after the referendum in Crimea you used the expression "a certain fifth column and national traitors." You didn't specify whom you meant but thanks to you the term "fifth column" has again become part of the political vocabulary.
Since then, your supporters have labelled those who oppose the authorities the fifth column. To whom were you referring when talking about national traitors and the fifth column, and where, in your opinion, is the line that separates the opposition from the fifth column?
Finally, do you feel personally responsible for the revival of this term, which increases hostilities and divisions in society? Thank you.
VLADIMIR PUTIN: I do not feel any responsibility whatsoever in this respect. Everything I do is aimed at consolidating Russian society, not dividing it. If you think it did happen, I believe you. It's probably the way things really are. Maybe you have an even more acute feel for it than I do. However, in my public statements I have to be more cautious. I'll think about that. That said, we can't mask the truth indefinitely and sometimes it is our duty to call the things by their names. This is an extremely complex issue. I'll be totally frank: answering your question isn't easy, since we're walking a very fine line here. It would probably be very challenging to come up with an academic definition of where the opposition ends and the fifth column begins.
This very year, and by the way the year 2014 is the Year of Culture, we celebrated the anniversary of Mikhail Lermontov, the genius of Russian poetry. We all remember his lines. We remember what he wrote about the Borodino battle: "By Moscow then we die // As have our brethren died before." But he also wrote: "Farewell, farewell, unwashed Russia, // The land of slaves, the land of lords, // And you, blue uniforms of gendarmes, // And you, obedient to them folks."
Was he an opposition activist? Of course he was. He was an opposition activist. As you may be aware, and probably a lot of you know, when he wrote "The Death of a Poet" on the death of Pushkin, one of his relatives saw the text and asked Lermontov to soften it a bit. Lermontov was so infuriated, that he actually made it even more bitter and edgy. The poem ended with "And your black blood won't wash away // The poet's sacred blood."
He was definitely opposing the authorities, but I think he was also a patriot. This is very fine line. After all, he was an officer, and a very brave and courageous one, who wasn't afraid to get into the line of fire in the country's interests. By the way, in the last movie by Nikita Mikhalkov, such officers, who actually brought these efforts to their logical end, the revolution, were later killed by revolutionaries. Maybe if they could get a second chance, they would not have done what they did from the outset to destroy Russian statehood.
After all, the line that separates opposition activists from the fifth column is hard to see from the outside. What's the difference? Opposition activists may be very harsh in their criticism, but at the end of the day they are defending the interests of the motherland. And the fifth column is those who serve the interests of other countries, and who are only tools for others' political goals.
POLINA DANILOVA, STUDENT NEWSPAPER OTKRYTKA, THE INSTITUTE FOR THE HUMANITIES AND INFORMATION TECHNOLOGIES (IGUMO): Good afternoon. This year the institute joined the nationwide Gifted Children programme. We have created an online platform for identifying and supporting the gifted children in all Russian regions. This helps foster a feeling of patriotism, social responsibility to the country and also professionalism. It's important that it is not a commercial but a social project that is implemented by young people and for young people. And now I'd like to ask my questions. Will these socially significant projects receive federal assistance? Mr Putin, are you personally ready to support our initiative? We really hope for your assistance and support. Thank you for your answer in advance, and please come to IGUMO. We know that you'll like it. Thank you.
VLADIMIR PUTIN: Just a second, how do you plan to implement this in practice?
POLINA DANILOVA: We have launched the Gifted Children portal in trial mode, and will open it to the public in February. It is a professional online venue where children will be able communicate on professional issues. It will have...
VLADIMIR PUTIN: So they will communicate there, but what will you do?
POLINA DANILOVA: There will be 25 categories, from which they can choose what they like and what is interesting for them. They will interact, share opinions and learn about contests they can participate in.
VLADIMIR PUTIN: I see. Yes, this is a very good and important initiative.
I wish you success. Of course, we'll try to support the largest possible number of projects in this field, including yours. I'll ask my colleagues to collect information about what's being done and where, and how we can help you.
As you know, I have recently said in my address [to the Federal Assembly, that there would be scholarships for gifted children, the school graduates who enroll at universities, additional scholarships paid by the government until they graduate from their universities. As for what I personally can do, I'll tell you a secret. It concerns a small project I initiated after the Winter Olympics, a permanent winter sports training centre for children in the Imereti Valley. This project has been launched. But the next thing I'm going to say... The Minister of Sport is probably listening to this broadcast. I hope he won't faint at hearing what I'm about to say... I want to change this project. I want this centre, which is a big and very impressive building right on the Black Sea shore... First, it should be a non-governmental project, and, second, there should be two other parts aside from the children we have been bringing from the country's children's sports schools. I mean that we should additionally bring children from the nation's physics and mathematics schools and from music schools. This children's centre should consist of three parts – sports, music and mathematics. I have great hope that in the course of this work... Currently there are 200 young athletes from all over the country and they will stay for 21 days. The same arrangement should be applied to children from music schools and from physics and mathematics schools. This will help us and the specialists who will work on the ground to choose the most gifted children, to get a good look at them, to work with them almost individually, and to help them at the next stage to find themselves at a university or in life. So, we will move together in this direction. Thank you very much.
ALEXANDER YUNASHEV, LIFE NEWS: Good afternoon, Mr Putin. A year ago, you pardoned Khodorkovsky. He promised you then that he would not engage in politics. But today he declares almost presidential ambitions. My question is: do you have any regrets?
VLADIMIR PUTIN: And where will he run for president?
ALEXANDER YUNASHEV: My next question is this. Is he a political opponent or an opponent and a patriot into the bargain? How do you see it?
VLADIMIR PUTIN: Well, do you have one question or two?
ALEXANDER YUNASHEV: I have three.
VLADIMIR PUTIN: Three! What will the others do while we debate all this until the morning?
Well, Mr Khodorkovsky did ask for a pardon, at least he sent a relevant petition and seemed to have no intention to engage in politics. But when I was considering the pardon, I didn't proceed from what he could or couldn't do, or whether he would or wouldn't engage in politics. It's his choice and he has the right to do it like any other citizen of the Russian Federation, provided he conforms to the necessary criteria, including for top positions in the country. Well, God help him! Let him work. As for me, I took my decision out of humanitarian considerations. He said in his letter that his mother was gravely ill. You know, mother is sacred. I am not being ironic. And he had almost served out his term in prison. Did it make any sense to keep him there, bearing in mind that he wouldn't even have a chance to say good-bye to his mother? That's what it was all about, and he said as much in his letter. I have no regrets and I think I did the right thing.
PAVEL PCHYOLKIN, CHANNEL ONE: Mr Putin, my question is about the Olympic Games and about sports and politics. The Olympic Games and their success both in terms of their organisation and the athletes' performance was one of the most spectacular events of this year. It was a huge project. We could hope for a multiplication effect in the economy. After all, we've built an immense infrastructure, made enormous investments and demonstrated that this country is capable of implementing projects on this scale.
Don't you think that Russia did not have a chance to benefit from the Olympic Games because of the tragedy in Ukraine?
And one more question. We are now preparing to host the 2018 FIFA World Cup. It's quite an expensive event that requires a lot of investment. In the wake of the sanctions, falling oil prices and the falling ruble, will Russia be capable of hosting the World Cup at all?
VLADIMIR PUTIN: First, let me talk about the Olympics. I think we achieved everything we wanted in the preparation of and the hosting of the Olympic Games. We achieved even more than we dreamt of. We won the Olympics for which I would like to give special thanks to our Olympic and Paralympic athletes who are the real heroes of the Games.
Regarding Ukraine, it's true, the Games were just coming to a close when these tragic events began to unfold. But it was not our fault. We did not start the coup. It had nothing to do with us. I wish it had never happened, but it did.
Speaking about whether we are pleased with the Olympics, of course we are pleased. By the way, we can see this from what is happening with the facilities. As you probably know, in many countries the Olympic facilities are just left empty after the Games. Completely empty. Between the seasons our facilities are more or less empty too.
But we planned some efforts in advance and built the Formula 1 track there. Then the Olympic Park hosted the World Chess Championship and some other events. Let me see. I think you know that the facilities are all booked up starting in December and until the end of February. I'm certain that they'll be very busy until the end of the alpine skiing season. Totally. What does this mean? It means that Russians now have a year-round centre for health and recreation, for both winter and summer sports.
Besides that, we'll continue to host major competitions in bobsleigh and other sports. I just mentioned in another response that we'll be developing children's sports. There is now a children's ice hockey team in Sochi. It's a great team. It loses sometimes but it's a young team and it wins sometimes too. The team has great fans. I remember Governor of the Krasnodar Territory Tkachyov told me, "We don't need a team. We don't have a hockey culture. We want football. Nobody will be interested." I visited the stadium just recently, a month ago, and it was full. Ten thousand people! Full house. We must say thank you to the fans. Generally, ice hockey fans are quite civilised. They come to the games with their children, wives, with their entire families. It's great. The facilities will be developed further.
Speaking of the World Cup – yes, it is expensive but let me remind you that unlike many other countries that even refuse to host major competitions - do you know how these countries are different from ours? The number of people doing physical fitness and sports per 1,000 population is much higher there than in Russia.
Why is that? This is partly due to the poorly developed sports infrastructure. If we want to live longer, if we want our people to be healthy and go to skating rinks instead of liquor shops, then skating rinks must be available. We need to create new football fields, hockey rinks and fitness centres. Importantly, people should spend their money on gym memberships rather than on partying with friends. We need to create a culture where people practise physical fitness and sports. Then, the life expectancy in Russia we will be more than the current 70-71 years.
In this regard, we need to hold such events as the World Cup, because the number of children playing football will increase dramatically. Among other things, this infrastructure will be built not just in Sochi, but in more than 10 other Russian cities paired with the development of transport infrastructure, the healthcare system, etc., as was in Sochi. It's just another way of investing in Russia, and this money will be well spent.
KSENIA SOBCHAK, DOZHD TV CHANNEL: I have two questions for you, if you will.
First, while everyone is concerned about the developments in Ukraine, there are events unfolding in the Chechen Republic that concern us. Namely, Head of the Chechen Republic Ramzan Kadyrov has de facto announced that Russian laws and the Russian Constitution do not apply in the Chechen Republic. He has publicly stated that there would be certain reprisals regarding relatives of people accused of terrorism who have not yet been convicted in court. In this regard, I would like to get an answer from you: as a lawyer and the guarantor of the Constitution, will you protect the citizens who have been left vulnerable, in fact, to pre-trial reprisals? Their homes have been burned, and the only human rights organisation in Chechnya was subjected to searches and even set on fire. What do you plan to do about this?
VLADIMIR PUTIN (to Dmitry Peskov): Why did you give her the floor?
DMITRY PESKOV: I'm sorry about that.
KSENIA SOBCHAK: May I ask my second question now?
DMITRY PESKOV: Ms Sobchak, let's show some respect for others and have one person ask one question.
VLADIMIR PUTIN: Ok, since you have the floor, go ahead and ask your second question. What is it about?
KSENIA SOBCHAK: I would like to clarify for myself and our audience this fine line between the fifth column and the opposition. Things are now clear with Lermontov, but it would be nice to sort things out with the present. Mr Putin, once you publicly stated that there was a bullying campaign against my father at some point in time. I think today, the term "bullying" has come back into our lives.
I'm referring not only to the harassment of Makarevich, the allegations about invented friends of the junta (I know these people and I'm sure that many of them are true patriots of their country), or all the epithets like "yid Banderites" heard on federal channels. I get the sense that federal channels are deliberately fanning hatred in Russian society. Take for instance the episode about a crucified boy from Slavyansk that was shown on the first federal channel where the state has a controlling stake. This episode was considered... It was proved to be false, but nobody apologised for it. Aren't you afraid of such hatred in our society where some people are so strongly pitted against others? And what are you going to do to reduce this hatred? Do you think that people are still being divided into allies of yours and Bandar-logs?
VLADIMIR PUTIN: Bandar-logs exist, of course. Kipling said this, not me. As for the main topic, let's start with the first question.
I'm referring to what Kadyrov said about the relatives of terrorists, their homes, expelling them from the republic and so on. Naturally, I can have only one view on this: in Russia everyone must obey the existing laws and nobody is considered guilty until this is proved by court. This is the first point.
Second, I've already said that life is complicated. I'll tell you something from the practical experience of counterterrorism units. Generally – I won't say always – the relatives of people who commit acts of terror know about them in the overwhelming majority of cases, if not more. But this does not give anyone the right, including the head of Chechnya, to resort to extrajudicial reprisals. I absolutely agree with you on this.
Moreover, the relevant law-enforcement agencies are now conducting a preliminary investigation into this. It is necessary to find out who burnt down houses and killed them (relatives of the terrorists) because they were wearing masks.
As for Kadyrov's statement, it could have been simply emotional, and then someone seized on it. I understand the emotions because 14 police officers were killed in this act of terror. It all started with the murder of traffic policemen. It wasn't in a firefight. These people were savagely shot point-blank and many died later on. All in all, 14 were killed and 38 wounded, some of them seriously.
As you know, thousands took to the streets to demonstrate. Under the circumstances, the head of the republic made some emotional statements.
I'm sure that these remarks fully lived up to people's expectations. But he had no right to say that. And it would be absolutely correct to verify the facts. To repeat, apart from public remarks and the subsequent actions, including actions to destroy these residential buildings, a probe should be conducted to establish what really happened. Maybe someone took advantage of that and did it. Maybe not. And then the law enforcement agencies will need to respond appropriately. At the same time (and you know this very well), unfortunately or fortunately, such methods are used in international antiterrorist practice. They are most actively used in Israel. But this is not all. This is not about Israel. We saw that after 11 September, torture was legalised in the United States. How can that be explained? Furthermore, it was not only legalised, but a methodology for using torture was developed! So life is complicated and diverse, but we must follow the law. I agree with you there. If we go outside the law, it will only lead to chaos. We'll investigate the facts and respond appropriately.
Now regarding what you described as persecution campaigns. I just know – I learned about that when I came to Moscow. Even before that, I had suspicions that persecution was organised against your father. However, when I came to Moscow, I found direct evidence of it. Even then it seemed strange to me that after Anatoly Sobchak acquired a dismal 100 square metre flat, two criminal cases were opened against him within a week: They don't open [criminal cases] for months, but now two were opened within a week. Then, during an election campaign, the fact that criminal cases were initiated was included in leaflets that were dropped over Leningrad from airplanes. Of course, it was a clearly orchestrated campaign, and it was organised by certain government officials in the struggle against him. I would like to assure you that there has been no organised persecution of people who disagree with our actions, say, in Ukraine or in Crimea or on some other domestic political issues. None of the official power bodies, no official government representatives are doing this. If there is some reaction from the public, from the people who disagree with this position, the people who have encountered this today should understand that they cannot monopolise the right to make sweeping accusations, that there are people who disagree with their position and that they will also face accusations. It's important to learn to react to this properly. It is unnecessary to make such a hue and cry, shouting from the rooftops: Help, I'm being harassed! Reaction should also come from the public domain.
As for the government bodies, let me reiterate that there were no and won't be any attempts, instructions or efforts to stigmatise anyone. Unlike Russia, this is not the path chosen by, say, our European partners. For example, Gazmanov, Valeria and Iossif Kobzon were banned by Latvia's Foreign Ministry from entering the Latvian Republic. This is an example of an official position of a government body. The Russian authorities never have adopted or will adopt such a stance.
ALEXEI ANISHCHYUK, REUTERS NEWS AGENCY: Good afternoon, Mr Putin. In the last year Russia has been engulfed in what could be called one of the gravest crises in its contemporary history. It all started at the end of 2013 with the developments in Ukraine, followed by a deterioration in relations with the West, reminiscent of the "cold war", and in recent days we have been witnessing an acute currency exchange crisis, which could grow into a financial and economic crisis. The risks are there. I know all too well that you often tend to blame some external forces for everything. I also know that some in the Russian elite, from your inner circle, who are the most well-informed people in Russia, despite all their public statements, tend to lay the blame for some things on you as the person who has been in charge of taking all the key decision in Russia for the last 15 years...
VLADIMIR PUTIN: What are the names?
ALEXEI ANISHCHYUK: Unfortunately, I can't tell you. They usually talk on condition of anonymity. But lately such statements could be heard in their conversations with reporters.
My question in this respect is the following: To what extent are you confident that your inner circle unconditionally supports you? Do you see any risk of a government coup or even a palace coup? You have stated on a number of occasions what you would do in case of an "orange revolution" or, God forbid, a "red revolution." But do you have a plan in the event of treachery in your inner circle or a palace coup?
Thank you.
VLADIMIR PUTIN: Regarding a palace coup, I can assure you that we don't have "palaces," so a palace coup isn't really possible. The official presidential residence is in the Kremlin, it is well protected, which is an important factor for the stability of state institutions in Russia.
But this is not what stability is all about. It's actually based on... There is no other stability as solid as the support of the Russian people. I don't think you have any doubts as to whether our key foreign and domestic policy initiatives benefit from such support.
Why is this happening? Because people feel deep down inside that we, and I in particular, are acting in the interests of the overwhelming majority of Russians.
As for the question of who is to blame and who is not for the developments in Ukraine that kicked off the series of cataclysms we are currently witnessing, you know very well what I think. I have on many occasions said that a coup was committed and that it was a big mistake. Eastern Europe, our neighbours, including Ukraine, is not a banana republic, not even North Africa or Somalia, where you can stage a coup using some special tools, militants, or people who are unhappy with government policies. You are saying that I'm accusing someone. No, I'm not accusing anyone, I'm just stating a fact.
Without going into details, I will say a few words about our discussions on this account with our partners. You may be aware of the agreement between the opposition and the Ukrainian government of 21 February. The agreement was signed by the three foreign ministers of Germany, Poland and France as guarantors of the agreement. Do you follow me? We had talks with the leaders of the United States, who kept telling us, "Yanukovych should not use force no matter what." He didn't and what he got was a coup. We are now being told, "What could we do? The situation got out of control, which is called an excessive act in criminal law." I beg to differ. If that's an excessive act, then what were you supposed to say, even if you weren't able to stop these radicals who broke into the presidential administration and took over the Government building? You should have told them as follows, "We do want to see you in Europe, we do want you to sign and ratify the association agreement, you are indeed part of the European family, but if you act this way, you will never be part of Europe, and we will never support you. Go back to the agreement of 21 February, form a national unity government and start working together."
I'm sure that if that was their position, there would be no civil war in Ukraine with its many casualties. Our colleagues have adopted a different stance. From giving out cookies during the Maidan protests, they moved on to political and economic promises. By the way, the Ukrainian people need the money, but no one is going to do this on their own, only through international financial institutions. Therefore, I believe that our position was completely justified and objective from day one.
Now about the elites. You know, there is elite wine, there are elite resorts. There are no elite people. You know what the Russian elite is? It's a worker. A farmer. Someone who carries our entire country on his shoulders. Has been carrying it for centuries, and will carry it for centuries to come. All other levels, including elites and others, are absolutely groundless. There are rich people and poor people, sick people and healthy people. But they are all equal before the country and before the law. There are rich patriots. You may wonder if that's possible. Maybe, some are unhappy. Of course, what would they be happy about? They are disgruntled. But the question is, how they are going to get out of this situation. Always being dependent on someone, always being on the hook?
One of our companies with offshore incorporation on some islands has made a decision on the dividends. It's a legitimate company operating in an offshore zone, a large company. A decision was made. Do you know what happened next? As there were some people covered by sanctions there, the local directors declined and said they could not transfer money for dividend payments to them, and that they had to hold consultations. "Who are you going to consult? You must pay, it's the law." They said this was true, but that they would not honour the law. They were told, "That's an outrage, we're going to take you to court." And do you know what they did? I'll tell you: They resigned. This is nothing but a circus act. They resigned, and the money cannot be transferred without their signatures. Moreover, it's impossible to appoint anyone to these positions because an order was issued not to fill these vacancies. So, the money is hanging in midair.
If you are speaking about representatives of the Russian business community, do they want to live this way? Most of them don't. Only a powerful Russian state can become the main protector of Russian citizens' interests, regardless of what they are doing, business included.
MIKHAIL BAZHENOV, BUSINESS FM: Good afternoon. Mr President, in your annual Address to the Federal Assembly, you said that there were plans for an amnesty of capital. A week has already passed, but we have heard no other details. I would like to ask about some details. When will the amnesty start, how long will it last, and how much do you plan to repatriate? And here is probably the most important thing: How do you envision the mechanism of this amnesty? Will all capital be repatriated, including illegal capital, or not? Or, perhaps, some screening procedure will be introduced? And how would businesses respond to the screening concept? Will they believe that it would be possible to pass this procedure and to continue calmly doing business in Russia? In the long run, what guarantees will they receive that they will not have to answer any questions from law enforcement and tax agencies, etc., after registering their businesses in Russia? Thank you.
VLADIMIR PUTIN: I see. First, how much do we plan to return? We do not set any capital repatriation targets at all. The repatriation of capital is not the main issue. This is not a fiscal measure. This is about legalisation. If a company wants to keep its money and assets abroad, it is free to do so. This issue implies legalisation, so that they come and register here. This is the most important thing. I want to make this clear.
Second, I will personally see to it that there are no violations regarding mechanisms and guarantees. And I want to warn all my colleagues, including those from law enforcement agencies, that we will take extremely tough action against those violating the principle that I just mentioned.
As for screening, I believe that there should be no screening procedures. Everyone wishing to come here, register and become legalised here should have this right. I have noted many times that a presumption of innocence exists with regard to criminal cases, and everything is considered legal unless there is evidence to the contrary.
Finally, I would like to say a few words about mechanisms. These mechanisms have not been worked out so far, and we need to think about this. The Government is working on this now. I believe that we need to legalise not only offshore property, but also property that has been registered, reregistered or hidden at front companies, by relatives, or in some other way in Russia. Everyone should declare their property once and for all, turn the page and proceed.
YEVSTOLIYA TARANDA, ARCTIC TV NETWORK: Good afternoon, Mr Putin. I represent Yamal Region, and the Yamal Region proper. Many people are sending their regards and words of support to you. Hang in there on the external contour. I have a question about my region. People are worried that the governors of Yamal and Yugra [the Khanty-Mansi Autonomous Area] will no longer be elected. Are there enlargement plans, and will these regions – Yamal, Yugra and the Tyumen Region – be merged? You have been to our region more than once, and you know about our conditions and specifics, and that we don't want this to happen. What do you think on this issue? Will there be a single huge federal entity from Kazakhstan to the Arctic?
VLADIMIR PUTIN: Let's talk about federal entities – please, sit down – their merger and all other related issues. There is a federal law, according to which regions can be merged only based on the free expression of will of the people who live there. This is done differently in different regions: It can be done through a referendum or by decision of the given region's legislative assembly. No decision should be forced on people from above; doing so is counterproductive. At the same time, as everyone here knows, our productive forces are distributed around the country extremely unevenly. As a result, one region's revenue may differ from that of another region by 26 times or even more, if my memory serves me. And people's living standards, including healthcare, education and the like, also differ radically, which is bad, overall.
However, I'd like to say again that this is a highly delicate matter, especially when it concerns ethnic republics, and we must never force any unification plans on people. Only people themselves can make the correct decision based on their life experience and their understanding of developments in the economy and social sphere.
Of course, there could be some pro-unification political forces, but then there are also anti-unification forces... This should proceed as openly as possible and with the public involved to the greatest extent. Decisions must not be forced from above.
JOHN SIMPSON, BBC: Western countries almost universally now believe that there's a new Cold War and that you, frankly, have decided to create that. We see, almost daily, Russian aircraft taking sometimes quite dangerous manoeuvres towards western airspace. That must be done on your orders; you're the Commander-in-Chief. It must have been your orders that sent Russian troops into the territory of a sovereign country – Crimea first, and then whatever it is that's going on in Eastern Ukraine. Now you've got a big problem with the currency of Russia, and you're going to need help and support and understanding from outside countries, particularly from the West. So can I say to you, can I ask you now, would you care to take this opportunity to say to people from the West that you have no desire to carry on with the new Cold War, and that you will do whatever you can to sort out the problems in Ukraine? Thank you!
VLADIMIR PUTIN: Thank you very much for your question. About our exercises, manoeuvres and the development of our armed forces. You said that Russia, to a certain extent, contributed to the tension that we are now seeing in the world. Russia did contribute but only insofar as it is more and more firmly protecting its national interests. We are not attacking in the political sense of the word. We are not attacking anyone. We are only protecting our interests. Our Western partners – and especially our US partners – are displeased with us for doing exactly that, not because we are allowing security-related activity that provokes tension.
Let me explain. You are talking about our aircraft, including strategic aviation operations. Do you know that in the early 1990s, Russia completely stopped strategic aviation flights in remote surveillance areas as the Soviet Union previously did? We completely stopped, while flights of US strategic aircraft carrying nuclear weapons continued. Why? Against whom? Who was threatened?
So we didn't make flights for many years and only a couple of years ago we resumed them. So are we really the ones doing the provoking?
So, in fact, we only have two bases outside Russia, and both are in areas where terrorist activity is high. One is in Kyrgyzstan, and was deployed there upon request of the Kyrgyz authorities, President Akayev, after it was raided by Afghan militants. The other is in Tajikistan, which also borders on Afghanistan. I would guess you are interested in peace and stability there too. Our presence is justified and clearly understandable.
Now, US bases are scattered around the globe – and you're telling me Russia is behaving aggressively? Do you have any common sense at all? What are US armed forces doing in Europe, also with tactical nuclear weapons? What are they doing there?
Listen, Russia has increased its military spending for 2015, if I am not mistaken, it is around 50 billion in dollar equivalent. The Pentagon's budget is ten times that amount, $575 billion, I think, recently approved by the Congress. And you're telling me we are pursuing an aggressive policy? Is there any common sense in this?
Are we moving our forces to the borders of the United States or other countries? Who is moving NATO bases and other military infrastructure towards us? We aren't. Is anyone listening to us? Is anyone engaging in some dialogue with us about it? No. No dialogue at all. All we hear is "that's none of your business. Every country has the right to choose its way to ensure its own security." All right, but we have the right to do so too. Why can't we?
Finally, the ABM system – something I mentioned in my Address to the Federal Assembly. Who was it that withdrew unilaterally from the ABM Treaty, one of the cornerstones of the global security system? Was it Russia? No, it wasn't. The United States did this, unilaterally. They are creating threats for us, they are deploying their strategic missile defence components not just in Alaska, but in Europe as well – in Romania and Poland, very close to us. And you're telling me we are pursuing an aggressive policy?
If the question is whether we want law-based relations, the answer is yes, but only if our national economic and security interests are absolutely respected.
We negotiated WTO accession for 19 years or so, and consented to compromise on many issues, assuming that we are concluding cast-iron agreements. And then... I will not discuss who's right and who's wrong (I already said on many occasions that I believe Russia behaved the right way in the Ukrainian crisis, and the West was wrong, but let us put this aside for now). Still, we joined the WTO. That organisation has rules. And yet, sanctions were imposed on Russia in violation of the WTO rules, the international law and the UN Charter – again unilaterally and illegitimately. Are we in the wrong again?
We want to develop normal relations in the security sphere, in fighting terrorism. We will work together on nuclear non-proliferation. We will work together on other threats, including drugs, organised crime and grave infections, such as Ebola. We will do all this jointly, and we will cooperate in the economic sphere, if our partners want this.
SAIDA ZHARKINOVA, MIR TV COMPANY, KAZAKHSTAN: Good afternoon, Mr President. Saida Zharkinova from Kazakhstan. Naturally, my question concerns integration issues. Starting from January 1, 2015, the Eurasian Economic Union will become fully effective, and the three countries – Kazakhstan, Belarus and Russia – will be joined by Armenia and Kyrgyzstan. Is there a cause for concern with the current crises in our economies? Do you think this common market could turn into a common crisis?
VLADIMIR PUTIN: You know, Kazakhstan, as well as the Russian Federation, is a gas and oil producing country, so regardless of the integration under the Eurasian Economic Union, one way or another Kazakhstan – as well as Russia – is facing an unfavourable scenario on foreign markets. Will we be able to handle this situation? I have already said that we will inevitably emerge from this situation with positive results, due to global economic growth and demands for energy resources, which we have now and will have in future, and due to the fact that our economies, one way or another, will adapt to the low prices for energy resources.
But what is at the core of the proposal made by President Nazarbayev a while ago, which we are successfully implementing, regarding integration? It would be easier to do this together, providing free space for transition of goods, workforce and capital. Of course, this is easier through joint efforts. Moreover, during the existence of the Customs Union, our trade turnover grew by 50 percent in recent years. This is a serious objective indicator, and we will rely on the positive achievements related to integration.
There is a woman from the newspaper Krestyanskaya Zhizn raising her hand... We cannot do without farmers, considering this year's grain harvest of 104 million tons. Let's congratulate our farmers once more on this achievement and thank them.
SVETLANA SAMSONOVA, KRESTYANSKAYA ZHIZN NEWSPAPER, VOLGOGRAD: Good afternoon. My question is about agricultural development, which is impossible without resolving human resources issues. Let me give you an example: we have a farmer in the Volgograd Region, Mikhail Rostov. A man who worked for him, a turner, has retired, and he hasn't been able to find a replacement for a long time. Mr Rotov offered an adequate salary, by agricultural standards, as well as accommodation and meals, but no one is interested. This is a problem other farmers face as well, especially in vegetable growing: no one is willing to work hard, and farmers fear that very few people will be working in the fields, for instance, next year. Farmers believe that this workforce issue is a threat to national food security. Do you agree? What can be done about this? How can the personnel problem be solved in the agricultural sector?
VLADIMIR PUTIN: Needless to say, I share the concern of agricultural producers over the difficulties of working under the current conditions, but on the other hand I cannot but share the optimism of those who believe that the clearing of the domestic market for our producers is creating many serious opportunities for developing the agriculture industry.
As for the personnel, we should think about this in advance, of course. The state is thinking about it. I'm referring to the training of middle- and high-skilled workers. We should use all of these training opportunities. We have wonderful, simply wonderful universities and vocational schools that train agrarians. Our Agricultural Academy has become part of the big Academy and I'm hoping that it will produce a positive synergetic effect for this important branch of the Russian economy. Apart from everything else (we talked with the Prime Minister about this yesterday), the Government has decided to add about 20 billion rubles to the agriculture industry. So next year, support to agriculture will be about 200 billion rubles and I hope the agrarians will feel it.
It goes without saying that it is very important for us to make sure that the funds received from the sale of a record (104 million tonnes) harvest reach the agricultural producers and by no means land in the hands of some middling go-betweens.
As for the personnel... Well, we must hire them in time. Food prices are objectively and sometimes without a reason, still increasing, which is not very good for consumers, but this is an opportunity for agricultural producers. I hope that everyone will take advantage of it.
ALYONA YEVTYAKOVA, GUBERNIYA TV CHANNEL, VORONEZH REGION: Mr President, tell me please... In my region – it is now in the top ten in terms of commissioning new housing – the percent of purchases with mortgages has increased to 60 percent. Considering the current economic situation, what will happen to mortgages, loans and the Young Family programme?
If I may, I'd like to ask you another question – people won't forgive me if I don't ask it – and I probably shouldn't go back to my city... Tell me, please... When I was getting ready for the trip I asked my acquaintances: what question would you ask Mr Putin? And all of my aunt's friends said in unison: he is Russia's number one bridegroom! Yes, that's it. A bachelor's life for more than a year. Does Mr Putin have the time for a private life? If possible, please start from the first reply. Thank you very much.
VLADIMIR PUTIN: Please pass on my heart-felt greetings to the friends of your aunt. Thank them for such attention.
As for mortgages, this is a serious issue. This is indeed a very serious issue. Now that the Central Bank's key interest rate is 17 percent, it is difficult to offer mortgages, if it's possible at all.
I must say that in the past few years the use of mortgages has grown at higher rates than we expected. I'm afraid to make a mistake in absolute figures but they were higher than expected. As for the interest rate... It has changed – at first 9.5 percent, then 10 percent, but people were still taking out loans.
To be continued.