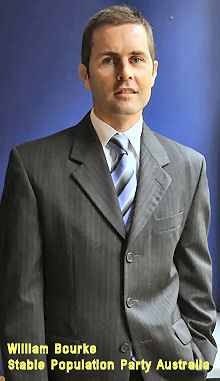 On Monday 17 May I interviewed William Bourke about himself and his party and his views on the politics of the current population debate. He described concerns about the impact of population numbers since the 1990s, but said that reading the book, Overloading Australia, had really galvanised him to do something about this.


William comes across as soft-spoken, pleasant and focused, with a careful and businesslike approach to the task in hand of building and running a political party, to help deal with a grave national problem which has been kept off the democratic agenda for too long. I came away from the interview with confidence in his ability to represent Australians and head a party.
SHEILA NEWMAN: How are the membership numbers going for Stable Population Party Australia?
WILLIAM BOURKE: We are on the cusp of achieving 500 members. We are hoping to lodge a formal application to register Stable Population Party of Australia in June.
SHEILA NEWMAN: How do you feel that your party's readiness and ability compares with other parties also looking at population numbers?
WILLIAM BOURKE: We are ticking the boxes and we are well prepared.
SHEILA NEWMAN: Will you be fielding candidates in every state?
WILLIAM BOURKE: We hope to. We will be focusing on that issue after we lodge our registration. We have, of course, been approached by a number of people seeking candidature.
SHEILA NEWMAN: Which state is most strongly represented in your membership or seems to feel most strongly about stabilizing population?
WILLIAM BOURKE: We have a good spread around the country.
SHEILA NEWMAN: Have you found any likely candidates in Victoria?
WILLIAM BOURKE: I must emphasise that we haven't fully reviewed every possible candidate. We have had contact from possible candidates in Vic – and elsewhere – including some with political backgrounds. In June we will follow up on this part of the process.
SHEILA NEWMAN: You're not in a hurry?
WILLIAM BOURKE: We have to manage the candidate process properly, like everything else. The good thing is that we know who is genuine and who isn't. We have a good process for selection.
SHEILA NEWMAN: When did you first become aware that Australia's population numbers were getting too big?
WILLIAM BOURKE: I have newspaper clippings from the mid-nineties, when it really started to become a major issue. Those newspaper clippings outline the same problems that we are discussing today but they are now much worse.
SHEILA NEWMAN: How old are you?
WILLIAM BOURKE: I am 39.
SHEILA NEWMAN: What population impacts bother you the most?
WILLIAM BOURKE: I have a business background and the thing that initially struck me is that population growth is an economic disaster. The trade deficits, skyrocketing foreign debt, overloaded infrastructure, and impoverished government budgets – population growth is a false economy. Through my small business, I am in a position to experience the importance of how $12.9b per year is lost in economic activity due to infrastructure overload like congested traffic.
I also have a passion for the environment, especially our native wildlife. One of my favorite activities is bushwalking in Ku-Rin-Gai National Park. I like to think I have a strong environmental conscience, going back to the days where I used to drive my parents mad policing the kitchen recycling program.
SHEILA NEWMAN: What line of business are you in?
WILLIAM BOURKE: I have been in accounting and finance and currently run a small business in marketing and communications. Rising energy costs, water costs, rent costs, car-running costs, negatively impact on my business and these growing expenses are clearly related to population increase.
SHEILA NEWMAN: Where do you think the government is going with its policy on population at the moment?
WILLIAM BOURKE: I think they are trying to neutralise the issue, but we offer a real alternative without band-aids which will contrast well with the government's patched-up alternatives.
SHEILA NEWMAN: Where do you think the opposition is going with the population issue?
WILLIAM BOURKE: It seems to me that they are trying to mimic the John Howard tactic of muscling up against refugees and hoping that will give the impression that they can manage population growth and immigration. In reality we know that John Howard was the leader of the party which actually opened the floodgates and that Tony Abbott would maintain this.
SHEILA NEWMAN: What do you think of Labor MP Kelvin Thomson's views and his role?
WILLIAM BOURKE: I think he is a true leader and that in time he will be appropriately judged.
SHEILA NEWMAN: What did you think of the Population Reform Forums run on the 7th of May in every state by Kelvin Thomson, Dick Smith and SPA?
WILLIAM BOURKE: Dick Smith was, of course, fantastic to listen to. I also thought that Rob Oakeshott, the Independent for Lyne, spoke very well and is the sort of person we need in Federal parliament.I think the media coverage of the actual event was a little disappointing, especially considering the great speakers – at least those I heard at the forum I attended in Sydney.
SHEILA NEWMAN: Could you name a book or a film or a public figure that has inspired you?
WILLIAM BOURKE: Overloading Australia by Mark O'Connor and Bill Lines made a big impression on me. Reading it was really the straw that broke the camel's back and led me to do something about the problem of Australia's unsustainable population growth.