Poet pens a plea to stop population push
By Mark Uhlmann Assembly Reporter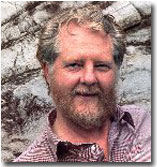 (Growth Concern: Mark O'Connor)
As the federal and ACT governments preach the virtues of high population growth a few individuals are prepared to put an alternative view.
One of those is Canberra poet Mark O'Connor, co-author of a book soon to be published by Enviro Books called Overloading Australia.
The Stanhope Government boasted this week of increases to interstate and international migration to Canberra, but O'Connor said, "Canberra's going downhill rapidly."
"We have this mad pro-development Government that tries to push more and more people into it."
He said most people wanted Canberra "kept more or less the way it is", but could not get representation for this view in the ACT Legislative Assembly.
Canberra's present population was more than enough and Government programs encouraging more people to come were irresponsible.
At the very least there should not be an open-ended commitment to ever more suburbs, which was the case at present, he said.
The economy was dependent on more suburbs being built. The result was a declining quality of life for those faced with higher population densities.
O'Connor said "citizen disobedience" was now appropriate. For example, that we should not conserve water.
This would "only be encouraging (Chief Minister) Jon Stanhope to push us further into a position where come the next drought we'll have an even larger population".
Until the Government had a plan to cap the population, it was counterproductive to conserve water.
Across the country, population growth was being demanded as a necessary part of economic growth, putting an increasing strain on the infrastructure of cities.
Australia's annual population growth was 1.5 per cent.
"The UN Population Fund regards 1.1 per cent as too high in Asia." O'Connor said.
The growth was about half natural increase and half immigration. Immigration was at record highs and all the pressure from government and industry was to be even more irresponsible.
There was recognition by governments that greenhouse gases had to be cut, but by some trick that had to be divorced from economic growth, and the economy just had to keep on growing. "That's an unsustainable position, that will come unstuck before long," O'Connor said.
There was a "selective deafness in the media" on the population issue.
The president of the Australian conservation Foundation, Ian Lowe, had tried to raise the population issue at the 2020 Summit, but had been up against a belief that population growth and economic growth were good.
O'Connor said, "Unless you win this (population) battle, in the long-run every environmental battle will be lost."
(Reprinted with the author's permission from From The Canberra Times Saturday May 24 2008 page 15 News)