The sleepy village of Pottsville was initiated with its first ever political protest on Sunday. The protest was organised by Northern Rivers Guardians (NRG) on behalf of the threatened koalas at Black Rocks.
Around 25 colourfully dressed people gathered with placards to march through the main street of town and past the local markets. The protesters carried signs with slogans calling for protection of koalas at Black Rocks for the sake of our children, demanding that a Men's Shed find a different home other than in the middle of a koala corridor, critical for the survival of coastal koalas, and warning certain councillors that if they didn't vote for koalas they would lose our vote at the next election.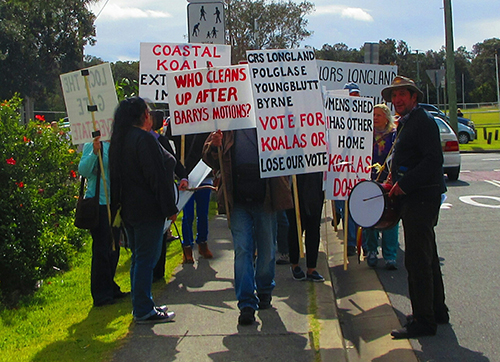 They chanted 'No Men's Shed at Black Rocks oval,' 'Lock the Gate, Revegetate' and 'Save Black Rocks Koalas' accompanied by drums, cymbals, tin whistle and accordion. Alice, a hand-crocheted art piece made into a puppet/beanie (now on her 8th protest) was there and a number of stuffed koala toys that adorned people's bodies.