#c7eced;">#e73a42;">A 336K double-sided A5 leaflet (adapted from previous leaflet) can be found, attached to this page here. (Update, Thu 6 May 2021: Two videos of speeches outside the British Melbourne Consulate on 4 April embedded as an Appendix; Update, 6:28am Sat 10 Apr 2021: The file previously linked to at the end of the previous sentence, erroneously gave the time of the protest as 10:00pm and not 4:00pm, my apologies - this has been fixed.) See also @LorineBrice. Events elsewhere in Australia: Perth Town Hall 12 noon-4pm, @ForAdelaide Watch this space for further details, @Melbourne4wiki Melb CBD 6.30pm, In #e73a42;">New Zealand: Auckland US Consulate 12 Noon (23 Customs St. East)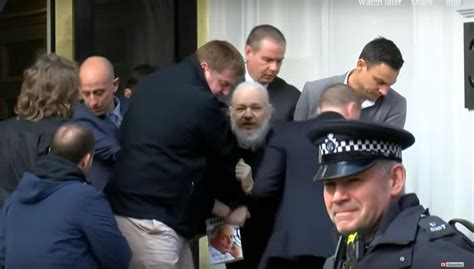 This coming Sunday 11 April will be the second anniversary of the date on which British Police entered the London Ecuadorian embassy and arrested Australian journalist Julian Assange who had been granted asylum there by Ecuadorian President Rafael Correa. Rafael Correa had been President of Ecuador from 2010 until 2017. President Lenin Moreno, Rafael Correa's successor, in violation of Article 14 of the 1948 Universal Declaration of Human Rights, allowed British Police to enter the Ecuadorian embassy to arrest Julian Assange. Lenin Moreno's collusion with the United States and with Britain to enable this illegal arrest was only one of a number of ways that Lenin Moreno has betrayed the trust placed in him by former President Rafael Correa. [1]
All over the world supporters of Julian Assange will be commemorating this grim milestone in Julian Assange's life. In Melbourne, we will be assembling outside the British Consulate at #e73a42;">90 Collins Street Melbourne at 4:00pm to unfurl our banners, give speeches and hand out leaflets. At 6:00pm we will also protest in front of Flinders Street Station, roughly 1.6km from the Consulate. For information about other events, please visit the @candles4assange.
#c7eced;">After that we will walk to Flinders Street Station for another protest at 6:00pm (see also @LorineBrice). (Whilst, for now, this seems to clash with @Melbourne4Wiki's plans to protest somewhere in St Kilda, 4km away, at 6:30pm, [Correction, 8 Apr: clearly the 6:30pm @Melbourne4Wiki event in St Kilda clashes with the 6:30pm Melbourne4Wiki event in the CBD. I now understand that the St Kilda event is scheduled for 3pm and not 6:30pm. Still, …]#c7eced;"> I hope that our two groups can find a compromise that will enable us to work together effectively on the day.)
It is vital that we make a big impact on that day in order to get the message out so that more of the Australian public will know the facts about Julian Assange and that Australia's elected leaders will be made to realise that, if they continue in their failure to act to uphold the rule of law for Julian Assange, their will be consequences for them, particularly at next Federal election. So, please:
come yourself, if you are able to;
bring a friend; and
bring family
If you can't make it yourself, then please encourage others to come by:
distributing printed publicity for the event; [2]
posting the details of this event to social media, including Twitter, FaceBook and Instagram; and
posting details of this event to any blog you contribute to.
Another event for Julian Assange
I understand that our protest may not be the only event for Julian Assange on that day. Another is possibly being organised by Melbourne for Wikileaks (@melbourne4wiki). The post tweeted by @Candles4Assange and retweeted by @Melbourne4Wiki, says "11 APRIL 2021 Melb CBD 6.30pm", but doesn't say where in the CBD the event will be.
Hopefully there will be some cooperation between the two groups, but I will nevertheless post further information about the other event when it becomes available to me.
Appendix: 4 April 2021, second anniversary of Julian's arrest, Melbourne supporters of Julian Assange speak outside the Melbourne British Consulate
#update_speechesForJulianAssange_4apr2021" iname="update_speechesForJulianAssange_4apr2021">Update, 6 May 2021: A number of supporters of Julian Assange now use public events such as the weekly vigil for Julian Assange and the commemoration of the second anniversary of Julian's illegal imprisonment on 4 April 2019, to explain to members of the pubic the facts about the United States' vendetta against Julian Assange. Feili spoke for 4 minutes, then I spoke, briefly for 1:41 minutes. My apologies for not having embedded these speeches earlier, particularly Feili's great speech. - JS
Feili speaks
James Sinnamon (the author) speaks
Footnotes
[1] Lenin Moreno's betrayal of Julian Assange is part of a number of his abandonments of election promises given prior to the Presidential election of 19 February 2017. Others include reduced spendng on public services, abandonment of the redistribution of wealth to poorer Ecuadorians, 'flexibility' of the labour code, trade 'liberalisation', allowing oil drilling in Ecuador's Amazon region, indebting Ecuador to the International Monetary Fund (IMF) with a $10 billion loan, aligning Ecuador with the U.S. against Venezuela, Cuba and Nicaragua.
Fortunately, in the first round of the Ecuadorian Presidential elections, held on 7 February this year, indigenous Socialist candidate Andres Arauz won 32.72% of the votes while right-wing, pro-corporate candidate Guillermo Lasso received 19.74%, so Andres Arauz stands a very good chance of winning the second round due, by coincidence on Sunday 11 April, the same date upon which we will be marking the second Anniversary of Julian Assange's arrest.
[2] I will endeavour to produce a small printed leaflet as a PDF file, in addition to two other previously produced leaflets, to publicise this event. After this PDF file has been uploaded as an attachment to this page I encourage you, the reader, to download it, print copies and distribute them.