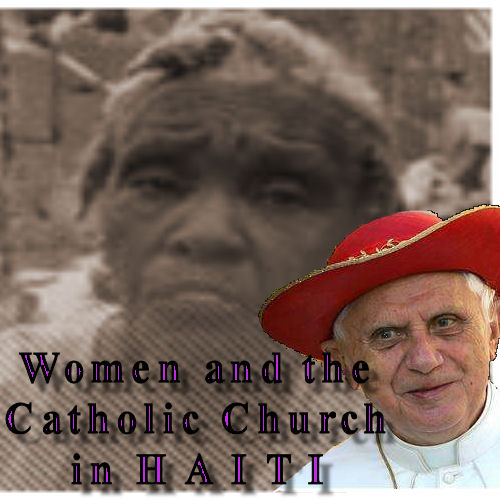 A blogsite called "Catholic Dialogue" sounds so extreme in its condemnation of feminism, contraception and women's choice that you wonder if it's actually a joke. The blogsite warns people not to donate to Caritas Haiti because they support condoms, the celebration of Women's International Day and present a 'negative image of the Catholic Church'!
Please DO therefore consider donating to Caritas Haiti. Their site is here. And thanks, Catholic Dialogue, for telling us about them. They have survived the earthquake, I just learned, although their bank did not. They expect to post details of where to send help tomorrow.
The unnamed author of Catholic Dialogue links us to another blog called "SOCON or Bust because Liberalism is killing us" where someone called Pachecho has written:
"The principal organization which Development & Peace has named to assist in the country, Caritas Haiti, is likely an abortion-supporting organization too. They have a "strategy" plan that says women are discriminated against in the Church and that women do not control their "reproduction". In addition, Population Services International– which specializes in, among other things "reproductive health" is a donor to Caritas Haiti and describes them as one of their "partners"."
So, please, DO therefore consider donating to Caritas Haiti. Their site is here.
Here Caritas Haiti describes the objectives of a plan called "Strategic operational plan 2006 – 2011; Development program; Strategic sub-program: Promotion of Women's rights.
"Analysis of the Problematic situation

Problems

Feminisation of poverty;
Low participation of women in political activity in the country;
More women are illiterate;
Very few women own businesses;
Lack of services adapted or to specific training for their reproductive health;
Women don't know about their rights or the written law;
Increased violence against women;
Increase in the level of girls who leave school early;
Women suffer discrimination through laws which give men priority;
Low support for women who are victims of violence;
Men fail to assume their family responsibilities, which then increases the weight of responsibility on the women;
Discrimination against women inside the Church, in the family, and in society;
The majority of women live in de facto relationships without legal recourse in case of conflict with their partner;
Women do not control their reproductive capacity
Women do not have access to information.
Women's work is not valued.
The majority of women do not have an occupation or profession.
Women are not emancipated and refuse to enter activities which are considered masculin
They don't know their rights and are not able to properly fulfil their role in communities and exercise their political rights;
The health of women deteriorates and becomes fragile because of their difficult living condition;

Causes

Women have little access to education and training;
Women's organisations are poorly structured;
Poor standard of means and tools to permit women to look after their issues;
Poor level of salaries for women compared to men's in the same or comparable work;
Poor access to resources;
Poor access to professional training by young girls in the country;
Sexual discrimination;
Women have no economic power;
Women are not sufficiently trained;
Women lack good knowledge of their basic rights;
Negligence and absence of parents;
Women are not sufficiently professionally specialised;
Customs, traditions and stereotypes are unfavourable to women;
Women are systematically excluded;
Social and familial discrimination;
Lack of health infrastructure (hospitals, pharmacies, health centers)
Women lack leadership;
Poor access to health services in remote areas;
Low consideration for gender equity in families;
Socio-economic degradation;
High rate of unemployment (55.4% of unemployed people are women)
Paternal irresponsibility.

Consequences:

Women's dependent situation prevents them from negotiating their sexuality and the power of birth control;
They are not able to manage to meet their needs and take control and they fall into poverty;
Women are afraid to admit to being ill (breast cancer, uterine cancer, sexually transmitted illnesses etc)
Out of proportion population growth;
Street children are increasing with mothers unable to cope;
Increasing numbers of girls in the streets and in domestic service;
Separation and division - (single parent households);
Lack of confidence and self-esteem in women;
Violence and abuse of women;
Decision-making roles are entirely occupied by men;
Gender equity is not adequately taken into account in development projects;
Increase migration of women;
Women are marginalised;
Increased women's death rate
Increasing rates of AIDS in women;
Women are excluded and exploited."
Ugly competition for funding or pure religious fundamentalism?
Back on the
Catholic Dialogue blog
it all looks like an indecent scramble for the money that the earthquake will bring has suddenly erupted; the catholic dialogue is so crude:
Canada's Development and Peace Catholic organisation of "channelling Haiti emergency funding through dubious 'partner'"! And readers are crudely urged not to make their contribution through them.
And Catholic Dialogue goes on in an obscene focus on dogma minutiae while people are buried alive:
"Even though they don't use the word "contraception", the wording used here is eerily similar to the typical euphemisms used by the pro-choice crowd. The wording used above is not necessarily in contradiction with Church teaching. Indeed, the decision to have children or even to engage in sex should be a joint decision between husband and wife. That's why the Church teaches that even married couples must sometimes practice chastity. So if Haitian men are forcing themselves on their wives without their approval, that's akin to rape. But if that were the true intention of Caritas Haiti's education programs, they should have been more prudent with their wording. The way it's currently written sounds too much like feminist drivel about a woman's "right to control her body". We all know what that really means.

I contacted Caritas Haiti to obtain clarification of these statements on their website, but I still haven't heard back from them. They must be swamped due to the earthquake. May God help them."
Gee, I wonder what's stopping Caritas Haiti from answering these urgent questions.
But, wait, there's more. Apparently the US government has partners in AID who are, gasp, shock, horror...
"Distributing condoms on behalf of the U.S. government?

"On the website of the United States President's Emergency Plan For AIDS Relief, you can find a list of the "partners" that work with the U.S. government to prevent the spread of AIDS. Among the list I found this:

"Is Caritas Haiti only involved in the "Abstinence/Be Faithful" programs, or are they also pushing condoms? I really hope it's the former. The same website contains a document that lists Caritas Haiti among the groups promoting "Abstinence/Be Faithful" programs. I hope that's the extent of their work on this project.

"On another site, I found a detailed curriculum for Catholic high schools in Haiti entitled Instruction curriculum for education on life, family, sexuality, and HIV/AIDS for Catholic secondary schools in Haiti. Caritas Haiti helped write this curriculum with other organizations. As far as I can tell, the curriculum teaches students to practice abstinence until marriage, which is very good. There is no mention of contraception. So we don't know for sure whether Caritas Haiti is involved in distributing contraceptives under the US government program, but the statements from their own website suggest that they are probably doing so in another context."
And, finally - at least that's all I'm going to quote -
"They helped organize the 2008 International Women's Day in Haiti

"If you visit the website of the Canadian International Development Agency (CIDA) you'll discover that Caritas Haiti received a grant of more than $30,000 in 2008 for "Support for a Binational March to Celebrate International Women's Day - March 8, 2008". While I don't know for sure, I imagine that "Binational" refers to the two countries that share the island: Haiti and the Dominican Republic.

"In case you didn't know, International Women's Day has become an annual manifestation for radical feminists around the world to promote abortion rights and contraception. What the heck is Caritas Haiti doing supporting this event?"
Notice for International Women's Day in Rye, Victoria Australia.
And by the way folks, while we are on the subject, International Women's Day in Victoria, Australia is on the 8th of March, at 3 Lyon's Street Rye at the Women's house - that 'Purple Place'. (03) 59855955 [email protected]
Women will have the microphone all day and there will be lots to eat and lots of speakers. There will be the usual ceremony at the end of the Rye pier with a period of silence and respect for women who have died in war and through other crimes of violence against women. I think that after I send them this article, they will be talking a lot about the poor women of Haiti, who, in addition to sharing the horrors of an earthquake, must bear the injuries and indignities of Catholic Church anti-women ideology.