75% of Victorians think that shooting of native water birds should be banned. 91% of people living in Melbourne don't want shooting and 77% in the country agree. The Australian Wildlife Protection Council believe that the Department of Primary Industries desire to normalise game hunting in Victoria is motivated by short term economics (monetary gain through shooting licenses and permits), not public opinion, animal welfare, or any conservation efforts. The Australia Wildlife Protection Council (AWPC) opposes any 'use' of wildlife, particularly lethal use. Native animals need to be protected in Victoria, with no exceptions.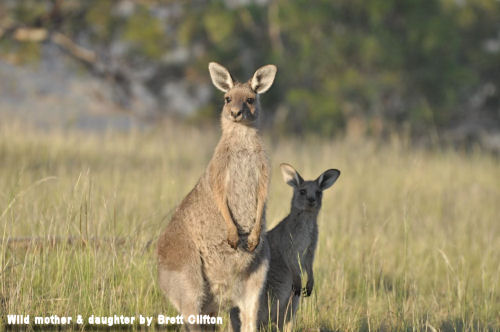 Submissions are due by 5pm Monday 20 August 2012: [email protected]. Read more the "Wildlife (Game) Regulations 2012 Regulatory Impact Statement Game hunting in Victoria"at http://tinyurl.com/9vbdmqp. With so little time, readers might consider simply sending in a copy of this article and saying that they endorse it.
Only a small but powerful minority want hunting in Victoria
In "What is the Issue/Problem to be addressed," in the Wildlife Regulations consultation on the Department of Primary Industry, it is asserted that

"Sustainable use of wildlife populations is consistent with contemporary conservation management principles and community values, and is sanctioned by international conservation treaties and conventions."
We dispute this generalization, and your contention that "community values" endorse game hunting. We contend that you are only speaking for a small, but powerful, minority of Victorians.
75% of Victorians think that shooting of native water birds should be banned
A large majority of Victorians (75%) think shooting of native water birds for recreational purposes should be banned in Victoria. Only 20% think it should not be banned; 5% are undecided, a survey conducted by Roy Morgan Research 2007 found.
Those living in Melbourne (91%) were more likely than those in country areas to think the shooting of native water birds should be banned, but even in country areas an overwhelming majority (77%) think the activity should be banned.
The Australian Wildlife Protection Council believe that the Department of Primary Industries desire to normalise game hunting in Victoria is motivated by short term economics (monetary gain through shooting licenses and permits), not public opinion, animal welfare, or any conservation efforts.
The Australia Wildlife Protection Council (AWPC) opposes any 'use' of wildlife, particularly lethal use. Native animals need to be protected in Victoria, with no exceptions.
Encouragment by Department of Abhorrent Game hunting methods
"The second popular form of deer hunting specific to Sambar Deer is known as hound hunting and involves a team of hunters positioned strategically around an area where scent-trailing hounds are used to trail and flush deer towards the hunters. The hounds are started on the fresh marks of a deer and hunters use the baying of the hounds to help them to locate the animal". 1.1.2 Game hunting methods
This is abhorrent and cruel. What happens next is not mentioned – brutalizing of the animals by dogs! What of deer with young? Deer should not be even allowed into Victoria as they are environmental threat.
A State Government-appointed scientific committee downgraded Sambar Deer under the Flora and Fauna Guarantee Act as a 'threatening process' because of their impact on critically endangered native plants (vegetation).
The committee found the deers' excessive browsing and antler rubbing was reducing the abundance of tree species such as cherry ballart, lily-pilly, muttonwood and the threatened yellow wood, tree ferns, mosses and rare fungi. Game hunters fear the downgrade is the first step towards the deer being declared a feral pest. Source: Carmel Egan, "Fight for deer life as greens take on hunters," May 10, 2009.
Regulation of game hunting
'In Norman times, 'forest law' protected 'the beasts of the forest' (Red, Roe,Fallow Deer,wild boar); trees and undergrowth afforded them shelter, was known as the vert'. 1.1.3 Regulation of game hunting
The Norman conquest was in Britain, not Australia. The animals named are not native to Australia. We are no longer a society where kings award medieval princes the right to hunt in private parks. These lands are public lands and the public are citizens, not serfs. The public overwhelmingly disapprove of hunting native animals.
"To achieve sustainability and not send any populations into decline, harvest levels must not exceed the rate of increase." 1.1.3 Regulation of game hunting
Park rangers should ensure animals are de-sexed, controlled, not allowed to breed – they ultimately die out!
"Game hunting has occurred in Victoria for over 150 years and has been regulated since the early 1860s." 1.1.3 Regulation of game hunting
Our civilisation has moved on now from the ignorance of 150 years ago. We understand more about ecology and conservation. People are more aware of the past glory given to blood sports and are rejecting them as archaic. Many of our native birds and animals are under threat from human population growth, agriculture, dangers on roads, and land clearing. What was a cultural pursuit in the past is not necessarily valid in the 21st century. Our colonial fore bearers mistakenly introduced rabbits and foxes in Australia for "game hunting", and this needs to be rectified professionally, not through "recreational" hunting.
Regulatory Framework
"The Prevention of Cruelty to Animals Act 1986 establishes a Code of Practice for the Welfare of Animals in Hunting".
Hunting, killing of animals and their pursuit by dogs can never be humane, or supervised by the RSPCA or others. Hunters could be in remote areas away from veterinary care. It can't be regulated.
Rationale for Government intervention
The Wildlife Act 1975 should be endorsed and amended to actually protect animals from firearms and abuse. Protected birds and animals should be protected.
"Regulation is needed to manage risks to the public. Game hunting involving the use of firearms, bows and crossbows can present safety risks to both participants and members of the public if not appropriately managed".
The use of guns is inevitably dangerous, and illegal use of them cannot be controlled. There's also the opportunity for crimes, using these dangerous weapons. They should be for sport, clay shooting, within club boundaries, not in state or national parks.
Market Failures
"The 'tragedy of the commons' argument states that free access to and unrestricted demand for a finite resource ultimately dooms the resource through over-use".
Our wildlife are a common ownership, and "belong" to everyone. They are a finite "resource" - but have extrinsic value for their own sakes and don't exist exclusively for our enjoyment! Animals have a right to exist, and humans must understand that we share our planet with billions of species, and must tread with respect and peacefully with them. This is the rationale of AWPC.
Rate of extinction accelerating to crisis point
We are undergoing the Sixth Extinction Crisis. As long ago as 1993, Harvard biologist E.O. Wilson estimated that Earth is currently losing something on the order of 30,000 species per year — which breaks down to the even more daunting statistic of some three species per hour. Unlike past mass extinctions, caused by events like asteroid strikes, volcanic eruptions, and natural climate shifts, the current crisis is almost entirely caused by us — humans. Australia, New Zealand and Pacific islands are likely to become the "extinction hot spots" of the globe, mainly thanks to the human destruction and degradation of ecosystems. There is no room for complacency about conservation and wildlife protection. It's a race against time to increase their protection, not endorse the age-old "sport" of killing, which was a reflection of past abundance!
Social and equity objectives
"Community expectation for game hunting must be conducted ethically and in a manner that minimises suffering to animals. While animal welfare has been regulated in Victoria since 1865."
What was a "general community expectation" in the past is not necessarily appropriate in the 21st century. The past can't simply be cut and pasted into the present. The shooting and game lobby are over-powerful and need to be placed back in perspective as an anachronism. There is a valid place for shooting skills, but not when it is aimed at living animals – especially wildlife!
Crown land should only be utilized for peaceful purposes- sightseeing, observations, walking, photography, camping, eco-tourism. Visitors should respect Nature, create no impact and leave as they find parks. Parks and bushlands are the homes of native animals;their homes should be safe from human predation. Risks to public safety will be minimized if weapons are prohibited.
Problems in the current Regulations:
At the moment, the DPI has drawn attention to the fact that the Act does not prescribe the manner in which a person must apply for a Game Licence. It does not prescribe conditions on a Game Licence. It does not establish open seasons, regulate the methods of take or bag limits, or set fees for Game Licences. It does not prescribe tests for competency in identification of species and knowledge of laws. It does not prescribe specified hunting areas or times when unauthorised people are not permitted to enter or remain during duck hunting periods. It also does not prescribe Game Licence fees.
The implication in this consultation is that changes are sought to the above areas, but the AWPC disapproves of the whole premise of hunting native animals as 'game'.
The AWPC believes that the conditions for granting Permits to Control Wildlife are already too liberal. Evidence is that they are given out too freely. Permits to hunt wildlife as a recreational sport will add to the already terrible problems that our wildlife have in finding safe and secure habitat.
AWPC does not approve of any changes to the Wildlife Act 1975 that would not support the protection of wildlife, as protected species. There are too many loopholes, and not enough regulatory frameworks to protect them.
"DSE is dominated by property developer interests and has for years been a commercially oriented, outsourcing planning and development department that protects and promotes human population growth. On the 'natural environment side' it retains almost no wildlife protecting staff, and employs mostly people representing the interests of property developers and shooters, hunters, recreational fishermen and farmers and generally promoting the killing and extinction of wildlife through their actions. Actions and policies in DSE demonstrate that real concern about the care and welfare of our native animals is very rare in the DSE Authority that your taxes pay for." (Sheila Newman - )
That our State government, under the umbrella of wildlife "management", continues to recklessly distribute permits to kill thousands of native animals, that permits are given to kill black swans, kookaburras and more than 1500 wombats and 32,000 kangaroos and wallabies last year, exposes a situation where inherent corruption and a colonial mentality with unacceptable attitudes still remains today.
Humane and safe hunting?
"The way in which game is harvested must be humane in that it results in as quick and painless a death as possible. In the past, game birds were trapped, netted, snared, limed (caught with glue), and shot with large calibre punt guns (a single shot could kill over 50 waterfowl and wound others), but these hunting methods have long since been prohibited in Victoria. These methods are not considered humane and may harm other wildlife or lead to unsustainable hunting practices".
There is no such thing as completely "safe" hunting. It's not possible to trap, and shoot sentient animals or birds without mis-shots, stress, injury, suffering and death to offspring, and "humane" deaths. Eating game is not mandatory, or necessarily either.
Country towns in Victoria will benefit financially by introducing Nature-based Wetlands Tourism to their regions. The towns of Kerang, Boort and Donald in central and north-west Victoria have magnificent wetlands in their backyards. In Kerang, most of its wetlands are listed under Ramsar Convention as Wetlands of International Importance. These wetlands are not only rich in bird life, but also in other native wildlife and most importantly, they are rich in Koori heritage.
"It is difficult to understand how Premier Ted Baillieu, who has stated in the media that he is opposed to animal cruelty, and who we believe is normally a compassionate family man, can allow this unnecessary brutality towards native waterbirds to continue, simply to keep a dwindling number of duck shooters happy." (Duck rescuer Tony Murphy).
The Department of Primary Industries dropped charges that he failed to kill a wounded waterbird. "Department of Primary Industries withdraws trumped-up charge of refusing to kill a wounded bird."
"The last two weekends have seen a bloody massacre on this wetland. Dead and wounded birds were brought down by shooters and simply left to rot. And this was just one of the 20,000 wetlands where shooting can take place in Victoria. If it weren't for our rescue teams the evidence would never have come to light and the government would get away with sanctioning cruelty to native waterbirds without the truth ever being revealed".
Laurie Levy, Media Release, March 2011:
Selection of Game Species
"'Wildlife' is defined under the Wildlife Act 1975 and includes all indigenous vertebrates and some non-indigenous vertebrate species, including all deer, quail, pheasants and partridges. The Act provides that wildlife may be declared to be 'game' and may be hunted, taken or destroyed in accordance with the Act and any prescribed conditions".
The AWPC objects to the Wildlife Act 1975 including 'game' species, and species that are not endemic to Australia. Deer, quail, pheasants and partridges are introduced species. As such, they should be deemed feral animals, and confined to reserves and farms, or as pets. They are NOT wildlife.
Harvest Strategy
"What ever the management objectives are, if the harvest is to remain sustainable, it is important to monitor population size and any changes to it".
The AWPC objects to the objectifying of animals, and labelling killing as a "harvest", naturalising and sanitising actions of cruelty and violence.
Activists say duck shooting numbers are declining – so there is no "sustainable" level of any killing. Nature does not comply with economics, State government policies, or the whims of those who want the entertainment of killing native species.
Last duck shooting season in Victoria, DPI said about 17,000 hunters went duck shooting on the opening weekend. Laurie Levy from the Coalition Against Duck Shooting says he has seen few duck hunters since then.
"Following opening weekend there have been very few duck shooters out throughout Victoria," he said. 'The following weekend after the opening we went back to Lake Buloke and there were three duck shooters on Buloke. There are more duck shooters than actual targeted, shoot-able species. http://www.abc.net.au/news/2012-04-10/activists-say-duck-shooting-numbers-declining/3940626
The AWPC is opposed to any form of game hunting and shooting in Victoria.
Article based on a submission from Maryland Wilson, (President) and Vivienne Ortega, (Vice President), of the Australian Wildlife Protection Council (AWPC).
NEW POPULATION BOOK HOLDS SOLUTIONS TO HABITAT DEPLETION: Sheila Newman has just published new theory in a new book, Demography, Territory & Law: The Rules of Animal and Human Populations (see link). Two chapters are on multi-species demography, the rest apply the theory to non-industrial societies and the author comes up with a completely new test for the collapse model of Easter Island, which will stun those who thought they knew all about it. Forensic biologist, Hans Brunner writes of it: "This book takes us to a completely new paradigm in multiple species population science. It shows how little we understand, and how much we need to know, of the sexual reactions when closed colonies with an orderly reproduction system are destroyed, be it people or animals."