Compassion was a far more effective environmental management tool than "poison and guns," award winning ecologist Dr Arian Wallach told a recent conference of conservationists and farmers. And dingoes were an ideal agent for saving the environment and promoting co-existence between native and exotic species. The May 17, 2015 conference, "Dingo – Friend or Foe" was held at Hervey Bay Community Centre, just across the Great Sandy Straits from World Heritage listed Fraser Island where, it was argued, Australia's war on the dingo began. Three prominent local farmers, Harry Jamieson, Lindsay Titmarsh and James Hansen told the conference of dingo problems, worse in recent years than ever before. (Article by Arthur Gorrie. )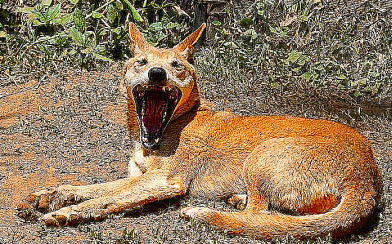 Researcher and grazier Adam O'Neill said the national "war on the dingo" which followed the death of a boy, Clinton Gage on Fraser Island in 2001 had caused a significant worsening of the problems it was supposed to address.
Farmers concerned about problems with dingoes, wild pigs and native and exotic herbivores, in numbers never seen before, needed to ask why government agencies were disrupting natural balances by baiting in national parks and other crown land.
Arian Wallach:
Dr Wallach, whose work has been published in the international journals Nature and Science, said human attempts to manage the environment by killing came with high costs – ethical, economic, social and environmental.
Winner of the 2013 Eureka Science prize (Australia's foremost research award) for work on the ecological role of dingoes, she advocated greater humility from the scientific community.
"We need to be very humble in what we think we know and don't know," she said.
Agriculture needed to focus more on non-lethal control methods, including guardian dogs. But although human persecution was the main threat to large carnivores worldwide, it was not farmers who posed the main danger. "The most dangerous place for a dingo is in national parks," she said.
"Unlike national parks in other countries where the authorities protect the predators, dingoes are not protected anywhere.

"Foxes are common where dingoes are scarce. Where there are many dingoes, there are fewer foxes. Foxes are strongly associated with the extinction of marsupials. Where dingoes do well, marsupials are also doing well, essentially across the entire continent. Where dingoes are persecuted we get more stock losses, not less."
She also attacked the "wild dog" concept, which she said was "perfect" as a public relations tool to justify extermination, implying that problem animals were not really dingoes.
"The wild dogs are dingoes," she said.
Harry Jamieson:
Retired beef cattle grazier, agricultural public servant and conservationist Harry Jamieson, told about 80 participants (including three dingoes and one assistance dog) about his experience on land frequented by dingoes, kangaroos and wallabies as well as stock. He spoke as a former president of the Mary River Catchment Co-ordinating Committee, which has been active in conservation efforts for the endangered Mary River turtle, cod and lungfish.
Mr Jamieson said he had operated a family beef property in dingo country and had never suffered any calf losses as a result of dingo predation.
"Often we would hear them howling. Kangaroos and wallabies were numerous. I never shot or allowed anyone to shoot a kangaroo or wallaby. They were for the dingoes.

"You hear so much about dingoes causing a lot of people to incur losses… and you have to have sympathy. Over the years it's been baiting, trapping and shooting. It doesn't seem to have made a lot of difference. We've got to take a different approach," he said.
Lindsay Titmarsh:
Grazier Lindsay Titmarsh, of the Tandora property at the Mary River mouth told of an unprecedented recent increase in dingo numbers.
He said his family had shot and trapped dingoes at times over the years but they had always been in small groups and did not seem to breed up.
"If you see a dog every two months, you're doing well, (but) we have shot 16 dingoes in the last five months, that's unheard of at Tandora. I don't know what the story is. They just keep coming, from everywhere. We lost 20 calves in one year."
James Hansen:
Dairy farmer, Fraser Coast Regional councillor and a member of the council's Koala Conservation Committee, James Hansen said he remembered it once being rare to see a dingo.
"Then about 10 years ago, something strange began happening. We lost 30 weener heifers in one year. They cost about $1000 each to replace and would earn $10,000 over their lifetime.
"I really couldn't sleep at night. Then they struck during the day and took to eating calves as they were born. I don't know where they came from."
Adam O'Neill:
Mr O'Neill said the evidence from farmers of problems becoming much worse in recent years supported his contention that they coincided with national persecution of the dingo, which he said had started with the Beattie Queensland Government, after the Clinton Gage tragedy.
This caused over-breeding, hybridisation and changes in behaviour.
He said he and Dr Wallach had conducted the experiment that proved his point while managing the Evelyn Downs cattle station in central Australia.
"I decided not to kill any dogs and within two years, stock predation was eliminated.

"You need dingoes to stabilise everything. When dingoes are stable they become invisible and no-one notices the good things they do. People only notice dingoes when they become a problem.

"Stop the baiting, let the dingoes stabilise and they'll control the pigs and foxes and you'll save a shitload of money," he said.

"You've got to inquire how these government agencies are running our vast areas of wilderness. They're baiting for no apparent reason. They don't have livestock."
Dr Wallach said consumers were the key to solving the problem.
"Do you want to put your money towards contributing to the persecution of big predators (to produce) wool or meat?"
She said a global "predator friendly" certification system already existed.
"As consumers we have an opportunity to make a choice about the kind of human beings we want to be. Being compassionate and not being so quick to use guns and poison, let's put lethal control at the bottom of the list."
Malcolm Kilpatrick:
Save Fraser Island Dingoes president Malcolm Kilpatrick cut his address short because of time constraints, but said the organisation had sought to make the island manager, the Queensland Parks and Wildlife Service more free with information and had agitated for an animal care centre, especially for animals injured by humans. There was no real care facility except at the Seaworld and Australia Zoo tourist attractions. Of animals taken off the island for veterinary treatment, only a small number survived.
New problems for old
"As an ecologist I can tell you we do not understand eco-systems at all," Dr Arian Wallach told the conference, which was facilitated by the Save Fraser Island Dingoes group.
Killing for conservation was a dangerous tactic.

"When we fix problems, we often create new ones."
Cat eradication on Macquarie Island had been considered one of the great successes, because the cats were attacking native birds.

"Then came rabbit and rat plagues.

"The rabbit plague caused a decline in plants and (as a result of plants no longer holding hillsides together) landslip destroyed birds' nests.

"Then we spent millions of dollars to eliminate rabbits and rats and mice.

"What have we gained to justify these costs?

"Sometimes we have a win – once or twice."

Killing foxes to save the (endangered small macropod) woylies was a big success initially.

"They were de-listed, but then we lost them anyway because, instead of being killed by foxes, they were wiped out by cats.

"When we pick out anything by itself we find it hitches to everything else.

"We have cats and foxes and cane toads and there is nothing that is going to change this.

"If we want an environment that includes bilbies and rock wallabies, maybe we have to envisage an eco-system where there is co-existence.

"The problem with cane toads is poison glands on their back. Where they come from predators all know that."

There were now snakes with smaller mouths so they could only eat small toads and get a smaller dose of the poison. "Birds are figuring it out. They turn them over and eat from the underside."

Attempts at dingo eradication were another example of ill-thought management.

"Ecosystem survival is determined by whether they have big predators.

"The oceans have sharks, while Australia has dingoes.

"When wolves were re-introduced to Yellowstone Park in 1995, they killed some animals and gave life to many others.
"Deer numbers had built up (eating away vegetation on the ground). This had affected trees, birds and beavers."

A Youtube video, Sustainable Man, which she showed, recorded the return of these species and improvements in river water quality as a result of the re-introduction of wolves.

"Apex predators drive eco-systems," she said. "But with 94% of large carnivore species, the main threat is human persecution."

In Australia, dingoes helped promote co-existence between native and exotic species, but "there is no safe place for dingoes, (because) unlike other national parks where authorities protect the predators, it is OK (in Australia) to poison-bait national parks and to kill dingoes on Fraser Island."

Dingoes helped promote co-existence between native and exotic animals, many of which were here, like it or not.

"Since white people came, Australia is no longer isolated.

"Australia now has the world's largest populations of wild horses and donkeys and is the only place in the world where there are wild camels.

"There are creatures that have been here for millions of years and ones we've brought here.
"What's an animal to do when it's brought here?"

Introduced animals impacted the environment by using native resources and killing native animals and plants.
It seemed to be thought that by shooting and poisoning them, "we'll get a proper Australian wilderness back the way it was."

"But killing for conservation bears high costs and responsibilities.

"We need to be clear if the cost is worth it, in view of the environmental problems we face."

Large herbivores were in trouble around the world and many were extinct in their native range, or endangered.

"If we could snap our fingers and get rid of all wild camels in Australia, there would be no wild camels left in the world."

There were none left in Israel, where Dr Wallach said she came from and part of the region where camels were generally supposed to be native.

They appeared to have originated in North America. "Should we send them back there?"

There were camel relatives in South America and in Mongolia they were "slaves."

"This is the one place in the world they exist in the wild. If we eradicate them here, we are eradicating them globally," she said.