First published on RT (14/10/14).
See also: Complaint re ABC handling of Tony Abbott's insults and unsubstantiated allegations against Putin (14/10/14) by David Macilwain.
A Russian diplomat in Australia called the remark of Australian PM Tony Abbott about his intention to "shirtfront" Vladimir Putin "immature." He reminded the Aussie politician that he might be "very fit" but Putin is "a professional judo wrestler."

Abbott's scandalous remark came on Monday after he told journalists that he is going to "shirtfront" the Russian president on the sidelines of G20 summit over the tragedy of the Malaysian airliner crash in the Donetsk Region of Ukraine in July.

"I am going to shirtfront Mr Putin – you bet I am – I am going to be saying to Mr Putin Australians were murdered, they were murdered by Russian backed rebels," Abbott said.

Shirtfront is a football technique for a front-on chest bump or rough handling aimed at knocking your rival backward to the ground. Its "a reportable offence and considered illegal," says the Australian Football Rules website.

The Russian Embassy in Australia, however, didn't let Abbott's remark go unnoticed.

Third secretary of the Russian Embassy in Canberra, Aleksandr Odoevsky, told the Australian Associated Press that the remarks of the Australian PM were "immature."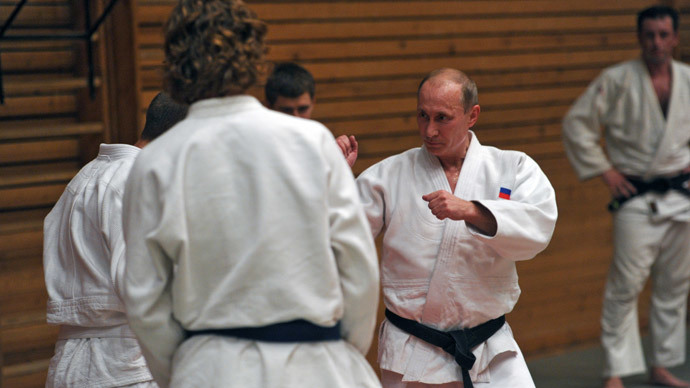 Russian President Vladimir Putin.(RIA Novosti)
"We consider the recent statements tough talk and immature," Odoevsky said.
"Hopefully there's no fight. Well, definitely we admire the Australian prime minister. He's very fit, but the Russian president... he's a professional judo wrestler," Odoevsky told Ten Network television.
Abbott toned down his language a day later as he failed to answer journalists questions about shirtfronting Putin and whether he regretted his statement. He said he is "absolutely determined to have a very robust conversation with the Russian president."
"We've all seen the impact of Russian policy on the innocent people on board Flight MH17. I think the very least I can do, speaking for Australia's dead and speaking for the families of Australia's dead and indeed speaking for the world's victims is to have a very robust conversation with President Putin," he added.
But Odoevsky said that the Russian President is only planning to attend multilateral meetings, not separate ones.
"There has not been a request for bilateral meetings between Russian and Australian leaders, so we are not exactly sure where and when Prime Minister Abbott would like to shirtfront President Putin," he said.
Abbott still hopes to meet the Russian president during the G20 summit.
"But I certainly expect that while he's a guest of Australia, he will undertake to have a conversation with the Australian prime minister," Abbott said.
Jacqui Lambie, a senator from Australias Palmer United Party, said that Abbott and Leader of the Opposition Bill Shorten should "stop acting like hormone-affected school boys trying to out macho each other on the footie field – and start acting like mature leaders of a great country."
Earlier, Shorten had said that Putin should "show enough conscience" not to come to Australia.
Comic Jazz Twemlow criticized the remarks of the Australian PM, saying that "someone should tell Tony Abbott that gaffes arent like baby turtles."
"What was the reckless, childish taunt? To the sound of foreheads being slapped everywhere, on Monday the prime minister threatened to 'shirtfront' Vladimir Putin, leading to the inevitable mass purge of jokes that turned your timelines into a scrolling tapestry of male chests," he wrote in the Guardian article.
He said of Tony Abbott that "perhaps he's trying to impress the public.""In which case, if this is the image of the Australian public Abbott has, shame on us. How much more machismo does he think we can mentally ingest?" he asked.
The G-20 summit in scheduled to be held in Brisbane, Australia on 15 and 16 November 2014.
Malaysia Airlines flight MH17 was shot down on its way from Amsterdam to Kuala Lumpur over eastern Ukraine on July 17, with 298 passengers on board.
A preliminary report into the disaster delivered by Dutch investigators on September 9 said that the MH17 crash was a result of structural damage caused by a large number of high-energy objects striking the Boeing from the outside.
Earlier a number of Western countries blamed Russia for the tragedy. Moscow, however, denies such allegations, saying there is a lack of new evidence presented in the report.