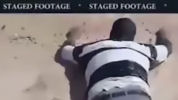 These films would constitute slapstick if their intentions to mislead were not so serious. They are meant to provide the United States with an excuse to drop bombs on Syria. This would be the same old disproven excuse that the US has tried to use already several times. It is amazing how the deep state just cannot come up with good script writers for anything. We have republished the below from https://sputniknews.com/middleeast/201809211068240639-syria-idlib-chemical-attack-fabrication/.
Syrian Arab News Agency has posted a footage of an alleged chemical attack fabrication in Syrian city of Idlib. [See their facebook link here: https://www.facebook.com/SyrianArabNewsAgencySana/videos/1798132316875954/.]
A video reportedly depicting a chemical attack fabrication in Syria's Idlib has been circulating Syrian media, the Syrian Arab News Agency reported. The agency said that the footage depicts "White Helmets" group staging an attack in order to accuse the government forces of chemical weapons use.