The writer of this article has returned home to Syria, after emigrating to a western country years ago. He reports on his arrival in Damascus, the capital of Syria, which is where much of the population has taken shelter from the activities of western backed 'rebels'. He last visited Aleppo in Syria between 2015-2016, for 9 months, shortly before the Syrian Arab Army, with the help of the Russians, managed to drive out ISIS. Photo was taken by the author on his current visit. (We split it up into smaller images due to size of initial image.)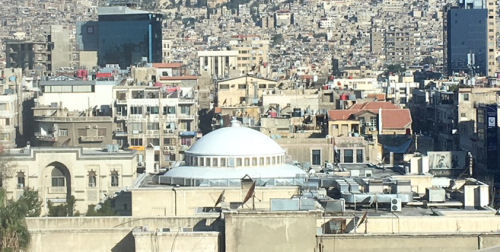 I'm in Damascus right now. I arrived yesterday to the capital with one of my uncles.
The msm propaganda is a nasty one.
As in the city, I'm feeling very safe, although it's so crowded and with a lot of traffic jams. Flying jets' sounds in the sky from time to time.
As for the daily random shells from the terrorists in East Ghouta upon the heads of civilians in Damascus city, and mostly on Old Damascus, where the ancient churches and mosques are located, almost no corporate msm is covering it or really cares about the lives of those civilians. This is the same double standard that had been used in East Alepppo in Dec 2016.