To keep up with global food demand, the UN estimates, six million ha of new farmland will be needed every year. Instead, 12 million ha are lost every year through soil degradation. Australia lost 36 million ha of agricultural land in just the four years from 2005 till 2009. Some of this lost land has occurred because of urban sprawl which is swallowing up some of our best soils close to cities that used to supply the fresh fruit and vegetables. A scathing report by the Royal Commission has gone as far to accuse the Murray-Darling Basin Authority (MDBA) of negligence and being "incapable of acting lawfully," apparently because they overestimated the amount of water returned to the river by a factor of ten. The many warning signs all around us are continually ignored by politicians obsessed with economic theories that defy even the basic laws of mathematics.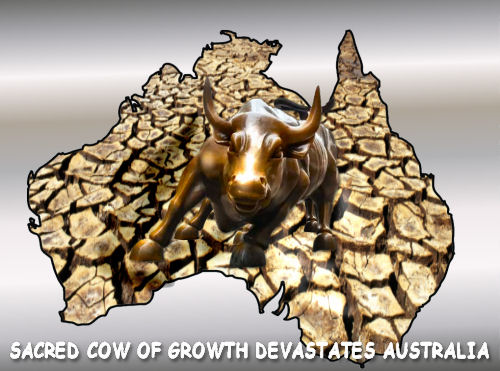 Australia is mostly a big desert
Australia is the sixth largest country in the world and also the driest inhabited continent on earth, with the least amount of water in rivers, the lowest run-off and the smallest area of permanent wetlands of all the continents.
Its ocean territory is the world's third largest, spanning three oceans and covering around 12 million square kilometers.