"We note your concerns" is a response that ABC critics are familiar with. It seems to mean, "We've ignored your arguments but made a small mark on the negative side of the "balance" tally.
On Fri, Mar 9, 2018 at 9:33 PM, David Macilwain wrote: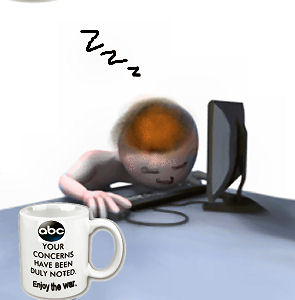 Dear Reeha,
As another writer and critic of the ABC's unbalanced reporting of the war on Syria, Jeremy Salt has forwarded me your response to his complaint about Sophie McNeill's recent report on Ghouta.
Jeremy shared his complaint with me at the time, and I endorse the points he made in their entirety, regarding both the true situation in Syria and Ghouta, and on the ABC's consistent and seven-year long failure to present a balanced picture of the Syrian government's war with foreign-backed Islamist terrorists.
Consequently I am bemused by the ABC's response today. Taken at face value, it betrays an almost complete lack of understanding of the 'geopolitics' of the conflict, as well as the role that the ABC has played over the last seven years in helping to deceive and misinform the Australian public.