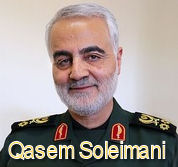 The assassination of Qasem Soleimani, ordered by United States' President Donald Trump was a criminal act. Any country, including the United States, which claims to uphold the rule of law, should spare no effort to bring to justice President Donald Trump, and all the other perpetrators of that crime including Mike Pompeo and Mike Pence.
Qasem Soleimani, unlike the United States' Army had, with the Iraqi Kata'ib Hezbollah paramilitaries, effectively fought against ISIS in Iraq. Those paramilitaries are connected to the country's Popular Mobilization Forces that are part of Iraqi government's armed forces. Qasem Soleimani was adored by most Iraqis.
On Sunday 29 December, Donald Trump ordered attacks on the Kata'ib Hezbollah paramilitaries. As a pretext for his order to attack Iraq's armed forces, Donald Trump claimed that the Kata'ib Hezbollah paramilitaries had launched a rocket attack which had killed a U.S. contractor. Although the Iraqi government began to investigate the attack, Trump was not prepared to await the outcome of the investigation. 27 Paramilitaries were killed in that rocket attack as a result.
Subsequently, enraged Iraqis tried to storm the U.S. embassy and demanded that the U.S. army occupiers leave Iraq.