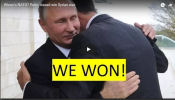 Russian President Vladimir Putin met his Syrian counterpart Bashar al-Assad in Sochi on 21st November 2017. The last time Assad visited Russia was at the beginning of the Russian campaign in Syria in 2015. According to the Syrian president, in two years of the Russian campaign the successes achieved have been evident and many residents of the country were able to return to their homes. He noted that thanks to Russia, Syria was saved as a state. (Text by Inessa S.)
The Chief of the Russian Armed Forces General Staff, Valeri Gerasimov, said conditions have been created for the return of refugees to Syria, during the trilateral meeting with his Turkish and Iranian counterparts in Sochi. "The main thing is that the sovereignty, the territorial integrity of the country has been preserved, the civil war was stopped, conditions were created for the restoration of peaceful life and refugees' return," said Gerasimov.
President Putin similarly told his Czech counterpart, Milos Zeman, that "over 98% of the territory of Syria is under the control of Syrian government troops, during their meeting in Sochi. Zeman congratulated Russia for its role in the outcome in Syria, saying: "you have won in Syria, because he [Assad] now controls almost the entire Syrian territory."
The Russian military campaign in Syria began in late 2015, by invitation of the Syrian government. Meanwhile, the Western coalition was carrying out military activity there almost two whole years beforehand, illegally. Under the guise of fighting ISIS, they were simultaneously targeting Assad's government forces, as well as letting ISIS spread like wildfire.