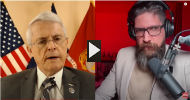 Outstanding interview on imminent international relations breaks new ground. Interviewer, Kevork Almassian, originally from Syria, currently living in Germany, knows what questions to ask formidably intelligent Vietnam Veteran and retired US State Senator, Colonel Richard Black.  Black actually has answers.  The interview starts with why Trump reversed his original policies on Syria and Afghanistan. Fascinating to hear how the strategic resignation of Secretary of Defense, James Mattis, then broke the presidential chain of authority and John Bolton flew to Tel Aviv and actually countermanded the president's orders on Syria.  Also of interest, Black's surmises about Trump's son-in-law Jared Kushner's loyalties. It is enlightening to hear Krikorian and Black connect the dots on the massive explosion of a ship carrying ammonium in Beirut Port, killing many people and destroying the banking system in Lebanon, where many Syrians had tried to safeguard some money away from the war.  With Beirut Port destroyed (and Lebanon''s economy totally devastated, many people starving) trade then was diverted to Haifa Port in Israel.  Later we get to Ukraine and the danger of a nuclear third world war. The thread running through the whole thing is the thuggish pursuit of oil, gas, and rare earths and the commercial investment in war of global elites without national loyalties. The failure of commonsense, or a sense of danger, with regard to the risk of nuclear war, is attributed to a haphazard, uniformed consensus among the powerful, without any single intellectual oversite. Thus we are marched (without our consensus) towards an obvious cliff.
Full Transcript
[Note : Candobetter Editors have inserted a few headlines here and there, to mark some some particularly important points. which are not of course part of the original recording or transcript.]
KEVORK ALMASSIAN : Okay. Hey we're alive again on Syriana Analysis. Thank you, ladies and gentlemen, for joining me. Today it's 9 p.m. Central European Time and it is 3 p.m. in New York and I'm joined by Senator Richard black, Retired Colonel former head of the US, Army's Criminal Division at the Pentagon and former Virginia state senator. Thank you very much, Senator, Richard, black for accepting my invitation.
RICHARD BLACK : Thank you […]
KEVORK ALMASSIAN : It's really a pleasure. Thank you very much. It's really a pleasure to have you on my channel. I've been following your work for quite some time, and especially your visitS to Syria, which is my home country, and I really appreciate your trips to Syria, and your opinion matters in this regards. Because for us, in Syria is very difficult to bring the voices of the silenced majority there to the outside world. But when a person like yourself goes to Syria and spreads the word of the pain of the Syrian people outside, to the outside world, it has a double value in my opinion.
Now, I followed the Syrian war quite closely. I was 22 years old when it started. I was quite a kiddo, but I documented the war from the early beginning. I downloaded a lots of videos and I know there is something stinky coming from the Syrian War. and it took me three months to realize that this is a regime change war and not an organic genuine Revolution against the non-democratic political system, if it's correct to say.
Now, the regime change were started in 2011, and Donald Trump ended, the CIA's covert operation, or the regime change war in Syria, in 2017. The program was called Timber Sycamore, but Trump failed to keep his promise to withdraw American forces from Syria as he initially wanted to do. In your opinion, who pressured Trump to abort the mission of withdrawal of the US troops from Syria, and why?
RICHARD BLACK : First, I think it's important to understand that President Trump attempted on three occasions to force a withdrawal from Syria. On October the 16th of 2019, the New York Times reported, and this is their headline, ˮTrump Orders withdrawal of troops from northern Syria."
President Trump ordered troops withdrawn, but the Secretary of Defense, James Mattis, resigned in order to break the chain of command and to create confusion. Meanwhile, John Bolton, the National Security advisor, who is extremely disloyal, flew to Tel Aviv and immediately announced that the troops would not be withdrawn.
In other words, he countermanded the order of the President of the United States.
If you look at the entire Trump presidency, you know, he made his mistakes, but he was - President. Trump was overthrown because he wanted to withdraw from Syria. he wanted to withdraw from Afghanistan, and he wanted to diminish the American role in NATO. He was not overthrown because of some domestic concern or because of the way he sent out tweets and offended people.
The Deep State was opposed to him and he was ultimately overthrown in a very transparently rigged election in 2020. He was overthrown because of his stand on foreign policy. But I think it's important to understand. And I have a great love for the Syrian people. I have a tremendous respect for the President of Syria, and I think this story of Syria is one of enormous heroism. Here is a country that once had a population of 23 million people, that was opposed by two-thirds of the military and industrial might of the Earth. And they fought and they eventually drove back the terrorist armies that had been organized by the Central Intelligence Agency.
And, these were essentially Isis and Al-Qaeda. Al-Qaeda went by different names and you had all of these other organizations that were loosely associated with Al-Qaeda.
But those were the people that were supported by the Central Intelligence Agency, the State Department, the Pentagon, and it was a terrorist attack against the legitimate duly elected government of President Bashar al-Assad in Damascus.
So President Trump attempted to to end that and he was not able to do it.
KEVORK ALMASSIAN : Senator, before I go through the questions, can you please just increase your voice. The, in the live chat, they are just saying that your volume that your voice is a little bit low.
Now, one of the attempts of Trump that I recall is to maybe open new page with Syria was when the congresswoman Tulsi Gabbard visited Syria. Is it true that Trump sent her, Tulsi Gabbard, in 2017 to open channels with President Assad ? Was Trump genuine in his intention of restoring, peace in Syria. And how did he change his mind from peace talks to calling Assad an animal in one of his tweets?
RICHARD BLACK : I'm not I'm not aware that Tulsi gabbard was any sort of an official envoy. She understood, as I did, the reality of what was happening in Syria. and she went over there with great sincerity. She's a great friend of Syria, but I don't know that she was any sort of an onboard from the president. Now, the errors that were made by President Trump in dealing with Syria, no-one knows exactly where they came from, but he had some very bad influences on him and, I think to some extent, his daughter Ivanka and her husband Jared, Jared Kushner. 
Kushner always struck me as a rather sinister fellow, who was not entirely loyal to the President. And so, at the time at the time that he made these very disparaging remarks about President Assad, there was one of these false flag gas attacks that had been attributed to the Syrian government. It was a false flag as many such provocations were and the President's remarks were simply poor judgment at that time, based on bad influence, that was applied to him.
KEVORK ALMASSIAN : Now, the United States, they have now a few hundred forces in Syria and they support the Kurdish-led Syrian Democratic Forces, the SDF, which control one-third of the country that is rich in oil and wheat, the two main, I would say. basic necessities that the Syrians truly need nowadays, especially during this winter time.
RICHARD BLACK : Yeah.
KEVORK ALMASSIAN : Is it safe to assume that the American forces are in Syria just to steal these natural resources or there is a bigger strategy there?
In other words, what are the goals of the United States in Syria nowadays? What is the endgame after the regime change form has failed?
RICHARD BLACK : It's important to recognize that when President Barack Obama was elected, he was immediately given the Nobel Peace Prize, and he went on to become one of the most bloodthirsty presidents in history, launching wars of aggression against Libya, against Syria, and against Yemen, and laying the groundwork for the war in Ukraine. And so, at this time, John Kerry was the Secretary of the State and he flew on a visit to Syria, and he was very frustrated because the Syrian Army had suddenly launched a drive that first, they defeated Isis at the battle of Palmyra, and then they went on to win victory after victory. Finally, the greatest victory of the entire war was in Aleppo, where the Syrian Army, after years of fighting a very bloody urban combat there, they managed to finally encircle the al-Qaeda forces which were called Al-Nusra.  They went by different names, but they were all Al-Qaeda people, and they were encircled, they were decisively defeated.
Behind the famine and revolution story
Now around this time Secretary Kerry went to the Middle East and in great frustration at the defeat of the terrorists, he announced that we might have to go to plan B. Nobody knew what plan B was at the time, but we learned in time, that what it was, was a plan to put US troops in Northern Syria, to seize control of the wheat that was produced. Northern Syria is the bread basket of all of the country. And the idea was to cut off the wheat, to impose a famine on the people. And at the same time to capture the majority of the oil and gas, which provided fuel to deliver supplies to the country. The idea was to impose such immense cruelty, famine, and death, on the people - the poor people, the ordinary people - that somehow they would, they would rise up and they would overthrow their government in favor of the terrorists. It failed, and yet the the policy continues to this day.
KEVORK ALMASSIAN : Unfortunately, the policy continues till this day, but I truly don't see an exit strategy for the United States in Syria. They refuse to leave and they refuse to make a compromise with the Syrian government and they urge the Kurdish militias in the eastern shore of the Euphrates not to talk with the Syrian government. So, financially speaking, the United States isn't really gaining much.  Yes, I mean the oil can generate money but it's not Saudi Arabia style of oil in Syria, right? But the Syrians need this oil. So in my humble opinion, the strategy, if there is any, is just to deprive the Syrian government of these natural resources, so that they cannot reconstruct the country where they have liberated the areas from the terrorists. Do you agree with this assessment?
RICHARD BLACK : Yes, I do. One of the things that was done, when secretary Mike Pompeo was in office, as Secretary of State under Trump is that they announced the Caesar sanctions. The Caesar sanctions were the most far-reaching sanctions that the u.s. is probably ever imposed on any nation. It was based on this fake information from early in the war, where some clown came to Washington claiming he had pictures of 50,000 people who'd been murdered  in the prisons. It was all a fake. I recall reading a couple months after they had it. that there were only nine people who could be identified out of the 50,000, as having been captives of the of the Syrian Army. And even those, they might have been released and then killed later, or maybe they were just misidentified. Nine out of 50,000 - pretty pathetic.
But in any event, under Mike Pompeo, Caesar sanctions were implemented. And Pompeo made a speech in which he talked about how extreme these these sanctions were going to become
Beirut Harbour blast wiped out banking-sector lifeline for Syrians
Well, at the time, many in in Syria had a lifeline through the banking system in Lebanon, through Beirut. And Beirut had a very vibrant banking system, and many Syrians deposited their money in the banks of Beirut, Lebanon. However, shortly after Pompeo talked about the harshness of these sanctions, there was a mysterious huge blast, where a ship carrying ammonium nitrate exploded in Beirut Harbor, killing many people, wounding many, many hundreds of people, and basically wiping out the banking sector, which collapsed at that point.
I don't believe that this was just a spontaneous explosion. I think it was the product of secret agents, operating and detonating that blast and I suspect that the CIA, if they did not conduct the blast, I think they were probably informed about what was taking place.
KEVORK ALMASSIAN : I just want to make a comment on this, Senator. I followed this case, and I think there are two goals that have been achieved after this. Last one, as you mentioned, the collapse of the banking system in Lebanon. Because after the blast, there was a big media campaign from the pro-American camp in Lebanon, namely the 14 March Coalition, and they pointed their fingers at Hezbollah and its allies, the Christian Movement, for example, of Michelle Aoun, and there were big protests and attacks on the banks. So the entire financial system collapsed, the banking system has collapsed due to this, after this - let's say - blast.
Secondly, also another thing that is very important, the port itself has been wiped out and Beirut Port was also one of the important regional ports in the region. And, as we know, the war in Syria, for example, stopped the Tartous Port [Syria] operating or functioning properly in its international business. And most of the shipments were diverted to Haifa Port [Israel], and some of them to Lebanon, to Beirut Port, and, after this blast, all this business now is booming in Haifa Port, and not in Beirut, and not in Syria.
So, to be honest, this is the first thing we learn at the University in political science faculty, is to study who benefited from similar events and, rest assured, nothing happens as a coincidence. An event of such gravity cannot happen because of just a [unclear] mistake. It was almost like a nuclear impact in Lebanon, right?
RICHARD BLACK : Yeah.
KEVORK ALMASSIAN : Since you mentioned the sanctions: We know there is a Caesar Act since 2018 and, recently, Biden imposed fresh sanctions. I think citing combating Syria's drug dealing networks. And the thing that I really want to know, in the United States itself, do the American successive administrations impose such sanctions, like, by themselves - but the initiative comes from the administration or people in the administration -  or there are lobbies on the administrations to impose such sanctions? Because in Syria, they say the Qatari Lobby is active in the United States, with the Syrian opposition, and also, the Israeli Lobby is doing this business.
Global elite –  dynsasty banking families, 'boys from Davos' princes, kings, celebrities, industrialists -  that profits from wars
RICHARD BLACK : Yes, there are lobbying groups. Typically they're, they're nonprofit organizations that lobby for war, but they get their money from from certain areas. And,
you know, there is there is a global elite that profits enormously from wars. Some of them are the dynasty banking families out of London, out of New York.
We, I talk about the 'Boys from Davos,' all of these princes and kings and celebrities and industrialists, bankers. All of the globalists who consider the one world order to be their principal Government rather than their native countries.
And they gather together. And they are basically given their marching orders from this very small group, a much smaller group of people in the dynasty families, who plan the wars, who decide where, what they're going to do, what major events will occur, in order to enhance their power and their profits.
And so, the money flows from those groups to these small groups - the non-governmental agencies and the non-profits - that then go on and they spend a lot of money lobbying.
They hire major Washington law firms and the law firms lobby Congress and - to our Congressman, they don't - many of them don't have the slightest clue about foreign policy and the ones who do often end up on the key committees. Just simply because they are willing to support war and back the one world order, and do as the globalist oligarchs want them done.
KEVORK ALMASSIAN : Now we can see about diplomatic efforts in the region - like Syria and Turkey are talking to each other with the mediation of Russia. Russia wants them to sit on one table and strike a deal. So raprochement is, in my opinion, between Turkey and Syria, coming soon, and it could be even before the election in Turkey.
It seems that the foreign ministers will meet soon. And the United Arab Emirates is mediating between Syria and Saudi Arabia. The question is, will when this powerful Regional countries restore ties with Damascus? Is it possible to see the withdrawal of the American troops from Syria?
RICHARD BLACK : It is possible. I can't tell you that that that will happen. It is clear that the Turkish people are tiring of War. They fought A - not a huge war - but it's significant. They've had their their troops, their tanks in Northern Syria and they have had to fight against the Syrian Army and against the the YPG [Kurdish 'People's Defense Units], but the people are tired of war and President Erdogan is up for re-election, May the 14th of 2023, coming right up. And so he's trying to be very conciliatory at least for now. You never know with President erdogan. He is quite unpredictable.
There is some possibility, though. I think there is movement throughout the Middle East from the from the UAE and from other countries. Even from Jordan, to begin to mend relations and sort of put an end to this whole thing in Syria.
I think a Russian Victory in Ukraine would have good effects on Syria. We'll see how that evolves.
KEVORK ALMASSIAN : But, if we want to speak about Syria - I mean it [ ?means the USA] started the war in 2011, but then in 2014, there was a regime change or coup d'etat in Ukraine. So what the Americans failed in Syria, they succeeded in orchestrating a coup in Kiev in 2014, right? Which, many people say this event, the coup d'etat, has led to the current armed hostilities between Russia and Ukraine.
In your opinion, was the Russian invasion of Ukraine a direct result of this coup in 2014, or it was unprovoked, as the Western political elites say?
RICHARD BLACK : There's a long history of build-up to the war, but I think we can identify 2014 as the point where the war started, when President Barack Obama gave the go-ahead to conduct a coup and to overthrow the duly elected government of of President, Yanukovych in Kiev. It was a very violent revolution. The US State Department and the Central Intelligence Agency were involved as well as British MI6. We overthrew the government. We literally hand-picked many of the officials who would take over and be part of the revolutionary junta. And, as soon as the revolutionaries had taken over in Kiev, they changed the Constitution. The Constitution had said that the first language of Ukraine was Ukrainian, and the second language was Russian. They deleted Russian as a second language, essentially making all the Russian-speaking people sort of second-class citizens. And so this was a major problem.
And, and that's the reason that you had Crimea and the Donbass declare their independence. They had much more reason to declare independence than the colonies did in North America when they rose up against the king of England and became the United States. If someone had told the colonists that they could no longer speak English, they now had to speak French,  I think it would have been a much more much more energized Revolution that it even was. So, this was the Donbass, and the Crimea had very good reason to break away from Kiev.
And immediately after they did, the government began receiving huge floods of weapons from the Obama Administration and they began to build a very powerful army with which to attack the russian-speaking areas of Ukraine. And most of it's very little known by people, but the areas where all of the fighting is occurring are typically Russian-speaking. The people there are Russians. Yes, they're Ukrainian citizens because of where the line was drawn. But in fact they have the Russian religion, the Russian culture, the Russian history, and they speak the Russian language. And so this is the reason that Russia is is defending them by going in and trying to protect them from the Ukrainians who have a great hatred towards them. And so, yeah, we have to look to 2014 as the time that the war started. Fourteen thousand people died before Russia ever got involved in the war in 2022.
KEVORK ALMASSIAN : If we read [? Bujinski] the American strategy in Ukraine is clear, to stop the Russian European economic integration because nothing, according to him, threatens the US hegemony in Eurasia more than good relations between Berlin and Moscow based on Russian natural resources and German technology and Industry. If this is the case, why the European countries are [unclear – possibly 'cooperating'] with the US in Ukraine, when their own national interests are at stake?
RICHARD BLACK : The European countries are afraid. If you look at what happened in Germany, Germany worked with Russia to build one of the greatest engineering masterpieces in recent history with the Nordstream2 pipeline. They already had the Nord stream1. And when the United States was trying to force Europe from using Russian gas, they simply coordinated with the United Kingdom and they sabotaged both pipelines, Nordstream 1 and 2, and then came up with this bizarre explanation!
They said, oh well, the Russians probably blew up their own life line into Europe, which, you know, of course, that was absurd, because Russia was with bringing in many many billions of dollars even with the reduced flow of gas.
And there was a text intercepted from Liz Trust who at the time, was the Prime Minister of Great Britain. And she sent a very simple text to the [US] Secretary of State Anthony Blinken. She said, "It's done.ˮ
She said that about one minute after the explosions occurred deep under the sea. And so it was clear that the United Kingdom had actually carried out the sabotage, that they did it under the direction, with the approval of the United States State Department.
KEVORK ALMASSIAN : Victoria Nuland, actually, a few days ago - I think she was talking to Ted Cruz if I'm not mistaken - and she said, "I think you agree with me that Nordstream Pipeline is now a hunk of metal at the bottom of the sea and we are happy for that.ˮ
I mean, she was also the one in December 20 - when was that exactly - just a few months before the Russian offensive on Ukraine, she said, if Russia invades, Ukraine one way or another, we will make sure that the Nordstream Pipeline has stopped.
I mean, from the American side, I understand they have a interest right in this. But what I really don't understand is what the Germans are doing in this regard. They are not even asking for investigation. They're not even pointing finer at anyone. They're not even talking about it honestly. And this is what really bothers me because this is, in my opinion, industrial terrorism against an infrastructure that provided Germany with clean and cheap, gas and it contributed in the industrial revolution in Germany.
Germans should be grateful for this cheap gas that used to come from Russia. And however, the environmentalists, the so-called 'Green' Party in Germany, they were lobbying for many years now to stop the Nordstream2 Pipeline, and then when they came to power – that was in 2021. In 2022 the blast happened of Nordstream2!
And now they are restoring the coal factories and even In the nuclears, which is like way more - let's say, pollutes the environment way more than the natural gas.
And they're saying, we're not going to come back to negotiation with Russia to restore this, any gas imports into Germany. And now we are paying really so much more for everything in Germany because of the skyrocketing gas prices. And, despite all of this, Olaf Schultz says that I'm asking the people to trust me [him, Olaf Shultz.]
And I truly am not the German, right? I don't have any, let's say, citizenship rights, to say whether the Germans should trust him or not, but there's something illogical happening in Germany.
And I always said, the biggest loser of this war after Ukraine, it will be Germany. And there is a project of deindustrialisation. Deindustrializing Germany is not a conspiracy theory. It started after the end of World War 2, and still continues 'til this day.
And the biggest, I would say, threat for the American hegemony in Europe, and eventually, in Eurasia, is a good relationship between Germany and Russia. But now, contrary to the interest of Germany, Berlin decided to send tanks to Ukraine.
And the foreign minister of Germany, which is from the Green Party, whose motto before the election was, 'No weapon exports to war-zones.' This was her motto and she became a foreign minister and she lobbied in the government, in the Coalition, on Olaf Shultz, to send these things to Ukraine.
And now recently, she said, 'We are fighting a war against Russia.' 
It's very clear what she said.
And then a spokesperson of the Foreign Ministry of Germany comes out and says, 'Russia is distorting the statement of Annalena Baerbock – although we all heard it, we are not deaf. Like seriously, we heard what she said and indeed, it's in English, it's not even in German that we misunderstood her.
So in, what context do you put this escalatory decisions from the German side in Ukraine?
RICHARD BLACK : You know, I have a deep love of the German people and of Germany as a country. I served over there three years with the with the US Army. I was a lieutenant colonel and you know, it always hurt me to know that, when the war was over, when the second world war ended, Germany was not allowed to restore complete sovereignty. And I had hoped that, by this time, some of their sovereignty might have been retained or restored, because you know, now the country is United east and west. But the fact is and I hate to say it, but Germany remains a vassal state of the United States. And in fact, the entire European Union has now become a vassal region under the direction and command of the United States. And it's sort of this  relationship between the US and Great Britain. There's a very special, rather unsavory relationship between the two countries and it's used to dominate Europe.
So it is a shame but Chancellor Schultz is not in a position to make independent decisions on behalf of the of the German people. He is, he knuckles under to the pressure from the Deep State and does what he's told to do.
It's sad because the relationship between Germany and Russia should be a very natural and very strong one. Even in the lead-up to World War Two, it is quite clear that German industry ran on Russian natural resources.
Hitler understood that that he could he could only fight so long without capturing the oil supply from the East. He knew that he had to seize the natural resources - the manganese, the steel, many of the natural resources that German industry ran on, and there really was a there was a chess game, a great chess game between two extraordinarily brilliant men - one of them being Adolf Hitler the other being Joseph Stalin. And there was this jockeying back and forth to see who could get the advantage of the other, but in the end Stalin recognized that Germany could not survive past a certain point without natural resources from Russia, and Hitler understood this very clearly. But in the end, the Soviet Union was able to outlast Germany.  Germany finally ran out of natural resources, and was the end of Germany.
But in a rational world, Germany and Russia should be the closest of allies because they rely on one another.
Russia is never going to be the industrial powerhouse that Germany is and Germany is never going to be the industrial powerhouse it could be, if it received the cheap resources from Russia, instead of, for example, having to pay three times as much for liquid natural gas that is imported from the United States and other places.
KEVORK ALMASSIAN : Year, they are even importing the same Russian gas now from China. The Chinese have stored so much Russian gas in their private companies, and now they're buying even the same Russian gas, but from third countries and other companies, which is really ridiculous in my opinion.
And now they decided to send the tanks. In your military experience, what impact can 100 or 200 or even 300 tanks make on the ground in Ukraine when the [ ?unclear]  Kiev started this war with over 2,500 tanks and no one knows the whereabouts of these tanks now?
RICHARD BLACK : The tanks will make a difference.. It started with Great Britain, giving 10 Centurian tanks and then the Germans tried not to do it. Chancellor Schultz did not want to give the tanks, but he got enormous pressure. The Poles, who have become quite aggressive – it's very interesting. They are morphing into a different type of state, a much more warlike state. But they finally said, well we're going to give 31 leopard tanks, and then that forced Germany into giving 14 and the US  giving a bunch of them one.
Here's the thing. Right now, there are about a hundred tanks that have been pledged. They're going to come at different times from different places. But the core, the core of the of the tank force is going to be German Leopard tanks. The leopard tanks, we have experienced because the Turks employed Leopard tanks in Northern Syria. And the encounters in Northern Syria, showed that the Leopard tank was vulnerable to destruction by the Syrian Army and by the Kurdish forces.
So it is not it's not a magic weapon that's going to turn the tide.
Now, the M1 tank is a very advanced platform, but it has the problem that it uses an aviation style turbine engine. Now, the turbine engine is known for consuming great quantities of fuel, which is a problem, but I think the greater problem is it's heat signature. The M1 tank gives off an immense amount of heat. It's not like any other tank in that regard.
Other tanks are diesel-powered. Yes, they give off some heat but it's not such a big thing. With the M1 tank, it is a very large heat signature which - and I'm not an expert on these things; I just know from reading - but I think it makes them vulnerable to heat-seeking missiles.
Yes. If you have, if you have 100 tanks and the way things are going, 100 tanks could change into 500 tags, maybe 1,000 tanks, but the tanks will not be invulnerable. They will be subject to attrition, and they're going to be coming in at various odd times. They're talking about some of the M1 tanks not being delivered until the end of this year. So they're going to be a lot of problems with it.
And if we look at the sort of this, this history of the war over just the last year or so, we see the Russians constantly evolving and coming up with techniques for defeating these new weapons, like the HIMARS system. The HIMARS was very, very effective. at first, and gradually, the Russians have figured out ways to intercept the rockets and they greatly diminished its effectiveness on the battlefield. This is happening and it will happen with the tanks as well.
KEVORK ALMASSIAN : Yeah, with the tanks, it also could open the door for supplying other types of weapons. Now, the Ukrainians say, 'Tanks are not enough. We need F-16.'  And yesterday or the day before, the former Ukrainian Ambassador in Berlin, which I think he was kicked out because of his remarks on Bandera - and he likes Bandera and considers him a hero - He is now proposing that Germany sends submarine to Ukraine. [Laughs.] And he says Germany has, I don't know, 20 of them, maybe they should send.
The language is also very aggressive Germany 'should send' one of these submarines to Ukraine. And the language is always demanding from Germany and other allies to send more weapons, and not asking even kindly in this regard. And it makes me really laugh sometimes, because these conversations happening on Twitter by diplomats who have no clue about any of the practicalities of this military equipment, and they are just raising hopes among the supporters of Ukraine or the Ukrainian government. let's say, and among the Ukrainians themselves, thinking that the f-16s will come, and hundreds of tanks will come, and then submarines, and they will win this war.
This is the wishful thinking that they are spreading and raising hopes that, psychologically speaking, it leads into catastrophic consequences because they will be faced with the harsh truths in a few months that the delivery of tanks will take so long. The repair of these tanks, if they have damaged, will take so long. The supply lines for giving fuel to these tanks will take so long and then they will see that these tanks aren't invisible. They aren't some super machines that can't be destroyed. 
And we have seen what happened in Northern Syria, as you mentioned. Even with Israeli mirror covers, we've seen what happened in 2006 war in Lebanon. All tanks are vulnerable, it's not like they can't be destroyed.
But if I want to end up this conversation with you, Senator, what is the end game in Ukraine? Are we heading to a dangerous escalation in the form of properly tactical nuclear warfare, or can we still count on the supposed sanity of the decision-makers?
Unlike Russia, the west lacks a central organising intellect
RICHARD BLACK : The fundamental problem that the Western Nations have is that, unlike Russia, where President Putin is the ultimate decider of the direction of the war and the continuation of the war. Unlike Russia, the west does not have a central intellectual organizing center.
In other words there's there's no central intellect that analyzes the situation and makes decisions about 'Should we go to war? Should we end the war?'
It's more of this shifting coalition this Deep State element with the global oligarchs, the think tanks. There's this huge NATO bureaucracy, congressmen and people in the British Parliament. It's all this swirl.
And so we can say, at times, it seems that President Biden has said, 'We're not going to do this,' and he at least give you the impression that sometimes he's been sincere. I wouldn't put any money on it, but it is possible. But then things happen and the people who control the media - who are certainly the Deep State - these are the global oligarchs who control the entire western media - they'll simply create a provocation.
All the media, all of the broadcast media throughout the west, suddenly began, you know, shouting the war, drumming the war-drums, and the next thing we move up. That's how we got the tanks. We had - the United States said, 'We're not going to send tanks.' Germany said, 'We're not going to send tanks.'
The Deep State said, 'We're going to beat the war-drums until we send tanks.' The day following the announcement of tanks being sent, there was immediately chatter about F16 jets, the plan to send F-16 jets.
Just now, I had not even heard about the submarine, so you're telling me another one. And I keep very current on these things, but it just shows this constant shifting.
We are in that 1914 moment right now
And when we look back to the First World War, and we see that the assassination of the Archduke of Austro-Hungary and his wife just sort of created this - this chain reaction that ended up killing - who knows – 15, 20 million people?  And then led directly to the Second World War that killed another 50 million.
This was because of two people being killed and no one can to this day entirely explain how it happened - how the war got out of hand. But you look at it today - We're in the 1914 moment. There is a distinct possibility of World War 3 and a very large possibility that it will become an all-out global nuclear war that will destroy most of humanity.
And yet it's being done in this rather calm way, we're because it's all done by consensus - If all the people around you seem to be saying, 'Well, yes we should do this. We should do that. Yes, ah, hey! Let's send some submarines and begin sinking ships,' and and perhaps escalating right to the, you know, within a hair's breadth of nuclear war. 'Well, let's do it because John down the street, he said to do it, and Harry says, it's a good idea over in England.  Well, let's do it!'
It's insane if you look at it the way that a single mind would analyze things, but it's this shifting consensus. It is extraordinarily dangerous and we face a very genuine possibility that mankind will simply disappear from the earth, as a result of what we started in Ukraine.
KEVORK ALMASSIAN : I truly hope that this is not the case. I am truly concerned and truly worried of the developments in Ukraine. And I think they are reckless decisions are being taken by several players in the Ukraine war, and it could end up  - and I am not trying to scaremonger – but it could end up in in an Armageddon. And unfortunately, it's happening, as you mentioned, in a very calm way, with complete disregard of the consequences. It seems that there is not much calculation or consideration for this outcome that is truly possible and it could wipe out millions and millions of people.
And that's why I call on the people, if they have any chance, if there are any demonstrations or protest to participate against this war, we have to end this war as quick as possible through diplomatic means. We have to secure the security of Ukraine and Russia at the same time. We don't want any of the sides to be destroyed or weakened or lose this war. We want them to live side by side and, unfortunately. however, there are also regional and international powers who do not want to see this.
I hope I'm wrong. I hope that one day in the next weeks or months sanity would prevail. I'm not really so much optimistic, but let's see.
Senator Richard Black, I'm really thankful for your participation on Syriana Analysis. It's a really great pleasure and honor for me.
And guys, those who were saying that the volume is low or there was a technical problem or something, I'm already recording this interview. It's now live but I can also Let's increase the volume and repost it again with the higher volume for you soon.
Senator, thank you very much again.