Dear Andrew Wilkie,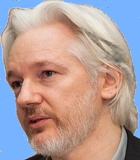 On 9 June you said, "It's deeply disappointing that the United Kingdom High Court has denied Julian Assange the right to appeal his extradition to the United States.
"Mr Assange is an Australian citizen and journalist, whose matter should not even be before a court, as the case has always been an intensely political matter. Enough is enough. The US must drop the extradition and discontinue these charges immediately. And the Australian Government must continue to speak up and push for an immediate end to this matter as Julian's life is at stake."
Could I first remind you that, by 9 June, Julian Assange, who had broken no British Law, had been illegally locked away for 23 hours per day in solitary confinement in Belmarsh Prison for more than four years?
Given that Assange stands, very soon, to be extradited to face a fate, even worse than what he has already been made to endure at Belmarsh - solitary confinement for the rest of his life in a United States Maximum Security Prison - a fate he considers worse than death - isn't it time, that, as convenor of the 48 member Bring Home Julian Assange Parliamentary Support Group (Assange Support Group),  you reflect upon your actions, or lack thereof, for those last four years and question whether the Assange Support Group could have been more effective?
An examination of Hansard shows me that the last time any attempt was made in Parliament to properly hold the government to account for its failure to act to support Assange, was on 2 December 2021 - more than 18 months ago -  when you tried to move for a suspension of Standing Orders so that you could put your foreshadowed motion which called upon the then Morrison Government to act to free Assange. Outrageously, that procedural motion was declared lost. So, according to the Speaker, a majority of MPs, on that day, voted against you putting to Parliament the case for the government to act to free Australia's most famous and most revered citizen - Julian Assange.
So, how many Australians do you think are aware that a majority of MPs behaved so badly on that day?  In my view, and, I expect, the view of most Australians, any MP who voted on that day to prevent debate on Assange on the floors of Parliament is not fit to sit in that Parliament and should be made to resign. Yet, because you failed to call for a division, we don't know the names of those MPs.
Since that day, little else has been done in support of Assange in our Parliament. Of the 48 members of the  Assange Support Group, Hansard shows me that only on two occasions was the government ever questioned about Assange, by Janet Rice and Doctor Monique Ryan. Only a handful of representatives - Peter Whish Wilson, David Shoebridge, Tony Zappia, Larissa Waters - have ever even taken the effort to even make statements about Assange, none of which have ever been responded to by the Government.
If you agree with me that the Assange Support Group could have been much more effective, then perhaps, even, at this very late stage, it could still find ways to act to make the Australian government end the illegal incarceration of Assange.
My suggestion is that, when Parliament resumes tomorrow on Monday 31 July, as soon as you are able, again move for a suspension of standing orders so that you can put to Parliament the following motion:
This Parliament instructs Prime Minister Anthony Albanese, Foreign Minister Penny Wong and Attorney-General Mark Dreyfus to act without further delay to end the illegal imprisonment by the UK government of the Award-winning Australian journalist, who has broken no British law.
... or something similar. Contrary to what has been implied by the Prime Minister, Julian Assange has never once faced fair legal procedure. Instead, he has faced rigged court procedures before a succession of crooked judges who are under direct orders from the British government. Had he, instead, been brought before a judge with integrity or before any fairly-selected jury, he would not have remained behind bars even for one day.
Given the complete lack of evidence against Assange, the overwhelming support of Assange from the international community, it is hard to envision how, either the US government or the UK could persist with their despicable conduct were they faced with an Australian government resolved to end the illegal imprisonment and torture of Julian Assange.
Should the speaker again rule your procedural motion lost, this time call for a division so that, this time, the Australian people will know which of their supposed representatives will have used their votes to suppress debate and will be able to act accordingly in future months and at the next federal election.
You should also call a press conference, particularly if the procedural motion is lost, to alert the Australian people of the unconscionable conduct of many of their MPs.
Yours faithfully,
James Sinnamon
Yesterday, at 5:30PM on Sunday 31 November, I attended the world Premier Screning of "The Trust Fall: Julian Assange Documentary" at the Nova Cinema in the Melbourne suburb of Carlton. After the screening, a number of people spoke, including the producer Kym Staton, David McBride and Greens Senator David Shoebridge. David Shoebridge is one of the Senators I had previously sent a copy of the above email to.
I approached David Shoebridge and put to him that, given that, right now, one final hearing before two High Court judges in Britain stands between Julian Assange being extradited to the United States, the 46 members and supporters of the Bring Julian Assange Home Parliamentary Support Group had accomplished very little in the 4 years since Julian Assange had been illegally imprisoned in BelmarshPrison on 30 April 2019.
I told David Shoebridge that it was clear to me that by occasionally putting questions to Government ministers about Julian Assange the Support Group had had little impact. The various statements in support of Assange made by members of that group had even less impact as they were never once responded to by any of the Government ministers.
As I stated above in my letter, I put to him that the only way that the Albanese Labor Government could be held to account, for its failure to act effectively on behalf of Julian Assange for the last 14 months, was to put to Parliament a motion which instructs that Government to use the powers vested in it to make the British government end its illegal imprisonment and torture of Assange and to make the US government desist from its illegal efforts to extradite him.
This was last attempted more than 18 months ago by Independent MP Andrew Wilkie on 2 December 2021. However, when he moved the necessary procedural motion to suspend Standing Orders to allow his motion to be put, the House Speaker declared than motion lost. So, apparently, a majority of supposed 'representatives' voted on that day to prevent 46 members who wanted the government to act to free Assange from putting their case to Parliament.
This was clearly appalling conduct on the part of those MPs and, in my view, makes them unfit to sit in Parliament. Unfortunately, Wilkie did not call for a parliamentary division, so it is not possible for those members to be held to account for their conduct by their constituents.
That defeat of Wilkie's procedural was given to me by David Shoebridge as a reason why trying again to put a motion to Parliament in support of Julian Assange would not achieve anything.
I then put to David Shoebridge, that he should not give up trying to hold this government to account as a consequence. He should still try this week to move a motion in support of Assange when Parliament sits this coming fortnight. Should the necessary procedural motion again be defeated, this time they should insist upon a division. Even if that procedural motion is defeated, at least, this time the Australian public and the broader world community will see evidence that there are members of the Australian Parliament who are prepared to use their voices and their votes to free Julian Assange and they will also know the names of those MPs who are not.
David Shoebridge concurred with my arguments, but said he would first have to put it to a meeting of the Assange Support Group. However, both the House Hansard and the Senate Hansard for Monday 31 July show no mention of Julian Assange.
Let's hope, in the coming days, we see members of the Assange Parliamentary Support Group, some of whom are listed below, use their voices and their votes to support Julian Asange, but, this time, more effectively than they have in the past. In the meantime, dear reader, you can help, by contacting members of that group and urge the to act.
The above article was previously entitled "Act now to make the Australian Government end the illegal imprisonment and torture of Julian Assange - an open letter to members of the Assange Parliamentary Support Group". The generated URL james-sinnamon/blog/6681/act-now-make-australian-government-end-illegal-imprisonment-and-torture has been preserved. - James Sinnamon, 31 July 2023
How you can help
Contact the following members of the Assange Support Group - Andrew Wilkie, Senator Janet Rice, Adam Bandt, Julian Hill, Dr Monique Ryan, Tony Zappia , Josh Wilson, Senator David Shoebridge - and ask each of them, as soon as possible, after Parliament resumes tomorrow on Monday 31 July, to move for asuspension of stranding orders so that the above motion can be put.
leafletForMelbourneProtestForAssange_17sep22_0.doc
leafletForMelbourneProtestForAssange_17sep22_0.odt