Recently the South Australian premier called for higher immigration in his water-scarce state. This was followed by a similar plea from the Northern Territory government, which is seeking more workers, and is spending $12.8m on a campaign to attract them for the hospitality industry. The NT Chamber of Commerce claimed that the mining and construction industries were short of about 5,000 skilled workers, which they hope to address with a four-year visa that allows applicants to bring their families. 
But there are problems with relying on immigration to fill employment vacancies -  all those hospitality workers, miners, and their families will need more doctors, nurses, teachers, police, and especially builders,  electricians, plumbers, etc to build the necessary housing that is already desperately short because Darwin has become the third most expensive capital in Australia to rent.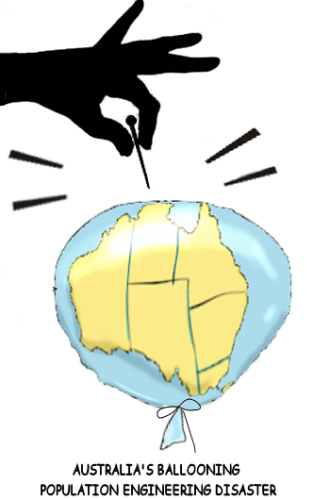 https://www.abc.net.au/news/2022-12-11/rising-rents-near-record-levels-in-darwin-housing-crisis-warning/101486786
A compounding problem
Perhaps more importantly, we will need to import a whole range of skilled people to build the essential infrastructure - hospitals, schools, and transport systems - which are now in short supply because governments are unable to fund the extra demand created by population growth.  We will also need to increase our exports (meaning more coal and gas)  to meet the demand for higher imports, especially in the housing sector. The Australian Construction Industry (ACIF) estimates that around 60% of the $6b spent on construction materials are imported from China as are almost all of our household items like white goods, electrics and electronics.    Incredibly, data published by the WorldBank  reveals that we imported  $9.438b worth of bricks which along with other imports have huge carbon costs from transport.    Our food imports have grown to $12.4b. The Australian Bureau of Agricultural and Resource Economics and Science (ABARES) recently reported that since the late 1980s, food imports have been increasing by 4.8% a year on average, (while food production only increased by 2.1% ) now accounting for 15% of Australia's total food consumption.    This is an absurd situation, one where the supposed remedy for worker shortages creates even more shortages of labor, housing, food, and infrastructure.  It is a policy failure that should have been obvious to policy makers because there was little or no demand for skilled workers when our immigration was around 70,000/year and unemployment was around 2%.
Government's population engineering obsession defies logic, democracy, and climate change targets
Yet far from recognizing the failure of their policies, the labor government is planning on surpassing the high immigration levels set by the previous government and, according to former immigration department deputy secretary, Abul Rizyi Rizvi, immigration is likely to reach 300,000 this year.  This is a government that has won an election on a pledge to tackle climate change and yet Kevin Rudd when PM admitted that they could not meet emission reduction targets because of population growth.  Earlier this year, a key report from the UN's Intergovernmental Panel on Climate Change unequivocally stated:  "Globally, Gross Domestic Product (GDP) per capita and population growth remained the strongest drivers of CO2 emissions from fossil fuel combustion in the last decade."      
Population and infrastructure pyramid scheme
This is a government that had a former finance minister - Lindsay Tanner  -  tell us we could not meet our infrastructure requirements because of population growth, a situation that is painfully obvious from hospital waiting lists, school building shortages, and transport congestion.   The news that China's non-recognition of online qualifications would result in an extra 50,000 students was described as"Great News" by the government even though a back-bencher,  Julian Hill, has warned that our international education scheme has become a Ponzi scheme that is exploiting students.      It is a theme endorsed by Home Affairs minister Clare O'Neil who declared that our immigration system was broken and being rorted by criminals and organized crime.   Given the long tenure of the coalition government, it is fair that Ms. O'Neil could blame the former government for the tens of thousands of people who are in Australia illegally, but her action on this only came after a 60 minutes story revealed the problems of our immigration system that she described as "grotesque."    
Money laundering in Australia's immigration system and associated industries
But corruption in our immigration system has been occurring for decades, even involving the department of immigration, where there were 132 cases of suspected corruption in 2016.  The Pandora papers have revealed that Australia has huge gaps in its financial integrity which have allowed it to become the go-to destination for dirty money that ends up in real estate.  The current anti-money laundering and counter-terrorism financing laws do not require real estate agents, accountants or lawyers to report suspicious transactions, even though this has long been pushed by a G7 task force on financial action.  It is so blatant that Australia has been listed by the US State  Department as a  "primary jurisdiction of concern"  when it comes to money laundering while the UN Office on Drugs and Crime warned that Australia is part of organized crime networks involved in, among other things, wildlife and forestry crime estimated to be worth US$ 19.5 billion annually.
The ALP has a tradition of advocating improved working and living conditions for the wage-earning population.  It has argued that unregulated private enterprise tends to produce inequalities and injustices, a policy that has been instrumental in winning elections.  Yet despite this, labor is now following the neo-liberal economic policies of using high unemployment (the real unemployment is three times the ABS figure)  and low wage rises in an effort to control inflation.   That this has not worked is painfully obvious, but the combination of high mortgage and rental costs with low wage growth creates a downturn in business that threatens to become a recession.
One that we did not have to have.  
(This article was adapted from a letter written to Jasmyn Sheppard, NT Greens Convenor.)