Published
(5 Mar 2014) on PressTV.
See also:
Heroin production hits record levels in Afghanistan - study
(1/5/2014),
Who benefits from the Afghan Opium Trade?
(Sep 2006),
Heroin is "Good for Your Health": Occupation Forces support Afghan Narcotics Trade
(Apr 2007),
Afghanistan: Heroin-ravaged State
(May 2009),
Money Laundering and The Drug Trade: The Role of the Banks
(13 May 2013),
#more
-24953">Joke of the Day: UN Says Afghanistan Risks Becoming 'Narco-State'! (9 Oct 2013),
The Afghan economy is reconverting to opium
(Nov 2013),
Global opium and heroin production explodes
(Feb 2014),
Unprecedented Increase in World Opium Production
(Feb 2014),
'Unprecedented increase in opium production'
(13 Feb 2014),
Afghan Heroin Flow Channeled to Russia
(May 2010),
Opium Wars - Wikipedia, the free encyclopedia
.
The head of Russia's Federal Drug Control Service has blamed the US-led NATO forces for the surge in Afghanistan's drug production.

On Wednesday, Russia's drugs tsar accused the US and its NATO allies of helping a surge in Afghanistan's heroin production.
Viktor Ivanov from the Russian Drug Control Service says NATO forces are directly responsible for a boost in narcotic cultivations in Afghanistan.
He also noted that US-led troops have in fact helped create a catastrophic surge, while refusing to check on farmers there.
"According to the US House Foreign Affairs Committee, Washington has no counternarcotics strategy for Afghanistan after international troops pull out of the country," Ivanov said at a meeting of the State Anti-Drug Committee in Moscow.
The remarks come as countries around the globe have been directly hit by the recent upswing in narco-production of Afghanistan. The situation is likely to worsen as foreign troops seek to stay there for some more years even beyond the 2014 deadline for the withdrawal of foreign forces.
Drug abuse annually claims up to 100,000 lives in Russia, according to the Russian Federal Drug Control Service.
Earlier in January, Russian Ambassador to Afghanistan Andrey Avetisyan blamed the international community for not doing enough to turn the tide of the alarming trend.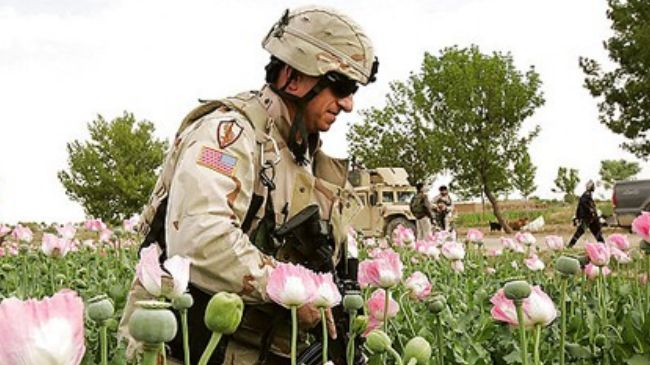 Narcotics trade flourished in Afghanistan under the rule of the Taliban, who earned part of their funding through the lucrative drug business.
The United Nations reports however indicate that narcotics production and drug smuggling have increased in Afghanistan since the US-led invasion of the country in 2001.
Since 2001, the opium cultivation increased over 4,400% across Afghanistan. Under the US-led NATO forces, Afghanistan became world largest opium producer, which produces 93% of world opium.
Analysts believe when the history of USA involvement in Afghanistan is written, Washington's sordid involvement in the heroin trade and its alliance with drug lords and war criminals will be one of the most shameful chapters.
Topic: