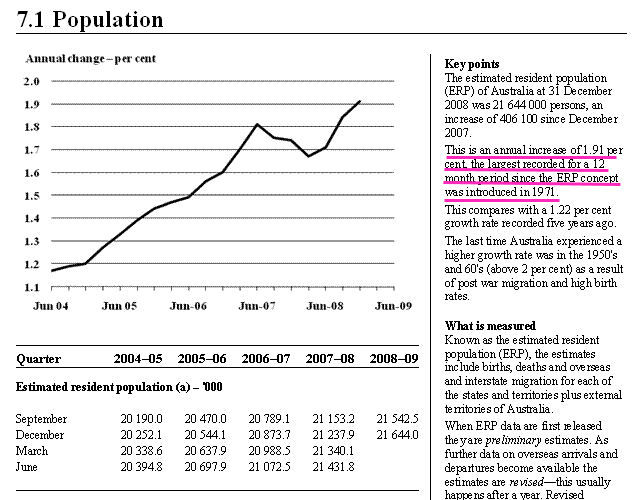 There is one key fundamental driving the real estate market, Australia's population growth.
We are in 3rd world territory as far as population growth goes,
We have just topped 1.9% growth !!!
source:#10;http://www.aph.gov.au/library/pubs/MSB/71.htm</a></p>&#10;<p>Even in the midst of a recession we are bringing in plane loads of people here each week. And the Victorian Infrastructure Plan is based on higher immigration than ever seen before here. See <a href=" http:="">Report on the Victorian Transport Infrastructure Conference
Most immigrants end up in the suburbs of Melbourne and Sydney, these new immigrants are definitely supporting the real estate market of the big capitals.
Also note that I know areas that have many empty houses. They are in areas on the coast and inland, places like Lorne and Daylesford. The houses are owned by Melbournians and used as weekenders. I was told by a resident of Hepburn (next to Daylesford) that the census showed a very small proportion of permanent residents, with most houses owned by out-of-towners, used only on the weekend. Of course there would be some empty dwellings in the areas of highest demand (less than 15km from CBD), but not many, and I would bet more on the urban fringe.
Of course they are not anywhere near most jobs, markets or public transport.