Two years ago on 3 January 2020, US President Donald Trump ordered a drone strike to kill General Qassem Soleimani, commander of the Quds Force of the Iranian Islamic Revolution Guards Corps (IRGC) alongside Abu Mahdi al-Muhandis, Commander of the Iraqi Popular Mobilisation Forces. The drone struck just after they had disembarked from an airplane at Baghdad Airport as both were due to meet Iraq's caretaker Prime Minister Abdul-Mahdi.
In a clear repudiation of Donald Trump, the neo-cons surrounding him and the United States' military, a truly massive crowd of 100 million, according to the Times of Israel, turned out for Qassem Soleimani's funeral. General Qassem Soleimani and Abu Mahdi al-Muhandis were revered in Iran, Iraq, Syria, Lebanon, Afghanistan, Palestine, Yemen, and elsewhere, for their heroic leadership in fighting the Islamic State.
Clearly, Donald Trump understood that Qassem Soleimanini and Abu Mahdi al-Muhandis were a threat to his plans to use his Islamic State footsoldiers against the Iraqi Popular Mobilisation Forces, whilst he simultaneously used the threat posed by the Islamic State as a cover story to justify the continuing US occupation of Iraq.
The Iraqi Parliament did not buy this cover story. Two days later, on Sunday 5 January 2020, they voted to end the agreement that allowed 5,200 U.S. troops to be stationed in Iraq. Two years later. U.S. occupation forces still remain in Iraq in violation of this vote.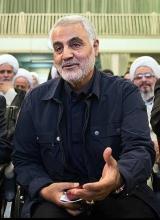 Seven months later, on 7 July 2020, Agnes Callamard, UN Rapporteur on Extrajudicial, Summary or Arbitrary Executions, found the assassination to be illegal under international law. No evidence had been produced to back up Donald Trump's claim that Qassem Soleimaini was on his way to meet the caretaker Prime Minister of Iraq, or that he, in any way, posed a threat to any United States citizen. In other words, the assassinations of Qassem Soliemani and Abu Mahdi al-Muhandis were pre-meditated murder by then U.S. President Donald Trump, amongst others.
Now, two years later, Iran is calling upon the United Nations to condemn this killing. Whilst a U.S. veto would most likely prevent the U.N. Security Council from carrying such a motion, this would most likely be carried at any meeting of the United Nations General Assembly.
Iran is also planning to refer the case to Interpol. Iran could also take the U.S. to the International Criminal Court (ICC). Whilst the U.S. does not currently allow itself to be subject to rulings by the ICC, it remains to be seen if the U.S. can still go on flouting International law and international public opinion with impunity.
Senator, then President, John F Kennedy supported Algerian independence
In the history of the United States, there was one brief interlude when the United States opposed colonialism
In 1957, then Senator John F Kennedy, gave a speech in support of Algerian Independence and against the colonial war of the French colonisers. As a consequence the U.S. could no longer support France in that war. After Kennedy was inaugurated as President in January 1963 the U.S. became fully in favour of Algerian independence. President Kennedy also opposed colonialism in other parts of the world, including in West Papua and the Congo.
The CIA's murder of John F Kennedy on 22 November 1963, and the subsequent murder of his brother Robert F Kennedy, on 6 June 1968, put an end to that brief interlude of hope. Instead, since that time of hope, the United States, led by Presidents in the pocket of the military-industrial complex, including former President Donald Trump, has waged many bloody wars - both overt and covert - against the rest of : Vietnam, Laos, Cambodia, Nicaragua, El Salvador, Guatemala, Chile, Brazil, Indonesia, Lebanon, Libya, Syria, Afghanistan, Yemen and Iraq.
Humanity's greatest hope for the future is that the people of the United States come to truly understand how their democracy is manipulated to ensure that the Government remains under the control of the military-industrial complex. Their democracy is manipulated by many means, up to and including assassination of both foreign and domestic leaders. Oliver Stone's movie JFK released in 1991 was a good start. His new JFK documentary which will soon be released at cinemas, will help further improve our political knowledge.
Topic: