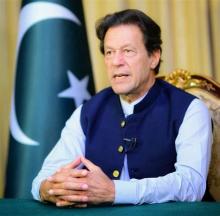 On the most recent hourly Iranian PressTV news bulletin, it was reported that a  Pakistani supreme court has ruled as unconstitutional Pakistani Prime Minister Imran Khan's order to dissolve parliament and call new elections. As previously reported in US Punishing 'Disobedient' Imran Khan for his Foreign Policy, says Russian Foreign Ministry (5/4/22), Sputnik News.
[Kremlin spokeswoman Maria] Zakharova pointed out that American officials had been exerting "rude pressure" on the Pakistani prime minister and gave him an "ultimatum" to interrupt his visit to Moscow on 23 to 24 February.

"When he did come to [Moscow], the US Assistant Secretary of State for South and Central Asian Affairs Donald Lu summoned Asad Majeed, the Pakistani ambassador to Washington, and demanded that the visit be immediately interrupted, which was also rejected," she stated.

Zakharova then went on to cite the reported meeting between Majeed and Lu on 7 March. In the meeting, the American official warned the Pakistani envoy of "consequences" if Khan, as Prime Minister, survived the no-confidence motion.

The motion was tabled in the Pakistani National Assembly the next day, on 8 March, by Opposition leader Shahbaz Sharif, the leader of Pakistani Muslim League- Nawaz (PML-N). She described the alleged US interference as a "shameless" attempt.
The Sputnik News report continued:
Zakharova also expressed the hope that Pakistani voters were "informed" about these circumstances when they cast their vote at the ballot box in the forthcoming election.
As shown here and in stories linked to below, the US attempted to make Prime Minister Imran Khan join up with other more compliant national leaders in its opposition to Russia's Special Military Operation which began in Ukraine on 4 February.
That Special Military Operation was to 'de-nazify' Ukraine, to protect Russian speakers in Lugansk and Donetsk Provinces, which have faced an 8 year war from the Kiev regime's Azov Battalion neo-nazi footsoldiers and to remove any US military infrastructure, including its bio-warfare facilites.
A number of members of Pakistan's parliament shamelessly chose to side with the US against Prime Minister Imran Khan and on 3 April withdrew from Prime Miniter Imran Khan's governing coalition to join the opposition. After the opposition tried to use its majority to move a no-confidence motion in Prime Minister Imran Kahn, Kahn dissolved parliamanent and announced new elections.
Whilst Imran Khan was not afraid to be held accountable to the people of Pakistan in a general election, the opposition, including the turncoats who had previously been in coalition with Prime Minister Imran Khan, clearly were afraid to face the people of Pakistan.
For now, the ruling by the Pakistan's supreme court has preserved the existence of that illegitimate Parliament, but given the evidence, Imran Khan's popularity within Pakistan, his charisma and international understanding of these events, an election will almost certainly be held soon and the people of Pakistan will prevail.
Other reporting on recent developments concerning Pakistan, Ukraine and Russia
Pakistan PM Imran Khan saved from a US planned regime change (5/4/22) by Steven Sahiounie | candobetter, previously published as Pakistan PM Imran Khan saved from a US planned regime change (3/4/22) | Mideast Discourse
Imran Khan Aide Heckles Journalist Outside Pakistan Supreme Court (6/4/22) | NDTV
US Punishing 'Disobedient' Imran Khan for His Foreign Policy, Says Russian Foreign Ministry Yesterday 149 (5/4/22) | Sputnik News
Russia blasts 'shameless US interference' in Pakistan's affairs (4/4/22) | PressTV
Parliament Moves, Elections Let Empire Losses Accumulate (4/4/22) | Moon of Alabama. This story shows how the attempted coup, instigated by the United States is mirrored in Serbia and Hungary. These two countries are governed by leaders who refused to give their support to the United States in its efforts to keep its Ukrainian puppet president Volodymyr Zelensky and his neo-nazi Azov battalion foot-soldiers in power.
Pentagon contractors worked in Ukrainian biolabs under $80 million program (16/3/22) by Dilyana Gaytandzhieva | dilyana.bg