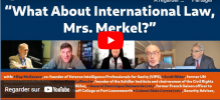 By boasting that the Minsk Accords were only used by the west to enable the Kiev regime to re-build its defeated armed forces, Angela Merkel, Francois Holland and Petro Poroshenko, have revealed to the world that they have on their hands, not just the blood of Russian-speaking Ukrainians and Russians, but also of ethnic Ukrainians, the lives of whom, US-puppet President Zilenskiy is sacrificing in their thousands in this criminal war. These liars must be made to answer, in a criminal court, for their deceit about the Minsk Accords. How can Russia negotiate a peace settlement with such a regime? In January 1942 at the Casablanca Summit, US President FDR over-ruled Churchill and insisted that the war could end, not with a negotiated settlement, but with the unconditional surrender of Nazi Germany. The same should apply to the Ukraine conflict. A peace settlement leaving President Zilenskiy in power is neither in the interests of Ukrainians nor Russians.
Over three hours, Scott Ritter, Ray McGovern, other speakers, and members of the audience, discuss how the then German Chancellor, Angela Merkel, former French President Francois Hollande, and ex-Ukrainian President, Petro Poroshenko, have openly bragged that the 2014 Minsk Accords, which were supposed to bring the Ukraine conflict to an end, were completely insincere. Ukraine had continued to attack Donbass, but pretended there was no war. While they lied to a gullible public, the purpose of these bellicose liars was to buy more time to build up massive US-NATO-financed military forces in Ukraine.
Had they succeeded, Russia would have then faced, right on its border, a hostile United States' colony, full of US troops, military bases, advisors, the CIA, airfields, naval bases and nuclear weapons.