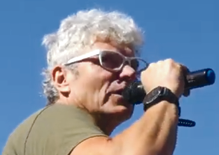 At the Sydney protest for Julian Assange last Thursday 25 May, David McBride, the former SAS officer who exposed the murder of unarmed Afghans by Australian troops, spoke alongside Stella Assange and Scott Ludlum. McBride's speech is included immediately below, whilst Stella Assange's speech is included further below. (These speeches can also be viewed directly on the GongSteve YouTube Channel - https://www.youtube.com@GongSteve .) Stella Assange, the mother of Julian Assange's two children, flew out to Australia from England to protest against the scheduled visit of US President Joe Biden, which was cancelled. She also tried to speak to the Australian Prime Minister about her husband, but Albanese refused, claiming he had other priorities that he held to be more important than meeting Stella about Julian Assange. Scott Ludlam is a former Greens Senator.
The Albanese government has has chosen to disregard the enormous benefit that has been achieved by the whistleblowing of David McBride and Richard Boyle and has deemed them both to be criminals, for having broken the law against any internal government information being revealed to the public, and has launched prosecutions against both of them. They both face many years of life behind bars if found guilty.
David McBride, the second of three speakers
Stella Assange, the third of three speakers
Scott Ludlum, the first of three speakers
The article above is in response to a question contained in a recent comment from Andrew. He asked which whistleblowers are being persecuted by the Albanese government alongside Julian Assange. Assange, himself is a journalist who, through his Wikileaks news service published information received from whistleblowers. He is not, himself, a whistleblower.