5.1 Purging disloyalty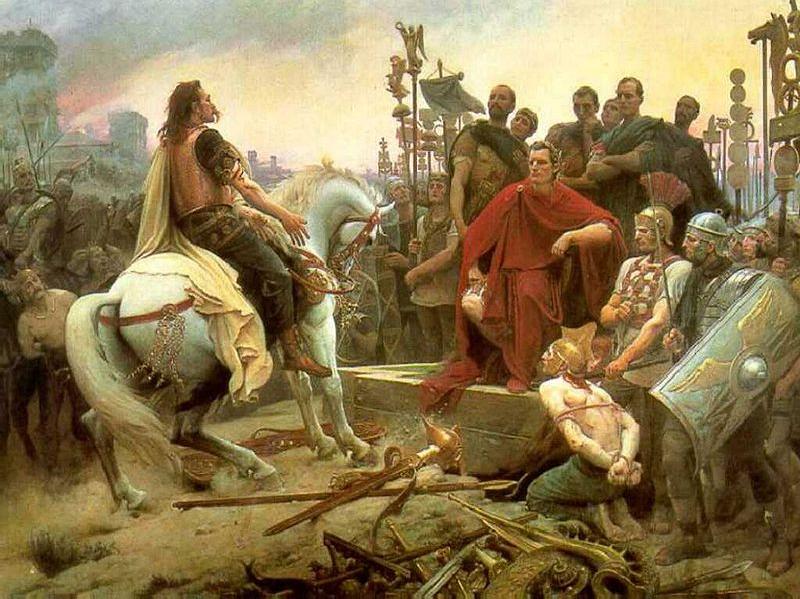 'Divide and Conquer' in Caesar's Gallic Wars - 'Vercingetorix Throws Down His Arms at the Feet of Julius Caesar', 1899 painting by Lionel Noel Royer.
The political strategy of dividing one's enemies in order to secure power is tried and proven. Compared with a united and focused force; fragmented, smaller enemies made to become suspicious of each other, are distracted and weakened. The Latin origin 'divide ut regnes' is indeed ancient and can at least be traced back to Julius Caesar picking off his enemies by siding with individual tribes in disputes with their local rivals.#0101DF">1
NSW Premier Bob Carr's acclaimed political idol, Abraham Lincoln across the globe 140 years prior, had clasically employed a 'divide and conquer' strategy in late 1863 during the US Civil War by ordering the seizure of Chattanooga, which was a major rail distribution centre of the Confederacy.#0101DF">2
In the aftermath of Carr's March 2003 electoral win, Carr had withstood the Amery-led internal party revolt against him. But as elected leader Carr was entitled to punish disloyalty and quell the threat to his leadership. Carr's dumping of the factional leaders Amery, Aquilina and Obeid from their Cabinet portfolios and reshuffled his cabinet with new blood was a candid reaction to secure his survival.
But pre-meditated 'divide and conquer' political strategy was not Carr's style. His reactionary purging was a survival response against those disloyal and personally mutinous against him. Long term political consequences would likely not have factored at this time of crisis decision making by an incumbent elected leader.
Carr was committed to his autocratic 'cult of the leader' ethos.#0101DF">3 Some may argue Carr employed his own faction, but as elected leader Carr's authority was immediately democratically legitimate and so legitimately incontestable.
Carr's purging was a straight-shooting response to undermine illegitimate factional power. Purging of the left and right factions from the Government's senior ranks had them licking their wounds. Capable and ambitious politicians had been banished by their leader and they must have naturally felt a common sense of injustice. The purging did not divide and weaken factional resolve, rather it only served to unite them against him - common purging sowed a common united enemy. Carr's previously disparate Right subfactions, the Trogs and the Terrigals which had been bitter rivals, united in a common anti-Carr cause. What Carr's purging did achieve though was to buy Carr more time at the helm.
When Carr chose his new NSW Ministry in the week following the March 2003 Election, he had cast adrift ambitious members of the Right, Left and Centre Left factions. Carr's less factionally-aligned selection of Scully, Knowles, Egan, Della Bosca, and new bloods Sartor, McDonald, and Costa amongst others, would have sent a clear message to the factions that their disloyalty and opportunism was unwelcome to say the least.
Chris Christodoulou from Workers Online provided useful insight of the factional fallout at the time:
""Bob Carr quite rightly had the authority to have a substantial say in who he got. However whilst he cracked the factional system, he certainly didn't smash it. In some ways what happened last week was the worst of all systems. A halfway house between a non-factional system and a factional system, which, in the end, gave Bob Carr some of what he wanted, gave the factions some crumbs to argue about but overall came up with the result which has left a bitter taste in the mouths of many in the Caucus including some in the Ministry."#0101DF">4
So factional disconnect over Carr's purging of factional players from the NSW Cabinet brewed in the aftermath of the March 2003 election. Amery, Aquilina, Obeid, and Lo Po were out. Whelan had retired and Aquilina had been demoted.
But Scully, despite his comparably embarrassing performance and remaining a prominent member of Labor's factional right, instead of being ousted was simply side-shifted from Roads and Transport into Housing. Why, remains unclear. Was Scully's preservation simply an unaccountable outcome of Carr's personal favouritism? Was it down to "a political fix…more designed to fit ministers' personalities", as journalist Quentin Dempster observed in his 2005 analysis 'Media rules in the court of Carr' #0101DF">5? Those in the party machine on the outer observed this and Scully became marked for future factional back stabbing.
5.2 When factions can unseat an elected leader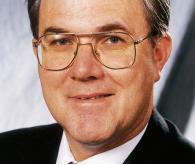 Richard Amery MP
Amery's attempted coup of an elected leader had failed, but it had demonstrated that such a caucus move could work if the numbers were there. It had set a dangerous precedent as a factional device. It also signaled that there was a political rebellion plotting and scheming and waiting for another opportunity at power.
Historically, whether appropriate or inappropriate, factionalism is a part of political party life – Liberal, Labor and increasingly The Greens as they reach out to appeal to the diverse mainstream.
The Australian Labor Party has formalised factions, divided mainly into Labor Unity (on the right) and the Socialist Left.#0101DF">6 In NSW Labor Unity (or Centre Unity) has since before Carr's term been divided into sub-factions of the Trogs and Terrigals.
Immediately after the Carr Government March 2003 election win, the combined factional forces of the Trogs and Terrigals headed up by Corrective Services Minister Richard Amery had sough to defy Carr's leadership, but the mutinous move was defeated in the ensuing Labor Caucus ballot.
While Carr was criticized for making the NSW public service more accountable to ministers, to the Parliament and therefore to the people and that he oversaw the sackings of many in the public service for substandard performance, Carr was consistent in applying the same standards of public accountability up the chain to his ministers. So when a Premier dismisses a minister for poor performance it is a prerogative. Only the Premier has the power to do so.
That ministers disaffected with their leader should have the power to unseat that leader, who is democratically elected, would seem to be a prima facie undermining of the democratic process. Internal Party support for a Party leader is one of internal political machinations. But once in elected office, internal party machinations have no legitimacy. When internal Party machinations can undermines a Premier elected by the people only days prior, such machinations become authoritarian.
Indeed the results of the Labor caucus ballot held just after the March 2003 election, in April supposedly, were not made public. The Labor caucus process is not a public process. It is an internal Labor Party process, yet the outcome has the power to unseat a democratically elected head of government.
Such a process has just occurred at Australian Federal level, in which a factional ballot has resulted in Julia Gillard's sudden toppling of Prime Minister Kevin Rudd on 24th June 2010. Gillard's coup was copybook NSW Right strategy that has dispensed with a queue of NSW state Labor premiers.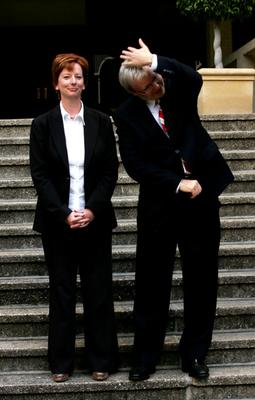 PM Rudd with Deputy PM Gillard in 2007
""Wait until the leader's position is so brittle it just needs a quick panic and the deed is done." And it is Mark Arbib, now NSW senator who keeps popping up as the suspect coup architect. Federal Opposition Leader Tony Abbott has likened the strategy to 'NSW mafia style'.#0101DF">7
'Mark Arbib, the NSW machine man, now has the scalps of three Labor leaders on his belt'#0101DF">8 – Nathan Rees, Morris Iemma and Kevin Rudd. The problem is each was a democratically elected leader of government and Australia is not a dictatorship.
It is an issue of timing. To maintain faith with the electorate, such a leadership ballot should be restricted to only be held as part of a general election process. In this way, the electorate would retain democratic power in its choice of leader throughout the elected term of office. This provides trust and stability in government. Similarly, electorate alignment ought to apply to Party conferences that decide policy. It would be disingenuous for any political party to seek election and short afterward have its policies and leadership changed in an internal Party process that excludes the electorate. An electorate only gets a one in four year opportunity to choose the government. Voter decisions are made according to the presented party leadership and policies. No government has an electoral mandate to substantially change its leadership or policies mid-term.
5.3 The Right Dinner
As 2003 drew to a close and following Carr's 'generational change' reforms in his Cabinet, in December 2003, some twenty-four NSW Labor MPs comprising the Right' rival splinter factions - the Terrigals and Trogs met for dinner. They "quietly left the Macquarie Street precinct to dine together across town" at the Southern Italian restaurant, 'al Ponte', at Harbourside Darling Harbour.#0101DF">9
'al Ponte' Italian Restaurant at Harbourside, Darling Harbour (right hand side). Now trading as 'Criniti's'.
"The dinner comprised almost half of the lower house NSW Labor caucus. Both subfactions had been banished from Carr's new cabinet following the Carr's triumphant election win earlier that year. Dinner-goers that night included Trogs: Richard Amery, Tony Stewart and Marie Andrews and Terrigals: Joe Tripodi, Carl Scully, Reba Meagher, Karen Paluzzano, Angela D'Amore, Morris Iemma and Grant McBride and left-winger turned right-winger, Pam Allan amongst others (Obeid was sick)".#0101DF">10
Journalist with the Sydney Morning Herald at the time, Paola Totaro, opined that this dinner was a 'kiss-and-make-up' or 'breaking bread' exercise between the two Right sub-factions.#0101DF">11 They were united in their annoyance with Carr's autocratic style, and about Carr's cabinet reshuffle, his overhaul of the ministries, the blood letting of departmental heads by Carr's new team (Della Bosca, Knowles, Costa, Egan) and over Carr's new policies such as his new tax on poker machines#0101DF">12, which had attracted outrage from the influential club industry. Both Terrigal chiefs Eddie Obeid and Joe Tripodi had been denied a ministry, and similarly Trogs chiefs, Richard Amery and Tony Stewart.
One left-winger described the rapprochement thus:

"What is their uniting force? As always it is ambition and bitterness. Ambition on Carl Scully's side and bitterness on the part of Joe Tripodi who has been denied a ministry. "Oh, and of course their desire to put together an opposing force to Carr and the Knowles, Della Bosca, Egan troika."#0101DF">13
Carr's appointee Craig Knowles then heading up the new Department of Infrastructure Planning and Natural Resources came under criticism for having sacked a very competent senior manager, well respected within the industry."#0101DF">14
For the Right and one key player at the dinner, it's about "equity" and a greater say in the affairs of Government: "Bob Carr is the best Premier we've had. We want him to stay on but we want some equity in the make-up of the cabinet as well."#0101DF">15
The sense of injustice over Carr's cronyism and desire for populism fueled a desire for factional vengeance that would brew for the next two years. Talk about injustice, moved on to plotting which would have continued out of the public gaze throughout 2004 and 2005. That factional vengeance may well have been one reason why by July 2005, Carr had been worn down by the Party 'machine'.
During 2004, Carr and Egan had handed down a budget that applied new land tax revenue to up to a quarter of a million NSW property owners in order to take "a bit of the heat out of the investment property market." But the budget forecast the NSW Government deficit to rise to $300 million and planned to shed up to 3000 public sector jobs as part of Carr's amalgamation of departments into new super departments.#0101DF">16
Economically, NSW was starting to lag behind the other states. Many weren't happy – the property sector including developers and business – essentially the supporters of the Right.
Then six months prior to Carr's resignation, Treasurer Michael Egan quit at a time when NSW Labor had sunk to all-time low in the opinion polls. Egan reasoned:

"because after 35 years of political combat, I think it's time for me to move on" and… "if I didn't take it now, the next opportunity would be in four years, because I think it's important that my successor have the opportunity to show his or her wares before the next election, have a couple of budgets under his or her belt."#0101DF">17
Was Egan's 'political combat' a reference to factional infighting?
The factional influence and informal power of the factional powerbrokers Eddie Obeid and Richard Amery continued to build as well as relative newcomer and Terrigal confidant Joe Tripodi. As journalist Totaro concluded, they were starting to assert themselves as kingmakers.



[Next Chapter ] [Previous Chapter ]
---
References
[1] http://en.wikipedia.org/wiki/Divide_and_rule
[2] http://ngeorgia.com/history/chat.html
[3] Bob Carr, 'Bob Carr's Reading List', http://newmatilda.com/2008/05/22/bob-carr-reading-life
[4] 'Factional Free-For-All' by Chris Christodoulou, Workers Online, April 2003,
http://workers.labor.net.au/features/200304/a_guestreporter_chris.html
[5] Quentin Dempster, Media rules in the court of Carr, 2005, Griffith Review, 3Ed,
http://www.griffithreview.com/edition-3/116-reportage/490.html
[6] http://en.wikipedia.org/wiki/Australian_Labor_Party
[7] Tony Wright, 'A faction too much friction', 26th June 2010, Sydney Morning Herald,
http://www.smh.com.au/opinion/politics/a-faction-too-much-friction-20100625-z9t2.html
[8] Andrew West, 'Arbib might have installed Gillard but opponents warn she's no puppet', 25th June 2010, Sydney Morning Herald, http://www.smh.com.au/opinion/politics/arbib-might-have-installed-gillard-but-opponents-warn-shes-no-puppet-20100624-z3pw.html
[9] Paola Totaro, 'Terrigals and Trogs dine out on Carr's fate', 27th December 2003, Sydney Morning Herald, http://www.smh.com.au/articles/2003/12/26/1072308679206.html
[10] Paola Totaro, loc. cit
[11] Paola Totaro, loc. cit.
[12] Paola Totaro, (State Political Editor), 'Carr's property tax revolution', 7th April 2004, Sydney Morning Herald, http://www.smh.com.au/articles/2004/04/07/1081222477449.html
[online material accessed up to 23rd August 2010]
---