I understand that the next "Australia Talks" program is to be on the subject of planning and Australia's population growth.
Listen on line live: http://www.radioaustralia.net.au/flash/listen/default.htm. More information: http://www.abc.net.au/rn/
Podcast: http://www.abc.net.au/rn/australiatalks/
A few thoughts occurred to me on hearing of this. I write from a Melbourne perspective.
Manufactured consent, even false delight
Saturday, a week ago in the morning, there was a program about planning on local ABC radio which made me nearly apoplectic ! It was promoted with the delighted question, "Is the 1/4 acre block gone forever?"
Predictably, it was all about how we have to live more densely packed in the future because of population growth. The program immediately preceding this one, however, was about research on lack of activity in very small children in Australia - partly due to diminishing space for play. The irony of "The end of the 1/4 acre block" segment, which aired immediately afterwards, did not escape me nor another person who pointed this out in a text message .
It did, however, seem to escape the presenter, who duly noted it with bland surprise.
As I recall the promotion of the desirability of extinguishing the quarter acre block was marketed by a panel of three, with Hilary Harper the presenter.
It's all about diminishing our choices
One of the panel was a real estate agent called Monique Wakelin who repeated a number of times during the program that "We" hadn't changed the mindset yet. The 'mindset' of course, was the normal Australian preference for the quarter acre block. The implication was that, 'We' have to shake 'them' out of their love of space and amenity and persuade them that they should live in flats and units close together.
Us and Them
As Wakelin specialises in property, I don't imagine she lives in a shoe box. From the rhetoric one hears on the media one gets the impression continually that living close together is for the ordinary people - not special people like the rich people dealing in property or radio personalities who talk down to their listeners.
Rich people in fact do the opposite of what is expected of the rest of us.
Rich people can acquire more space by demolishing next door for a tennis court and really take up a lot of room with large residences and multiple homes.
Those who would talk us out of our current but disappearing lifestyle refer to the quarter acre block, it seems to me, because that is what the ordinary people aspire to, but they have a hypocritical and commercial mission to convince us to abandon our rights to land and space - so that the rich people can have more money and more space.
It's the ordinary people who have to move over. And the ABC is touting this message constantly. Our ABC!
With architects and designers like this, who needs environmental vandals?
The other two people on the panel were academics in the area of architecture and design from both Monash and Melbourne Universities.
One of the academics rubbished the idea of setback rules - setbacks being the distance between the house and the fence- as this meant people could not use all of their land. He advocated building right to the fence. This is already a sadly frequent trend, resulting in all the light being lost from the sides of the house!!
We end up effectively in dark terrace houses, depressed by the absence of light, freezing in winter with large heating bills, yet unable to use solar power which we might have accessed on the quarter acre block.
With architects and designers like this, who needs environmental vandals?
One of the academics made another comment that struck me; that there was "no need to lose privacy" with higher density living as it was "all in the design".
He continued: "Europeans have their privacy!" Advocates of high density living always cite Europe as though we have to pull everything down around us and re-start as Europe! This blithe solution ignores the history behind the planning or evolution of either and ignores the relative public amenity in either case.
It is quite true that good design can make a huge difference in terms of privacy and amenity up to a certain density - BUT I do not see "good design" anywhere. It's like saying we could stack more people in if we lived more sustainably. The fact is that we are not doing it !
It seems to me that domestic house design has deteriorated incredibly in the last 2-3 decades.
Domestic architecture theorist, Alistair Knox, designed beautiful low rise houses with lots of light in the period of 1950s and 60s. Even the much maligned (especially by Barry Humphries) A.V. Jennings-type triple-fronted cream brick veneer style is a work of art compared with the oversized, monuments to mediocrity crammed uncomfortably and insensitively on their tiny sites on our city fringes where only recently cattle and sheep or kangaroos grazed.
To add insult to injury, these new suburbs on the fringes of the city are a recipe for unsustainablity in the face of inevitable oil depletion because they lack public transport infrastructure, have insufficient land for food self sufficiency, and in many cases they cover up land that once produced food.
The bayside suburb of Beaumaris, much of it built in the 1960s, was characterised by modest-sized architect designed houses with plenty of bush surrounding them. Now these are being pulled down and replaced by neo-Georgian or neo-classical edifices, sprawling over the whole block and up to the sky, with their double storey greed for a glimpse of the bay blocking their neighbours' light leaving the neighbours with the sole option for the neighbours is to sell out and let someone else do likewise on either side.
"Planning" in Melbourne is a corruption of the meaning of the word.
It is all about the State government wrenching power from imperfect, but not always ruthless, local councils and centralising it: "fast tracking" planning decisions and road projects (as in the recent Transport Facilitation Bill)
Melbourne is bursting its seams- and the Government wants to extend the Urban Growth Boundary. The Opposition is hardly putting up a murmur of dissent.
It seems there is no end to the ultimate boundary of Melbourne in our two party system.
At the current 2 per cent rate of growth,[1] Melbourne will have a population of 32 million in just over 100 years.
No-one's planning for that, but that's the path we are on.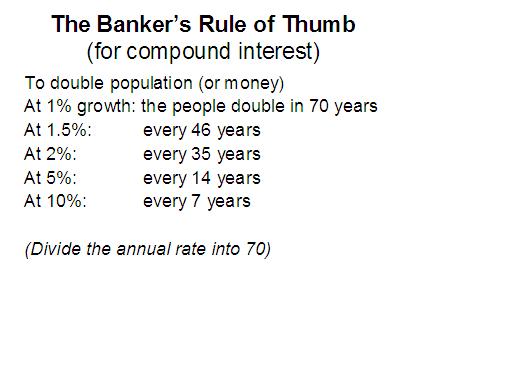 If you want to verify these calculations, it is pretty simple. Use the 'Banker's doubling method'. It's like compound interest. If Australia's population were to grow at 2 per cent (currently officially 1.7%) from not far off 22 million in 2009, then, it would reach 44 million in 2044, 88 million in 2089, and 176 million in 2124.
Politicians who want to drag us down this path do not deserve power.
NOTES
[1] "At June 2008 there were an estimated 3.9 million people residing in the Melbourne SD, an increase of 74,600 people or 2.0% since June 2007. Melbourne SD experienced the largest growth of all Australian capital city SDs for the year to June 2008.
Melbourne SD accounted for 81% of Victoria's population growth between June 2007 and June 2008, and was home to 73% of Victoria's population."
Growth in the outer suburbs is insane: "Growth in the outer suburbs
Victoria's largest population growth continued to occur in the outer suburban fringes of the Melbourne SD. Wyndham (C), located to the south-west of Melbourne's city centre, experienced the largest increase of Victorian LGAs, increasing by 8,900 people in 2007-08. Almost half of this growth occurred in the SLA of Wyndham (C) - North.
Casey (C), located to the south-east of Melbourne city, experienced the second-largest growth of Victorian LGAs in 2007-08, increasing by 8,000 people, followed by Melton (S), west of Melbourne city, which increased by 6,000 people.
Wyndham (C) also experienced the fastest growth (7.2%) of all Victorian LGAs. Other LGAs on the suburban fringes of Melbourne that grew quickly included Melton (S) (7.0%), Cardinia (S) (5.5%), which is south-east of Melbourne city, and Whittlesea (C) (4.0%) to the north."
Source: Australian Bureau of Statistices at http://www.abs.gov.au/ausstats/[email protected]/Products/3218.0~2007-08~Main+Features~Victoria?OpenDocument#PARALINK3
[2] "POPULATION CHANGE
Australia's estimated resident population (ERP) reached 21.4 million at 30 June 2008, increasing by 359,300 people since 30 June 2007. The 2007-08 growth rate of 1.7% was higher than the average annual growth rate of 1.5% for the five years to June 2008.
All states and territories experienced population growth in 2007-08 with the largest population increases continuing to be recorded in Australia's three most populous states. Queensland experienced the greatest growth (up by 97,900 people), followed by Victoria (92,500) and New South Wales (79,200).
For the second year in a row, Western Australia recorded the fastest population growth rate, which was 2.8% in 2007-08, ahead of Queensland and the Northern Territory (both 2.3%) and Victoria (1.8%). The remaining states and territories had population growth rates below the Australian average, with Tasmania experiencing the slowest growth at 0.9%.
In each state and territory, population growth generally continued to be most prominent in inner city areas, outer suburbs, some urban infill areas and along the coast; while populations declined in some inland, rural areas, especially those that have been affected by drought in the last few years." Source: http://www.abs.gov.au/ausstats/[email protected]/Products/3218.0~2007-08~Main+Features~Main+Features?OpenDocument#PARALINK11