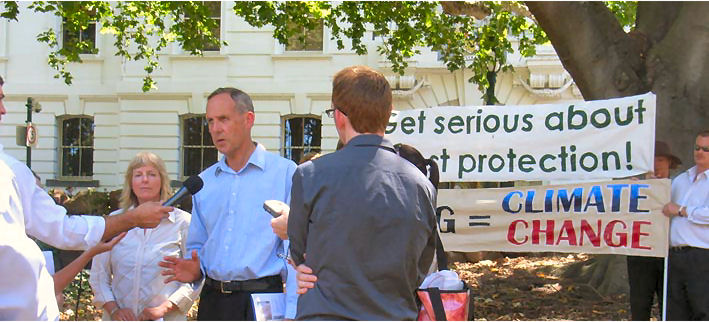 photos of Bob Brown by Jill Quirk
Vic Government not doing its job for Brown Mountain
Today Bob Brown decried the situation on Brown Mountain, where amateurs are having to do work which is the responsibility of the government, in discovering and documenting endangered wildlife at Brown Mountain.
Brumby Government doing bidding of big end of town
He said that the Brumby Government is failing the people of Victoria by doing the bidding of the big end of town, and not what is in the best interests of most Victorians.
Brown answers questions on population policy for Australia
Towards the end of his press conference, Bob was asked a few questions about population policy and numbers in Australia.
He pointed out very emphatically that the Greens are the only political party with an environmentally based population policy, and that a population policy is needed for Australia.
He fielded questions about humanitarian aspects of immigration and refugees knowledgeably and honestly, pointing out that business migration was the larger component of the immigration program, and that people with money are more welcomed by the government than refugees.
He was asked how many people he feels that Australia can support. His response was to throw the question back at the interviewer.
He illustrated the combined impact of population numbers and lifestyle on our environment by saying that if living standards were to be at Australian levels, we would need four earths - and we do not have four - we only have one.
Brown appeared comfortable and confident with this topic.