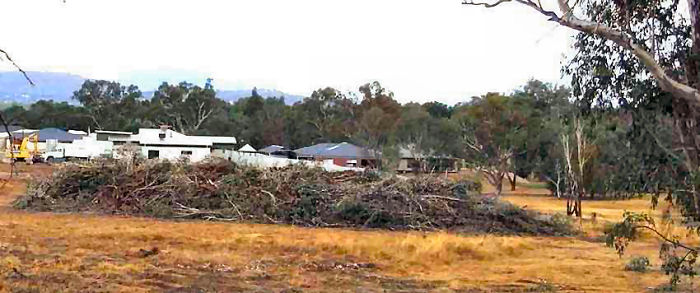 Cumulatively worse than bushfires: Destruction by development, all year round.
On the outskirts of a north eastern Victorian town there is a nursing home nestled beside a golf course which is framed by ancient eucalypts.
The nursing home is quite expensive and even more so if your room looks out on a restful view of the golf course.
An elderly relative after breaking her leg in July was admitted to this nursing home- the best available it seemed after exhaustive searches in the area. The main feature of this new living situation for my relative was the wonderful setting which she could enjoy from the common living area that she inhabits by day.
I visited her recently en route to Canberra and found her to be well cared for in a light and airy place. She ruefully said to me, though "Isn't it a shame that they're getting rid of the golf course to build houses?" My heart sank as she had been there for less than half a year and already here was a massive change! I checked with a few people and found that the golf course would in fact remain but that it would soon fringe a new housing estate replacing a treed area.
When I returned from Canberra 3 days later, there was a pile of tree trunks lying in the middle of the view from the window. How many birds had lost their habitat in that exercise? I was told that the trees had been chopped down that day and the residents of the nursing home were naturally were very unhappy about. One lady said sadly "I suppose people have to live somewhere."
How quickly our environment is being destroyed! This kind of loss of nature happens every day, it happens in many places in Australia on the same day. Is there another way of describing this apart from "environmental destruction"?
Editor: I assume that the author of this article has left the geographic identifiers out because she is afraid of repercussions for her elderly relative. It's a nice world we are making for ourselves by passively accepting the dictates of the growth lobby. That governments at local and state level actually facilitate this kind of anti-social system is cause for alarm.