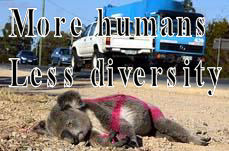 Is there no end to growth?
Queensland and the rest of Australia sure have problems associated with growth, but the growth lobby appears completely addicted to entropic speed and there are dealers in real-estate activity on every corner and lurking all over the internet, financing the commercial media and even advising the ABC. What hope does Andrew McNamara have, or even Simon Baltais (Sustainable Population Australia) of affecting this scourge on koalas, quality of life and democracy? Well, there may be a window, since growth is costing many businesses more than they can afford, in terms of rising prices for land, water, petroleum and electricity. Stay tuned.
A new self-help movement for growth-addicts?
Former environment minister, Andrew McNamara will join some 150 business leaders from across Brisbane as keynote speaker at a business breakfast forum. The Queensland Conservation event looks at when enough is enough in terms of population in Southeast Queensland and Australia more broadly. McNamara is excited about the opportunity to share his views about population with a diverse audience.
"Every day, the front pages of our papers are covered in variations on the same problem. Whether the issue is traffic congestion, overcrowding on trains, waiting lists for hospitals, skills shortages, social alienation in urban sprawl, food security, water security or global warming," McNamara says.

"There is only one problem," McNamara says. "There are too many of us."
The forum, with tickets at $120 per person or $1000 per table takes place on Friday 17 July from 6.50 am - 9.00 am at the Gabba. The event also features the following panel:
* Brian Stewart, CEO Urban Development Institute of Australia
* Melva Hobson, Mayor Redland City Council
* Glen Elmes MP, Shadow Minister for Climate Change and Sustainability and Member for Noosa
* Simon Baltais, Sustainable Population Australia
Registration is now open for the event, which is sponsored by SEQ Catchments. For more information, contact [email protected] or at register online