Committee for Melbourne growthers are scraping the bottom of the barrel looking for new ways to get people to move to the hated high-rises the property development lobby has planned all over Melbourne. Mary Drost says, "Both Andrew McLeod and Bernard Salt are obsessed with growth. It is exactly this growth that is making Melbourne less liveable as everything is overstretched." Jill Quirk asks, "I wonder if Salt and MacLeod think widows Jeannie Pratt or Elisabeth Murdoch should vacate their premises for a flat in an "activity centre" or is just people who inhabit more modest post war triple fronted accommodation who are being asked to move over ?"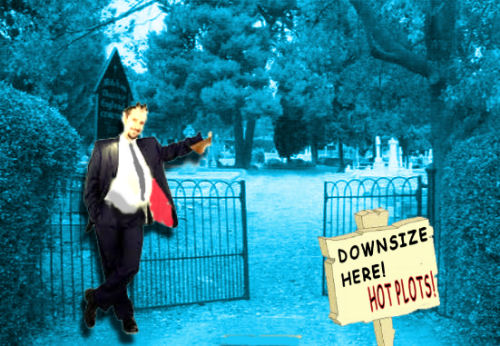 Committee for Melbourne
A group with an apparent interest in land speculation, with the dignified sounding name of The Committee for Melbourne, is pushing a crude barrow to get elderly people to give up their homes. It wants them to agree to be rehoused in high-density apartment blocks and thinks that if the State government lets them pay less stamp duty, they just might be tempted. This was the subject today of an article by John Masanauskas in the Herald Sun, "Lobby group calls for older couples to give up family homes," 17 February 2011.
Sardine City
It is probably not coincidence that, at the same time, Boroondara Council is trying to force 48 so-called "activity centres" (i.e. high rise developments) on its protesting residents. In a hangover from the Brumby government's human sardine policy, the council hopes to attract some of an additional 17,600 people that a few business hopefuls have promoted as likely to arrive over the next 16 years, based on shaky statistical projections.
Bernard Salt, the well-known KPMG spruiker for population growth and megacities, and the CEO of the Committee for Melbourne, Andrew McLeod, have managed to leave some unfortunate quotes for posterity.
Weird, no fun world of statistical cohorts
Herald Sun writer, John Masanauskas, gives the impression that Salt believes that middle Melbourne (whatever that is) is fraught with the probability that "dad's going to drop dead and mum's going to be living by herself in a three-bedroom home". Salt predicts that the iconic 'mum' will eventually "find that the three-bedroom home with a garden and lawn becomes too much for her and she will therefore want to downsize."
In Salt's world, like Brumby and Bracks's macho-small-minded worlds, all women are 'mums' if they aren't girls trying to overcome a 'man drought' [catch his latest book], and all men are 'dads'. One senses that they are doomed, like cabbage moths, to fly and mate, lay their eggs, then die. Some, however, live on past their use-by date and become 'empty nesters', as CEO, Andrew McLeod calls them, opining:
"If they are an empty-nester living near a school they are actually taking a role that from a society's perspective would be better taken by a family."
You get the picture. According to this kind of view, societies and their suburbs should be reorganised into age cohorts. None of this bowls club down the end of the street and the little old lady in the corner shop, or the old man sitting on his porch in the sun, surveying his tomato patch, and the children visiting the lady over the road to climb her mulberry tree and use her grown-up daughter's books and toys, while their mother heads down for a game of tennis and their father takes the dog for a long walk up to the top of the hill to watch the sun set over the bay.
Salt and McLeod seem to have an odd and naively statistical view of societies, where people are labelled according to some of their qualities, like cards in packs, and are okay about being moved around in a kind of Lego world on the whim of some boys who never quite got over playing Monopoly.
Jill Quirk, SPA Victoria
Jill Quirk, President of Sustainable Population Victoria, comments:
"I think the rhetoric from Bernard Salt and Andrew Macleod that widows and "empty nesters" should leave their homes" and move into apartments for the convenience of others who would like to buy their houses is opportunistic , sexist, vulture-like, devoid of compassion or understanding, and the language of Grandpa and Grandma and (quote Bernard Salt) "rattling around in their veneers" is belittling to ordinary people.

"I wonder what the adult children of these targets of the hovering developers and real estate agents think of this blackmail? I also wonder if Salt and MacLeod think widows Jeannie Pratt or Elisabeth Murdoch should vacate their premises for a flat in an "activity centre" or is just people who inhabit more modest post war triple fronted accommodation who are being asked to move over ?"

She adds,

"Behind the figure of ridicule, the widow, whose husband has "dropped dead" is a person in shock, in grief and who is making a huge adjustment to a major life-change.

Importantly, she perceives,

"The widow is extremely vulnerable and could well fall prey to the kind of persuasion and pressure that Macleod and Salt seem to want to institutionalise so that everyone these people meet will echo the same refrain. 'Don't rattle around in the veneer, it is your civic duty to move out of your house now and let a young family with children at Lauriston and Camberwell Grammar move in.'"

And then she asks an interesting question:

"I wonder what Barry Humphries might say about this. He ridiculed the Australian suburban lifestyle for decades but I don't think he ever seriously thought of disrupting it and breaking it down."
What next? Will Mr McLeod and Mr Salt be investing in cemeteries and urging everyone to buy vertical plots in order to squeeze more coffins in? With the baby boomer curve on course to crash over the next 20 years, it's a sure thing.
Mary Drost of Planning Backlash
Planning Backlash is the name of an umbrella group under which many different suburban groups gather to protect the rights of citizens whose environments and properties are threatened by intensification of development and the population growth that drives this. Mary Drost is their main spokesperson.
Mary says that all of Melbourne will be affected by this population growth and overdevelopment if the Boroondara Council gets away with it, and that the local people are furious that Booroondara Council is continuing a densification plan dating from when Justin Madden was Planning Minister under the Brumby government, which lost power in the last election. Densification will wreck the area, she says, and Planning Backlash is appealing to their State Member, Ted Baillieu, for help based on promises he made before the election.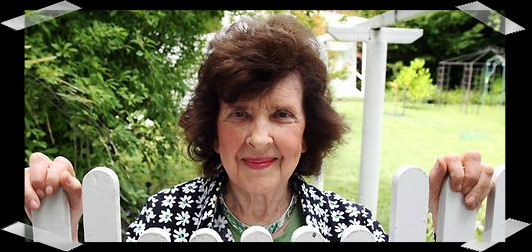 Mary is actually pictured in John Masanauskas's article in a photo by Ben Swinnerton (which I have cropped above), leaning, smiling, over a picket fence, with a large sunny garden behind her.
She says,
"Both Andrew McLeod and Bernard Salt are obsessed with growth. It is exactly this growth that is making Melbourne less liveable as everything is overstretched. Their obsession is taking them to new boundaries, now they want the older people to get out of their houses to make way for the next generation. Maybe they want to euthanase us as well. I am not going to be stuck in a dog box to keep McLeod and Salt happy!"

She adds, "They would have done well at the time of the Russian Revolution, move the mobs into the big houses and let the owners live in one room. How would the grandmothers look after their grandchildren in dog boxes? What a nerve!"
As her own lifestyle shows, everyone is not a poor old used up mum or a dad pining away without purpose. For years, in a tradition starting with her mother, young couples have been living rent-free in a little flat that Mary's husband and she had made at the side of the house. In this way they "get a start in life." In return they help where they can.
"People usually stay about three years and then get their own place, after they have saved a deposit," Mary said. "Sometimes our guests have been young couples who were relatives."
At the moment, she is sharing her house with one couple, who "came back for a while." In the flat on the property there is a second couple.
She thinks and I think that this is a good way to use property. But it's not what Salt and McLeod would want, because their objective is to increase property turnover. Their guiding principle is commercial, not social.
Mary says that her brother and his wife, who have grandchildren, could not do without a big house, as they are "forever having children coming to stay and the families come home for dinner sometimes twice a week."
"What nonsense to say that we should all be moving into dog boxes," Mary exclaims. "Some no doubt want to, but I tell you this, it is the quickest way to give up and age and die. If you want to stay young then stay active. Don't forget that the government wants people to age in place and not go into nursing homes. The Dutch do this very well Australia should learn from them."
Mr Salt's residence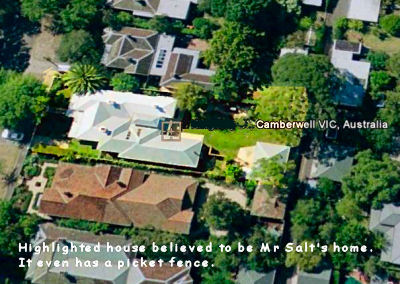 Ironically, Bernard Salt, who looks to be over sixty in his photographs, actually lives in a heritage house a couple of blocks from Mary. We googled the address we were given and provide a picture above. We have removed the name of the street from the picture.[1] Candobetter.net doesn't believe in exposing peoples' addresses unnecessarily, but it does seem on the face of it that Mr Salt talks the talk but doesn't walk the walk, and it is of interest to those dealing with the impacts of his marketing to see where he is actually coming from.
Since her photo and some comments appeared in Masanauskas's article, a number of people have looked Mary up in the phone book and have called her, agreeing strongly with her defense of her right to remain in her home.
[1] After an unsolicited comment which complained about this exposure of Mr Salt, we canvassed our editors and writers who all agreed that it was relevant to show how Mr Salt lived. It was felt however that the important thing was to convey how he lived, which should include the suburb (of which it seemed typical, and which was the same suburb as Mary Drost's), but not necessarily the street. Therefore we have reduced the information on the photo. Discussion welcome.