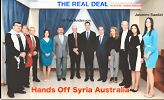 Inside, two interviews with Dr Tim Anderson, Sydney academic, on Syria. The first is by Channel 7 on 24 January 2014 and shows incredible bias. The second is by Journalist Joshua Blakeney, who interviewed Anderson and Hands Off Syria's Jasmine Saadat about their recent visit to Syria where they met with Syrian officials including the President of Syria Bashar al-Assad. The interview was conducted at a time when the pro-war Australian press was attempting to discredit members of Hands Off Syria Australia for meeting with members of the Syrian government. See inside for videos.
This is supplied to readers of candobetter.net in order to balance Channel 7's ridiculously biased interview with Tim Anderson, which you may access here.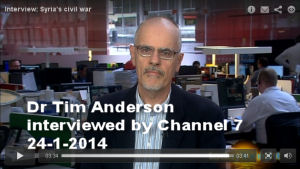 The second (larger picture) is the link to the longer and more intelligent interview.
The interview was recorded on January 12, 2014 and can be found archived on The Real Deal radio show's blog: http://radiofetzer.blogspot.ca