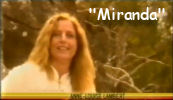 Be there! Sunday 23 February, 11.00 am Petanque Pavilion, Hanging Rock Reserve. Live music all day from 11 am - 12pm, Anne Louise Lambert and other speakers plus Live Action Zoo. Join the original Picnicker, Miranda (Anne Louise Lambert, star of the film) for a very special picnic at Hanging Rock. Voice your concern at the lack of community consultation on Macedon Ranges shire Council's proposed large-scale development at Hanging Rock, which includes a conference centre and accommodation facility.
Speakers and Action:
Amanda Millar MP
Joanne Duncan MP
Friends of Hanging Rock.
Sarah Wilkinson, The Beat Bros, Brother Johnstone & Wild Action Zoo.
Note: Hanging Rock Reserve has $10/car entry fee
Miranda is the girl who was lost at Hanging Rock (in the movie, Picnic at Hanging Rock). She's the character that doesn't come back. The actress who played Miranda is the one who is coming back to Hanging Rock. Everyone knows her as Miranda.
Macedon Ranges Residents Association (MRRA) is pleased to forward this Hanging Rock Action Group (HRAG) media alert (see below) because (1) it's exciting, and (2) we support this action.
The HRAG has attempted to convince Macedon Ranges Shire Council to consult the community on its huge and damaging development proposal to put a large hotel, conference centre, restaurant, day spa, accommodation cabins, nature adventure facility, a permanent stage area, yoga facilities, buggy track and other permanent structures at Hanging Rock. Council approved it all without community consultation, and without any justification (e.g. financial, social, or environmental) which stands up to scrutiny.
The HRAG has identified numerous misleading and incorrect statements in Council's information and reports, which Council declines to correct. There is in fact no credible evidence of any need for the gross development Council proposes. As someone put it, Council's Hanging Rock proposal is a 'solution' in search of a 'problem'.
Whether you support community consultation, or you oppose any development at Hanging Rock, you can send a message to Macedon Ranges Council about how you feel by being at this very special picnic at Hanging Rock on 23 February. It's important – as well as lack of appropriate process, if Council's proposal goes ahead, future generations will never be able to experience and enjoy Hanging Rock the way we all have. Please forward this to your contacts, friends and family. For more information, http://www.hrag.info/