(Republished from article by Ziad Fadel on Syrian Perspective news site published at about 0100 hrs 22 May Australian time, titled, "The Battle for Palmyra: What really happened according to our military sources" at http://www.syrianperspective.com/2015/05/the-battle-for-palmyra-what-really-happened-according-to-our-military-sources.html#mwV9mmSsyfezg5Ii.99) HOMS:Tadmur (Palmyra):  Even nominally friendly sites like NSNBC are misreporting events in this historically important town in the far east of Homs Governorate.   Many sites are simply making the fatuous statement that the entire city of Palmyra has been overrun by ISIS fanatics and that includes Alalam and Al-Mayaadeen.  Interesting to note that neither news source has anyone on the ground there to report directly.
Two days ago, the SAA and militias supported by local tribesmen and the ubiquitous Syrian Air Force clobbered ISIS destroying whole convoys of trucks and armored pickups armed with anti-aircraft guns.  By the SAA's reckoning, that was the end of the assault on the town.  We reported confidently that the brunt of the ISIS assault was crushed by the combination of forces mentioned in the foregoing.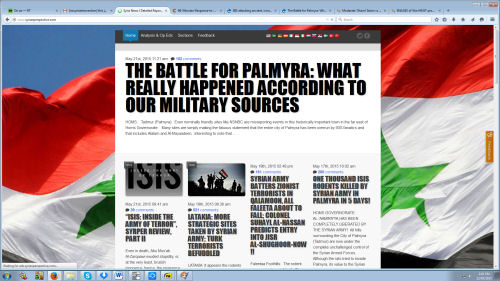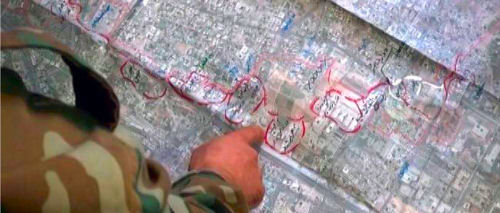 The night of May 20, 2015 saw a unique operation by, what is claimed to be,  "thousands" of foot soldiers crowding into the northern neighborhoods of this small city.   With stealth, they managed to establish a salient in the north which would eventually secure the arrival of hundreds more of the terrorist vermin.  It was this morning when the battle for the center of the city began.  Arrayed against the ISIS rodents are the NDC, Ba'ath Party militias and local fighters committed to keeping Saudi-style nihilism out of their lives.  Interesting, too, is that the terrorists did not use a suicide truck bomber to open a corridor into the town.
Since this article is copyright, to read the rest, (well worth the reading) you will need to go to the original publication here: http://www.syrianperspective.com/2015/05/the-battle-for-palmyra-what-really-happened-according-to-our-military-sources.html