The Sustainables are pleased to endorse a truly local candidate for the 2015 North Sydney by-election - our party president William Bourke. William has a background in small business, finance and marketing, as well as a passion for nature and sustainable living.
His platform in this election includes:
Saving Royal North Shore Hospital from public land sell-offs
Education and childcare places for all
Stopping our rampant overdevelopment
Housing affordability for renters and first home buyers
Reducing the rapid population growth that's part of our growing local problems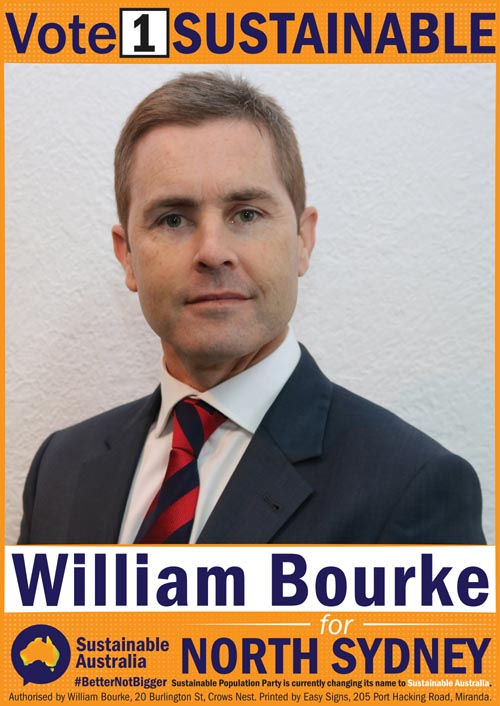 Follow William on Twitter: CLICK HERE
From William:
As a long term local resident and small business owner in North Sydney, I'm privileged to represent our community movement in our party's heartland. Our national party HQ is based in North Sydney (Crows Nest).
Unlike the professional politicians I will be up against, I have over twenty years of work/life experience. I have completed two business degrees and have real world experience in finance, federal government corporate communications and importantly, small business.
I regularly enjoy the outdoors including running and bushwalking in Sydney's national parks where it is possible to see our magnificent native wildlife including goannas, wallabies and kookaburras. We are very blessed on the North Shore, and need to conserve it for future generations.
You'll find my full bio here: CLICK HERE
There are a number of key issues I will be campaigning on for the people of North Sydney, including:
Saving Royal North Shore Hospital from public land sell-offs
Education and childcare places for all
Stopping our rampant overdevelopment
Housing affordability for renters and first home buyers
Reducing the rapid population growth that's part of our growing local problems
All of these key issues and many more are addressed in our policies page.
I also believe that the major parties are too closely aligned to vested interests, including the big end of town and big unions. We need transparent governments that get back to focusing on the public and national interest.
I am very proud of our community movement that I founded in 2010. We reject the old left–right political spectrum, along with its fixed political positions and ideologies. Instead we pursue centrist, evidence-base policies, for all Australians.
I'd like to communicate with as many residents of North Sydney as possible. So, please contact me with your questions and any feedback.
You'll find my campaign media release here: CLICK HERE
We need to redefine 'growth' to secure a better, not bigger North Sydney and Australia.
Please give me your support and your #1 vote.
That's the only way to protest the rapid population growth policies of the Liberals and Greens (Labor didn't have the courage to run).
Vote 1 SUSTAINABLE!