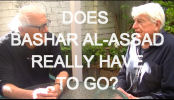 Video & transcript: Bruce Petty interviews Dr Jeremy Salt, Middle Eastern scholar. Bruce Petty is a highly regarded political satirist and cartoonist as well as an award-winning film maker.
"There always has to be a 'madman' in the Middle East," explains Jeremy Salt, when asked why we constantly hear that 'Bashar al-Assad has to go'? Of course Bashar al-Assad is not really mad. Jeremy explains how the west, in its long exploitation of the Middle East, has invented crises that it then pretends to help with, and these tend to feature a 'madman' whom the people have to be saved from. In reaction Middle Eastern governments tend to be defensive and authoritarian, in order to survive constant foreign interference. Even if Bashar went, the Syrian state would remain the same. Salt gives a fluent history of how the west has used the Middle East, and how western politicians expected to knock Syria over easily, but underestimated it. All they have done is weaken it and assorted armed and dangerous groups including ISIS have risen up through the cracks they have created. But many Syrians really like Bashar al-Assad and think he is their best chance for reform. (See the third part in this series, "Has the Syrian president killed more than ISIS and other questions," to hear about how al-Assad is actually legally elected and had brought in reforms prior to the current crisis.) Petty asks about beheading and the role of religion and Islam in today's crisis. Salt agrees that Islam has been taken over by conservatives and extremists, but precises that this is a political ideological take-over that has little to do with Islamic religious base.
Dr Jeremy Salt is a former journalist, turned academic and is the author of The Unmaking of the Middle East. A History of Western Disorder in Arab Lands, (University of California Press, 2008). Until recently, Dr Salt was based in the Department of Political Science and Public Administration, Bilkent University, Ankara, Turkey, where he ran courses in the history of the modern Middle East, in politics and in politics, propaganda and the media.
The story behind these dialogues: On 16 November 2015 a small group of concerned Australian citizens got together to talk about the problems of getting real information out to Australians and other US-NATO allies about war in Syria, in spite of mainstream press efforts to confuse the public. Bruce Petty and Jeremy Salt were part of that group. Inside is the transcript of the embedded video. (There are two other videos in this series. The first is: "Cartoonist Bruce Petty asks Dr Jeremy Salt: Has Bashar al-Assad killed more people than ISIS? and similar questions". The second is: "Cartoonist Bruce Petty and Dr Jeremy Salt: Where news comes from: reporting on the Middle East."). The third is "Does Bashar al-Assad really have to go? Cartoonist Bruce Petty talks to Dr Jeremy Salt.")
INTRODUCTION BY EDITING TRANSCRIBER: This is the third of three dialogues. In these dialogues, Bruce Petty often agrees with a nod or a murmur, but I have not recorded these comments unless they have been part of a significant change in the dialogue. Petty's eyes and face are worth watching as he considers what he is hearing. The transcriptions are as accurate as the transcriber could make them, but could contain small errors. Hopefully no errors that would affect the points that Dr Salt and Mr Petty seek to raise and explain.
BRUCE PETTY: The issue is the Middle East and the issue is Syria. And we're given the idea that Assad has to go. Now, I want to know why he 'has to go'? And I hear he tortures and he's got too many people in prison and … now he's bombing… and there's gas involved … the whole scenario is there. And, I don't know the origins of these stories.
JEREMY SALT: Well, you know this thing – if there is an objective truth about it - the Syrian government.
There always has to be a madman in the Middle East
JEREMY SALT: This is such a complex subject to go into. In any case, one point to make is that there always has to be a madman in the Middle East. Or a dictator. There always has been. You go all the way back to the 19th century. Like in [the] 1890s there was a gentleman they called 'The Mad Mullah' of Somaliland. Well, Somaliland didn't have any mullahs. But it was a nice kind of alliterative title that went well with the British media.
And in fact the 'mad mullah of Somaliland' was a sheik. He belonged to an Islamic order and what you might call – you might call him a 'proto-nationalist'. And then, you looked at Sudan in the same period of time - a bit earlier, actually – same period of time – when you had the dervishes, 'savages', 'barbarians' and so forth and so on.
And you ask, what was the problem there? Well the problem was that their territory, their land, had been invaded by the British. And naturally they were resisting.
And you can follow this all the way back, all the way back to the 19th century.
In the 20th century they portrayed Nasser as a dictator. In fact Nasser was actually a moderate person who wanted to get on with Americans. In particular. And the problem was that Israel - he had problems with Israel. And, you know, that was the reason why he had to be brought down. So he was a 'dictator'.
You look at Musaddiq in Iran. They couldn't pretend he was a dictator, because he wasn't. But they had to find out some other kind of reason for making him look either nasty or stupid. And the fact is, he used to wear for interviews thing that, clothes that the British media laughed at and said, 'Wearing pyjamas." And he tended to cry. Because he was an emotional man. So you had many good reasons to laugh at Musaddiq. And get him out of the way.
So, this process, whenever there is a situation, which offends them and they want to sort out, they like to personalise. They like to pick out one person, "Oh, here's the madman, here's the dictator." And that's the key to the whole situation. Once we establish that in the public mind, well, we can go ahead and destroy them.
And, you know, this whole business about Syria… I mean if you actually look at the Middle East and North Africa, go back to the first time in modern history that a western army …[ inaudible] in 1798, when Napoleon landed in Egypt and tried to conquer Egypt. And the British got wind of it and sent a fleet out and destroyed the French fleet. And that was the end of Napoleon's mission. But from that time onwards, if you look at the whole of North Africa, all the way across the Middle East to the Gulf, you will hardly find a country that has not been attacked. You'd be hard pressed to find one that has not been attacked. Many of them [have been] attacked many, many times. And, in many cases those attacks served many purposes. Like, for example, Egypt, when the British occupied Egypt in 1882 to get their hands on Egyptian cotton, tobacco, sugar. Also their hands on the canal. And also, it was a testing ground for new weaponry.
Now here's the relevance of this when we think back to the attack on Iraq in 1991. Or that kind of hushed talk on the news broadcasts. You know, we've got these smart missiles, they don't need telling what to do, they can turn corners and do all kinds of things. Well, in the 1880s, it was the warships: reinforced steel plating, hydraulic gun platforms. I mean, they'd never had them before. If you wanted to change targets before that, the whole ship had to turn around. So they had hydraulic platforms; it meant you only had to just turn the gun. And they had massive kind of cannons and they had shells that could go almost 2000 yards.
So, in London, all the military people were kind of like really excited about this. How's this all going to work? Because what the Egyptians had on shore were like popguns. They couldn't even reach these ships. So it was kind of like a done deal. They were going to win there. They were going to win. But so you follow that all the way through from the 19th century and there are always reasons for attacking these countries. Always justified. In the 19th century called them 'civilisation'. 'We'll bring civilisation to these people.'
BRUCE PETTY: And Christianising.
JEREMY SALT: Well, I wouldn't use that so much. Not really. Muslims might try that, but generally it was what we were doing 'for' these people, not what we were doing strong>to them. And always there would be a lot of violence. Like the British –
BRUCE PETTY: The religious factor didn't come into it? Their religion, I mean?
JEREMY SALT: Well, always the missionaries followed the flag. You know, they went in there and they would do their bit. But if you look at Egypt, for example, when the British bombarded Alexandria. You know, blew it to bits. Before the army landed. Well then, of course, the moment they did that, well the local people reacted. They were very upset. And then Britain said, 'Well, we have to restore order!' Gangs were out and destroying things and setting fire to our property and so forth and so on.
That's what goes back to the print media. It's what the public believes. 'Our people are being attacked in Egypt by these savages.'
And that tends to be what happens. It's been repeated time after time. Down to the present day.
And, if you look at Syria, well, right, people say, 'Well it's an authoritarian, oppressive regime.'
I can accept that. It is. But you look at Syria's history. Going back to the First World War, there was this piece of land on the map, called Syria. So, when they got their hands on it, they cut it up. That's the first thing they did. They butchered it. The British got – the British took – southern Syria, which is Palestine. The French cut one part off – the coastal region – called Lebanon. In the 1930s, the French gave Iskanderun to Turkey. Now that's the province of Hattay, with more than a 50 per cent Alawi population. And people who still actually believe in Bashar al-Assad. And then we move forward to the modern period, the post war period when Syria became independent, finally, independent in 1946.
1949 they had their first coup. Who organised the coup? The Americans. Why? Because the elected Syrian government won't grant rights to the Tapline to Aramco, the Arabian-American oil company, to build a pipeline from Saudi Arabia across to the Mediterranean across Syrian territory. The government says, 'No, we don't want this.'
So the Americans intervene with a bit of help from the CIA . They put a colonel in power. And then, in 1956, the same time that the British planned to attack Egypt, the Americans are planning to overthrow the government of Syria. Again! And you move that through – all the way through to the modern period.
So Syria has continuously been under attack, under threat. Targeted assassinations, coups, dirty work of some kind or another. So what do you get out of this? You're not going to get a democracy. You're going to get a state that's permanently on its guard; that's watchful. Alright? And then people turn around and say, 'Look at this, this system.' And the fact is, you know, people point the finger at Bashar? Well Bashar could go tomorrow and the system wouldn't change. But Bashar, many Syrians believe, is popular – one thing that the people in Washington or Britain don't want to believe. Bashar is liked by the Syrian people. They might be critical of the system, but they like Bashar. And many of them believe that he is the best hope they have of actually changing the system.
Mass migration from Syria
BRUCE PETTY: Okay. Now the explanation for this: There's a couple of million on the move; don't want to be in Syria. And we see pictures of them. They look middle class and young kids. What's a parallel to that? What's it like? Is that like –
JEREMY SALT: I've never been in that situation. I don't want to be in that situation. It's been going on in the Middle East since 1948. And the big exodus of 1948 of the Palestinians from their land –
BRUCE PETTY: The Palestinians, yes.
JEREMY SALT: Eight hundred thousand people. Iraq –
BRUCE PETTY: They're still there on the borders, wanting to go back.
JEREMY SALT: Of course. Well, it's their land –
BRUCE PETTY: Are these people going to go back? Or do they want to go to Germany? Do you think [Inaudible].
JEREMY SALT: Well I couldn't speak for them, Bruce, but I think many of them want to go back to their homeland.
BRUCE PETTY: I would think so, yes.
JEREMY SALT: Of course they do. But they can't because it's in complete turmoil.
BRUCE PETTY: Yeah. Well, they're the issues that puzzle people and –
How the mass media presents what is happening
JEREMY SALT: But things also Bruce, I think, you know, people, what the media, doesn't really want to show is that we were told from the beginning that all this was about repression of the protests by the Syrian government.
BRUCE PETTY: Yes. That's right.
JEREMY SALT: And alternative evidence which the media - the mainstream media - will not present, is that the attack on Syria was actually well-prepared.
BRUCE PETTY: Yes.
JEREMY SALT: Right? And they wanted to hit Syria and they waited for the moment and this, once again, there's a template for this in Latin America.
BRUCE PETTY: Yes.
JEREMY SALT: I mean, how did the United States carry out [inaudible ]coups in Guatamala? What you do, you wait for this, for people to kind of demonstrate over some economic issue, then you move in behind them. And that's more or less what happened in Syria.
And people say, 'Oh, no, no. It started as a peaceful protest and only much, much later did it become violent. Which is not true. Because they were violent from the beginning. And that's what the media would not tell its readers [inaudible].
What do we know of the groups fighting the Syrian Government?
BRUCE PETTY: And do we know much about the fragmentation of what was called 'the rebellion', you know. Like there are apparently there are tribal elements, there are militias – independent militias – under various autocrats. And there's ISIS, and there's a bit of Al Qaeda left, I imagine. All these elements, I mean, are they… Do we know who – Do we know the quantities and the passions? Is it just passion?
JEREMY SALT: Well, the tribal … the tribes are part of it because [inaudible] in Iraq we know there are terrible kinds of conflicts between Islamic State and the tribes. And the Islamic State [? butchered] lots of [? tribesmen] in Iraq. But the position is that those countries, all of them – that is Libya, or Syria, or Iraq, who didn't have these Takfiri jihadi elements before.
Destruction of countries has created cracks from which jihadi elements have come out
So, it's the destruction of those countries that has created the cracks in the landscapes from which these people have managed to come out. I mean, if you look at what they did to Syria. Okay, they wanted to destroy the Syrian central government. They didn't succeed in doing it. Now, it was very clear from the start that Syria was not Yemen; Syria was not Libya; Syria was not Tunisia or Egypt. Syria was Syria. And what would happen in Syria was very different from what would happen elsewhere.
Now, those people: the Americans, the British, the French, Turks, the Qataris, the Saudis – they all thought, 'Oh look, we're going to push very hard, and we will bring the government down.'
They didn't succeed in doing it. All they succeeded in doing was weakening it. Now, we know that – and what they therefore created was – in northern Syria in particular, but also in other parts – was a kind of a vacuum . Now, in some respects, that vacuum was filled by people they were supporting. The armed groups. In some cases it was filled by people they didn't want to be there. Like the Kurds in northern Syria. Erdogan, the Turkish president, is very angry because the Kurds took their opportunity and kind of established some kind of autonomy over the Kurdish region in northern Iraq, just over the Kurdish border.
So, in some ways, it's the law of unintended consequences.
BRUCE PETTY: The other element that is different, I think, is things like beheadings. We haven't sort of seen that before. Is that connected somehow to these generations of frustration? I mean, can you explain that from anything we did?
JEREMY SALT: They would. No. They would go back to Islamic history to justify beheading people. Alright? But, I mean, this doesn't - what the Islamic state is doing cannot be called Islamic.
JEREMY SALT: It cannot be called Islamic, not just because of the absolute brutality and sadism of what they're doing, but they're destroying Christian churches. Now this doesn't fit with Islam at all –
BRUCE PETTY: And antiquities.
JEREMY SALT: But the antiquities have been there for 2000 years without one Muslim government touching them. But, when it comes to Christian churches being destroyed, there's no place for this in Islam. This is actually against Islam. This is a violation of Islamic principles, to destroy churches. Because Christians, Jews, are protected.
BRUCE PETTY: So you'd have to go back –
JEREMY SALT: No, you wouldn't have to go back at all. There's no place for [it].
BRUCE PETTY: But it has happened though, hasn't it?
JEREMY SALT: No. At the beginning –
BRUCE PETTY: Way back [inaudible]-
JEREMY SALT: Oh, right at the beginning, right at the beginning –
BRUCE PETTY: Four hundred –
JEREMY SALT: No, right at the beginning, right at the beginning of the 7th century.
BRUCE PETTY: And the religious, even the religious purges and crusades, for one. We did it.
JEREMY SALT: We did it. Yeah, we did it. But when, in terms of minority, religious minorities, like within Islam right at the beginning when the Jews of what we now call Saudi Arabia would not accept the Islamic message, they were attacked and many of them were killed. But, once Islam was consolidated, as a state religion, you go back and there's nothing, there's nothing there. You're hard pressed to find any kind of way in which religious communities were touched.
BRUCE PETTY: Well, that is one that made you think. And you still wonder, is there a Martin Luther Muslim?
JEREMY SALT: [Indecipherable] I didn't like Martin Luther.
BRUCE PETTY: - start something a bit different.
JEREMY SALT: Martin Luther was a terrible person.
BRUCE PETTY: Was he? Oh well, somebody –
JEREMY SALT: He was anti-semetic –
BRUCE PETTY: Oh, that's right, he was –
JEREMY SALT: Who was the Nuremburg [inaudible]. I can't remember whether it was Goering or Goebels – someone – stood up and said, 'Well, actually, don't blame us, blame Luther.' That's where it came from. And also, he was on the side of the princes. 'Go out and slay the peasants!'
BRUCE PETTY: Oh okay. Well, whatever he did –
JEREMY SALT: Whatever it is, right –
BRUCE PETTY: He did nail a few things on the door and it would be nice if they nailed a few things on -.
JEREMY SALT: I agree.
BRUCE PETTY: But –
JEREMY SALT: I agree. I agree. I totally agree that Islam has been taken over by arch conservatives, reactionaries, and these are people who interpret their own religion in a very selective way. And, if you actually go back to the earliest stages of Islam: You take up women's rights, for example, women's rights, the greatest scholars of the age, back in the western 13th or 12th century, took up these questions and what they had to say about women's rights was extraordinary.
BRUCE PETTY: Really. That's interesting.
JEREMY SALT: You know, they allowed contraception. One of the schools of law would allow abortion if the family was too big and they couldn't deal with another child. They regarded the woman as a sexual creature, not just a chattel of man. Entitled to sexual satisfaction. And where do you get this in today's Islam?
BRUCE PETTY: Exactly.
JEREMY SALT: Now these were the greatest figures of the age. The greatest thinkers of the age – the philosophers. That's all kind of been whitewashed from their history.
BRUCE PETTY: [Inaudible]
JEREMY SALT: If you were going to draw a cartoon of the Caliph, sitting in Mosul – have you seen him?
BRUCE PETTY: No, I haven't. I've seen a few.
JEREMY SALT: He was photographed kind of hectoring the crowds, wearing a very flash watch
BRUCE PETTY: Okay. Oh yeah, I remember that bit, yeah.
JEREMY SALT: I think it's what I'd home in on, if I were a cartoonist.
BRUCE PETTY: Well, we've got a bit of a problem there about… because then you suddenly… got to be careful you're not putting a case for the beheaders.
JEREMY SALT: Right.
BRUCE PETTY: You know.
JEREMY SALT: Mocking them is –
BRUCE PETTY: Mocking them if you can. But then, you have to watch your own head a little bit. Hebdo and all that stuff.
JEREMY SALT: Yeah.
BRUCE PETTY: But basically, I don't know how you treat religion. I mean you sort of hope it would all modify a bit.
JEREMY SALT: Would you? I mean, I've got funny things – I'm not religious in the slightest bit – but I would not, myself, choose to insult Mohammed or Christ.
BRUCE PETTY: No.
JEREMY SALT: I wouldn't see any point.
BRUCE PETTY: No.
JEREMY SALT: I'd go for the priests. I'd go for the Imams.
BRUCE PETTY: Yes.
JEREMY SALT: I'd go for the ayatollahs. They're all fair game. Why would you want to go back to a foundational figure? And dump on that person? I mean that's just a personal view of mine.
BRUCE PETTY: No, I agree with that one. I'd go along with it.
JEREMY SALT: I don't quite get it.
BRUCE PETTY: No.
JEREMY SALT: They're too far back in history.
BRUCE PETTY: And I quite like the hymns too, and the music.
JEREMY SALT: Ah, right.
BRUCE PETTY: The old cantatas.
JEREMY SALT: This must go back to your school days.
BRUCE PETTY: Probably does, yeah.